5 Best ClickFunnels Landing Page Best Practices [+7 FREE TEMPLATES]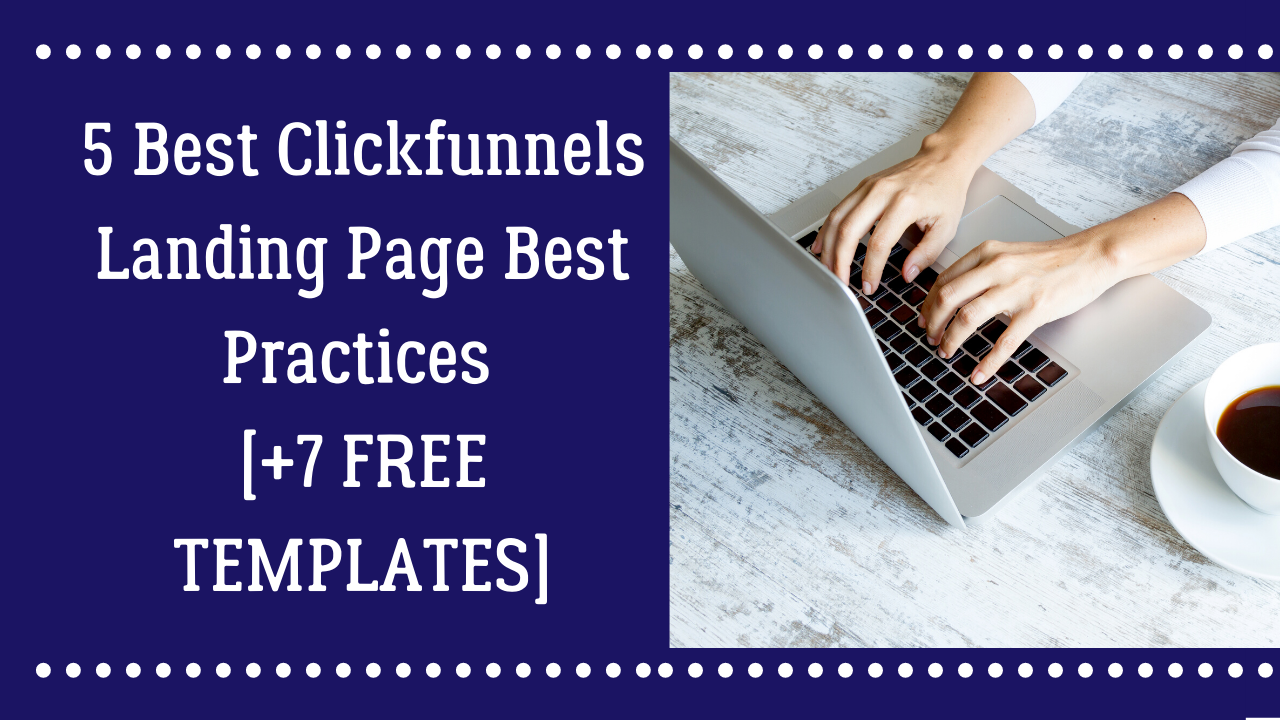 Building a converting and informative website for your business involves a multitude of factors, but building a stunning and effective Clickfunnels landing page has only one purpose: rapid conversion. When you design a landing page for your business, you want people to use words like eye-catching, magnetic, and interesting. Eventually, these are the landing pages that end up converting your visitors into customers and bumping your sales off the charts.
It may sound fascinating to have someone tell you how a landing page could change the game for your business, but here's what most business owners fail to understand about landing pages: they could tip your sales on either side of the scale. For a successful online marketing campaign, it is important to build a landing page that is impressive and just that good.
Anything less than that will not suffice.
Now before I introduce you to ClickFunnels, let me give you a brief introduction to landing pages.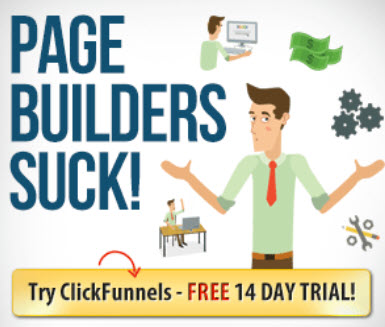 What is a Landing Page?
In the world of digital marketing, a landing page is a single webpage designed for marketing and advertising campaigns. It is the page where the visitor lands as soon as they click on a link you provide in an advertisement, email, Google ad or on sites like Bing, YouTube, Facebook, Instagram, and Twitter.
Web pages are different from landing pages because they serve more than just one purpose. They are designed to catch attention, divulge necessary information, and convert. However, landing pages are built with the sole purpose of giving strong calls to action that hike up sales.
This singular purpose makes landing pages ultimately more effective and the best option to increase traffic and conversion rates while lowering the expenditure on marketing.
The Key Difference Between a Homepage and a Landing Page
Here's a visual example to give you an idea about the key differences between a homepage and a landing page:
You must notice that the homepage has plenty of links while the landing page features only one. It is common for a landing page to be specific, direct, and minimal as compared to a homepage. The reason behind this is that the primary purpose of a landing page is to reduce distractions and keep the attention of the visitors focused on buying the product or subscribing to the service.
A homepage, on the other hand, is full of distractions. You can also refer to these distractions as leaks. This is because a homepage is designed to serve a purpose that goes beyond just conversion. Having too many clickables can actually have a reverse effect and lead your customers away from the call to action i.e. to make a purchase.
Expert marketers prefer landing pages that have less text, fewer clickables, and convey the message at first glance. They use landing pages as the destination of all the external links so their online traffic can be directed to a page that will convert the visitors to customers.
Now, you may think that the homepage looks amazing with its brand advertisement, range of products, additional info, and whatnot. Truth is, nobody likes to be bombarded with too much information upon first glance, but a homepage can be a great asset to a brand.
Details could draw attention to your product, but they could also lead a perfectly focused potential buyer away from the CTA because the homepage had too much mumbo jumbo to comprehend. And oftentimes, giving out too much information proves to be counterproductive because this gives potential customers new standards by which they judge your product and then compare it to others on the market.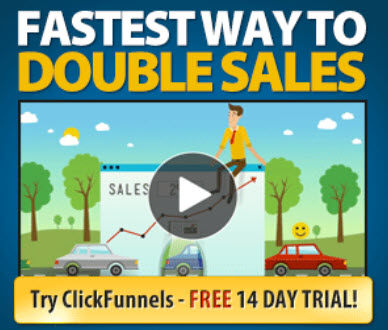 With the versatility of options a homepage offers, it does not lead to purchases as effectively as a landing page does – which is basically your end goal. Everything about a landing page is designed to convert visitors into customers. And since they do not offer many distractions, landing pages turn out to be more successful at converting traffic than the homepage.
5 Best Practices for Landing Pages on ClickFunnels
Since landing pages are such an essential and indispensable part of marketing funnels, you have to do your best at creating an effective and converting landing page. To help you out, we have listed the 5 essential practices to create a converting ClickFunnels landing page below:
1. Eye-Catching Headline and Subtitle
It is evident that no highly converting landing page ever comes without an eye-catching headline and a supporting, but equally meaningful subtitle. And while you may be tempted to go all out with the format, a headline is an old-school tactic that works wonders in marketing.
Here are a few tips to help you craft your own eye-catching headline for a highly converting landing page:
Short and Precise
A long heading and subtitle look like they have been done by an amateur and do not convey the message as effectively as a short and precise heading does. A short heading immediately familiarizes the audience with the product being advertised and its merits. Most of the visitors are not looking forward to spending too much time reading long paragraphs. They prefer short and to the point text that could help them understand everything being conveyed to them without having to read too much.
Understandably, you will need a heading that is short and eye-catching. This way your readers will know within seconds of landing on your page why they should buy your product.
Focus on Placement
Placement does a very important job of arranging everything on your landing page in an order that is neither too cramped nor too scattered. Hence, the correct placement of your heading is very important in a winning landing page.
A heading stuffed at an odd corner or placed near the bottom of the page will garner no attention and will eventually fail in its purpose to grab attention and convert traffic. Refer to how your audience naturally prefers to read. Most readers read from top to bottom and left to right. So, your job is to follow that pattern and decide where on the page your heading is most likely to grab the attention of the visitors.
Make an Impact
A heading has to make an impression. Put yourself in the shoes of your visitor and think like a potential buyer. Would this catch my attention? Is the heading intriguing enough to check out the rest of the page? Is it short enough? Does it convey the message?
Cross-questioning will help you look at the landing page from a customer's point of view and then be able to design something that really would make an impact. An over-filled landing page with a boring monologue and a twenty-word heading will turn-off your customers and fail to cancel out distractions.
2. Put Up Your Story
Adding to your headline and subtitle, you should also put up a story for your visitors. Why? Here's the reason:
You want your customers to trust you. And the only way to earn their trust is to volunteer something about you. Whether it is a success story or a tale of how your product/brand came into existence; a little insight could go a long way in converting visitors to customers.
Now, don't pen down a saga because let's remember: the audience hates reading long stories. Write a few small lines, use images, infographic, flowcharts, etc. to convey your point. Focus on convincing the audience of your authenticity, your genuine dedication to the product, and how it will do wonders for them.
3. Purpose of the Product
Every product or service is designed or created to fulfill a need, fill a gap. Use that purpose to remind your target audience why they need your product or service in their life. It also goes to show that you are in tune with your audience's needs and understand what they might be thinking or feeling.
Here's how you streamline your marketing campaign for a winning landing page:
Value Proposition
Value propositions are there in every commercial, every landing page, and every homepage. It simply means that you have created the need for something, and now you want to fill that gap by providing a suitable solution. For most brands, value propositions bring their own product or service into customers' attention and how you will be able to provide for their needs and improve the quality of life. It also gives your customer a chance to understand why they need your product or service.
Case Study
Now is a time as good as any to provide proof of how your product has already worked its way into your customers' good graces to boast your proposition. Present a case study based upon second-hand experience or mention how rapidly the sales on your product have hiked up so you could nudge the target audience in the right direction.
Presenting proof that your product indeed works will act as a powerful motivator for hiking up conversion rates.
4. Prepare a Bullet List
Your ClickFunnels landing page could only do its job when you hit all the necessary triggers to attract customer attention. Prepare a bullet list hinting at the highlights of your marketing campaign. This way, even if the visitor is not an avid or thorough reader, they will skim through the heading and the bullet list and understand what we're trying to sell and why they should buy it.
Bullet lists, if properly done, are one of the strongest pillars of digital marketing. The strategy of creating an effective bullet list for your visitors is pretty simple. Use less words, more meaningful words, and in minimum word count, deliver what your audience needs to know.
Here's what a bullet list on your ClickFunnels landing page needs:
Benefits of the Product
If you're new to sales funnel, you will want to make sure you know the key difference between features and benefits. Features give away details about the products, benefits sell the product. Since a landing page is designed for the sole purpose of making sales, benefits will constitute a huge chunk of the landing page.
A list of benefits can really attract the attention of your audience and get your marketing campaign in the groove. List down all your selling points and present them to your target audience and you will definitely experience a hike in sales.
Positive Customer Reviews
Positive customer reviews help build trust between you and your potential customers and prove that what you are saying actually has some merit to it. When your target audience sees people raving in their testimonials, they will definitely purchase your product. Add some social proof to strengthen your point and the traffic will definitely convert.
List down Statistical Facts and Data
It is better to present all the statistical data and hard facts in a list because otherwise they will look scattered and distract the potential buyers. Understandably, a list is the best place for facts and figures. Using a list to state your facts and give out figures about your product is more likely to attract their attention than weaving facts in a paragraph and presenting it to them. They are very likely going to find it boring and leave out the entire paragraph.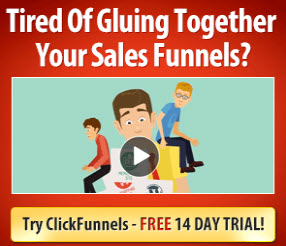 Use numbers to convince people your product is worth buying.
5. Add a Video or Image
When you see examples of good landing pages, you'll notice they all have one thing in common: vivid infographics or images, and short videos with a compelling transcript. Why is that? This strategy is adopted by marketers because a picture conveys more than lines upon lines of text. Videos, on the other hand, are used to establish trust. Most images you will find in landing pages will be bold, impressive, and very out there. They may also include statistical data that is otherwise boring to convey.
Here's what you need to do to add a compelling image or video to your landing page:
Use People in the Images and Videos
Using people in videos and images is a true award winner because it helps win trust and convert a regular sales funnel into one that converts like a machine. Using people allows you to show other people how your product is making a difference.
High-Quality Image and Video
Nobody likes a blurry mess. So, it is important that you use images and videos that are clear, sharp, and not pixelated. When putting in a video, give it ample screen space and keep the loading time in mind because a video or image that takes too long to load could throw off your entire landing page.
Use Emotion
Imagine the experience you're trying to create and portray it through the images and videos on your landing page. Convey a feeling through your images and videos, stir emotion, and you will find more people willing to buy your product.
Bonus: Present One Call-to-Action
A call to action is effective as long as it is only one. Too many CTAs will distract the visitors and prevent them from making a final choice about your product. A CTA is one of the core elements of building a highly converting landing page. Putting multiple calls to action out there will make you compete against yourself, and you will confuse the audience.
Here's what a good call to action should have:
Forms
One of the most popular ways of presenting a call to action is to attach forms. This is always a good option when you're selling a service or product like e-books. Make sure to add very few questions to your form because more questions mean low chances of conversion.
Prompt the Audience
You cannot just put a call to action out there and expect your audience to grab at it. You need to prompt those using creative calls to action and by building a landing page that ultimately leads to a call to action.
7 Free ClickFunnels Templates
ClickFunnels landing page templates are predesigned to attract attention and ensure high conversion rates. While ClickFunnels is no magic potion, it does bring the best practices into use to capture leads and give off a high conversion rate.
Read below to access 7 free ClickFunnels landing page templates to begin designing your first ClickFunnels landing page today!
This funnel is a one-page website containing all the information about a coffee shop. The page gives out business information and has various calls to action. The opt-in directs you to the thank you page which is similar to the first page.
This bright light theme funnel from ClickFunnels will put you on a path to higher conversions!
It's time to build a reputation in the marketplace with this Institute Theme from ClickFunnels. This is one of the coolest themes by the site that will get you excellent conversion rates!
This bridge funnel follows the same template as the Institute theme above. Install this to engage your audience and increase your sales.
This is an extension of the Institute Theme in the template of a survey funnel with some more updated features.
This is an application funnel for the Institute theme. The funnel is divided into three steps starting with a reverse squeeze page, followed by the application page, and concluded with a thank you page.
The Hero funnel also follows the theme of the institute funnel by ClickFunnels. Set up this free theme and increase your retention rate of successful clients.

Disclosure: I am an independent ClickFunnels Affiliate, not an employee. I receive referral payments from ClickFunnels . The opinions expressed here are my own and are not official statements of ClickFunnels or its parent company, Etison LLC.