Top 9 Clickfunnels Integrations to Increase Conversions and Sales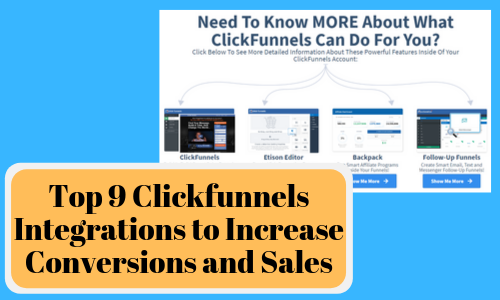 Clickfunnels is a complex service that is easy to use but hard to master. It involves the use of various channels in order to increase conversion rates and ultimately boost your sales. One of the best features that Clickfunnels has is the integration feature that allows you to connect third-party applications in order to increase efficiency. This gives you a wide range of choices to add onto Clickfunnels but it also poses a very important question. What are the best Clickfunnels integrations options? Fret not, that is what we will be covering throughout this article today. We're going to tell you the 9 best integration options that you have access to while using Clickfunnels.
1. Clickfunnels Infusionsoft Integration
Infusionsoft was revolutionary when it first came out. It was a godsend for small businesses as it allowed a level of detail that was unprecedented. Over the years the service changed and evolved into a platform known as Keap. It is still the same service at heart, though, and can benefit you in a variety of ways. It can allow you more detailed control over important customers and make sure that no one gets neglected. If coupled with Clickfunnels it can prove to be a really powerful CRM and sales tool.
2. Sendgrid Clickfunnels Integration
Sengrid is a customer communication platform that offers you the ability to send and receive marketing and transactional emails. It is a unique tool as it provides the security and peace of mind needed to conduct online business. It is also great for increasing customers' trust in you and what you're selling. That is why it makes a great addition to Clickfunnels as it allows you to expand further than before while still remaining true to what you offer.
3. Integrate Clickfunnels with MailChimp
We are all familiar with MailChimp. It has been around forever and has changed the way small businesses send and receive emails. It is one of the oldest SaaS in the market and its longevity is a testament to how good it is. MailChimp has expanded since its creation and now offers a lot of different services that small businesses and entrepreneurs can find very useful. The MailChimp Clickfunnels integration is one of the best things that you could do for your business. It allows for a seamless transition between the two and gives you the opportunity to efficiently manage both your emails and your sales funnels, all in one place.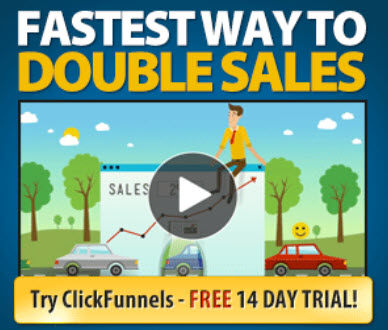 4. Integrate Clickfunnels with Shopify
As you all know Shopify is one of the largest e-commerce platforms in the world right now. Shopify is currently leading as the best place to perform e-commerce just because of the ease and the simplicity with which they offer their services. Shopify is also an excellent platform for people to really put out the stuff that they want to sell. There aren't many restrictions which is why Shopify is such an attractive option for so many people. It allows for total independence which is what most entrepreneurs are looking for. Pairing Shopify with Clickfunnels is the best thing that you can do because it allows you to manage your store and your marketing campaign, all from one place.
5. Clickfunnels ActiveCampaign Integration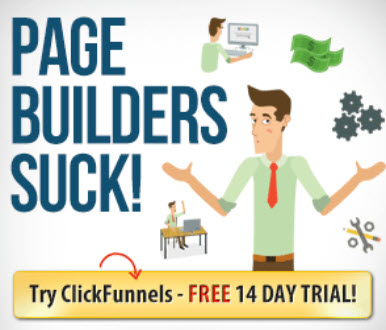 ActiveCampaign began as an email marketing tool but soon grew to encompass a lot of CRM tool and essentially became the software to use, especially if you were a small business. ActiveCampaign allows for a lot of versatility, especially if it is integrated with Clickfunnels. These two combined allows for a lot in terms of sales automation. Using both of these you can essentially make a system which does all of the business for you. All you'll have to do is sit back and enjoy the tools to make money for you.
6. Clickfunnels Facebook Integration
Facebook has become the home of social media marketing. There are other social media sites such as Twitter and Reddit that offer social media marketing opportunities but Facebook's social media marketing system is far more comprehensive than all others. You have a lot of options with Facebook because you can easily choose which people you want to target and how they can interact with you. The Facebook Clickfunnels integration is essential if you're running a business that heavily relies on social media. It allows for better interactions with customers and gives you the opportunity to easily accept payments.
7. Clickfunnels Payment Integration
There are many payment methods that you can integrate with Clickfunnels which gives you a lot more flexibility when handling payments. It also makes dealing with international clients much easier because you can use international payment methods that are widely used everywhere. This is an important integration that everyone should include in their Clickfunnels campaign because it makes life a lot simpler. It also gives your audience an incentive to complete transactions because you are able to make them as simple as possible.
8. Clickfunnels SMS Integration
Clickfunnels also allows you to connect your SMS marketing service directly to your Clickfunnels campaigns. This allows for a lot more versatility when generating leads and ensuring that those leads result in sales. The integration makes the process a lot smoother and gives you so many more options to captivate audiences. The only limit is your imagination.
9. Kajabi Clickfunnels Integration
Kajabi is a bit different than others on the list because it is focused on providing yourself as a service. It is a unique concept but is one that seems to work well. If you have something worth saying then people are willing to listen to what you have to say. That being said, you might have trouble spreading awareness about what you're talking about. That is where the integration comes in. Integrating Kajabi with Clickfunnels allows you to spread your message much more easily and allows for greater sales generation.
These are the 9 essential integrations that we believe that every Clickfunnels should at least think about integrating into their account. Let us know if we missed your favorite integration!

Disclosure: I am an independent ClickFunnels Affiliate, not an employee. I receive referral payments from ClickFunnels . The opinions expressed here are my own and are not official statements of ClickFunnels or its parent company, Etison LLC.