7 Reasons to Use Clickfunnels Clickpop Feature [AND WHEN TO AVOID THEM]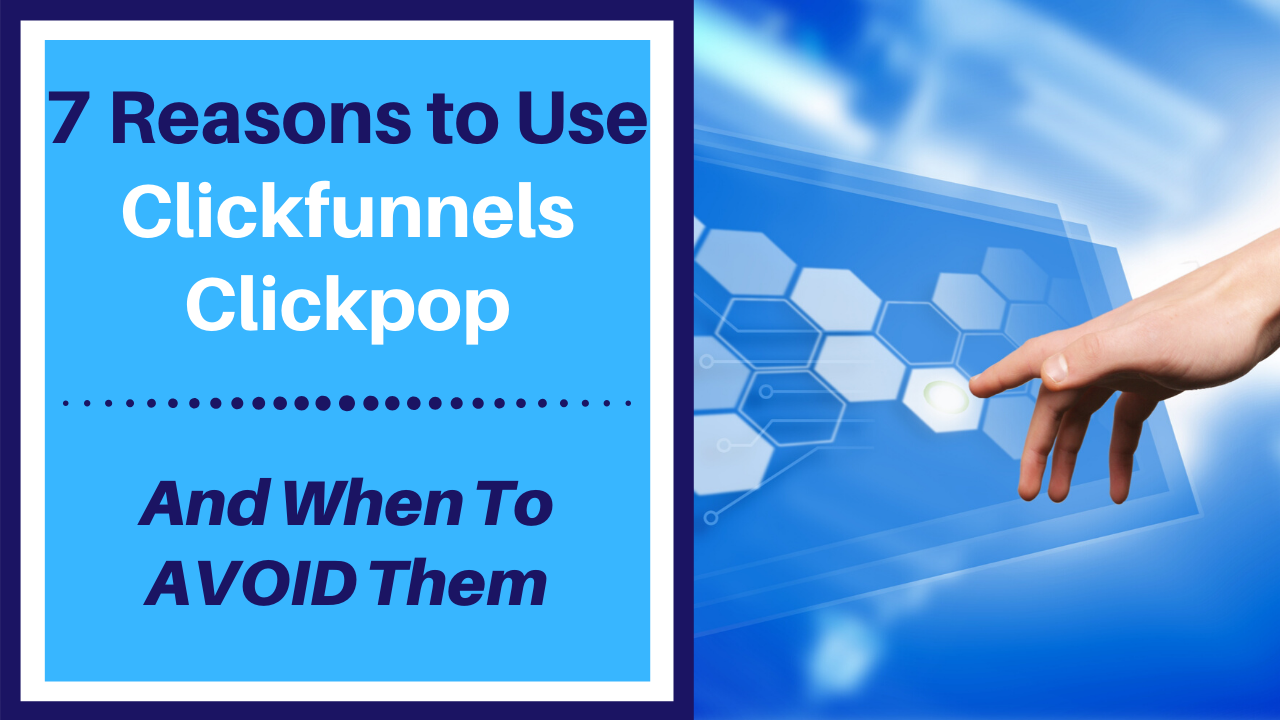 ClickPop is an additional tool within Clickfunnels, used by many e-commerce businesses on their websites. They may do so to market their product and attract new clients and customers through the sales funnel strategy, also referred to as a sales process. ClickPop allows you to add popups on your websites, prompting further engagement with the customer who might have reached you in search of something else. A popup is a display window, prompted by adding additional codes and scripts in the graphical user interface.
Furthermore, it allows you to advertise your other websites and blogs via your primary website. From your main website, where the traffic usually remains relatively higher, you can redirect that traffic to a new site or a completely separate page or funnel. That way, you can educate your existing clients about the new services and products you have begun to offer.
A sales funnel is a complete and detailed buying process through which companies lead their customers. It attracts potential buyers to your market and even converts people with enough purchasing power into potential customers. It can be done by either creating their interest in your service, making it more appealing to them, or by highlighting the need for it in their daily lives. Clickfunnels can easily help you do all of this.
How to Increase Sales via a Sales Funnel
The following are the multiple steps and phases involved in the process of increasing sales and repetitive purchases:
The first phase is all about awareness. Telling and educating people about the existence of the good or service.
Then comes the phase of interest in which market research is conducted to demonstrate a prospect's interest in a product
The third is the evaluation phase in which the potential buyers compare your product with what the competitor offers in a similar price range, before making a final decision to buy.
The fourth phase can be named as a decisive phase. In this phase, the prospects make their final decision, and the negotiation or bargain on price begins from here.
Next is the purchase phase, when a prospect or potential buyer becomes a customer for the business, and the product is at last sold.
The process doesn't end here. If the business is incurring B2B sales, then it's common to offer them a contract to ensure regular sales. In most cases, as they are familiar with your services and for much better packages, they might agree to draw a contract or to renew the previous one. This step is known as the reevaluation phase.
Last is the repurchase phase, which includes motivating your existing clients and customers to repurchase a product or service. This might be done by building strong customer relationships and brand loyalty.
The usage of the ClickPop feature might make the whole process mentioned above simpler and easier to adapt. For e-commerce and electronic media advertising, it might simplify some phases and help to target a wider audience.
What is the Clickfunnels ClickPop Feature?
Clickfunnels is Software as a Service (SaaS) that helps you with selling your goods and services faster and easier via ecommerce. Basically, it's a platform for new entrepreneurs to help them design an e-commerce website from scratch. It eliminates the need for hosting and subsequently cutting down the cost and time that a business owner might have spent on coding to build a new website.
When we talk about the process of a sales funnel and the techniques used in the strategy, Clickfunnels is the most reliable platform available. It is a simplified solution for all your hassles and brings along features of email marketing, affiliate program creation and ClickPop add-ons.
It allows the users to add ClickPop to their website and pages through easy coding and scripting formats. Clickfunnels platform provides pre-designed pages that you can use as a popup on your Clickfunnels page or an external website. There are many templates that you can view by visiting and logging on to their website.
Not only this, but it also features a customizing tool which you can use to customize the popups according to where you need to direct your traffic. The customizable tool also enables you to edit the background color or to blur the main page when the ad pops up. This helps to bring the user's attention to the ad popup. The most desirable feature of ClickPop is that a user with no knowledge of programming and web design can operate it.
How to Use the Clickfunnels ClickPop Feature
If you are still confused, then you can visit the Clickfunnels website designed particularly to serve individuals and guide them accordingly. They have uploaded several video tutorials to help you get started. To use its features, you will need a Clickfunnels account, which is available for a free 14-day trial basis.
The entire process, including ClickPop demos, is demonstrated on the Clickfunnels YouTube channel. Not only this, but many other YouTubers have also made videos using Clickfunnels tools and options.
As mentioned earlier, using Clickfunnels ClickPop feature is too easy, and you can do it by following some basic steps which include:
1. Copy the ClickPop Code
To get the code for ClickPop, choose the page or the template you would like to use as a ClickPop. Then click on "publishing" and then on "Get ClickPop Code". Paste the link text of the page in which you need to add the popup and set the delay time for the popup. Delay time means how long the popup should take to emerge after the visitor opens the webpage. You can also select the option of whether or not you want to trigger the mouse on exit.
2. Add ClickPop Code to the Page
Paste the copied code in the JS or HTML element. If using a funnel page, then add this code to its script and you are all set to test your ClickPop feature. It is always recommended to use the custom JS or HTML element.
Note: Do not add a time delay or an exit trigger when you use the custom JS or HTML element. You must also set the code type to 3rd Party Embed Code.
What Does the Clickfunnels ClickPop Feature Do?
The Clickfunnels ClickPop feature is being widely used by many small-medium enterprises all over the globe. Companies use this feature to increase their size of operation by targeting a wide consumer base and to attract new clients. It would help them maintain consistency in their sales volume throughout the whole year.
One of the main reasons behind this is that the Clickfunnels ClickPop feature reduces the dependency of businesses on other ancillary firms. They don't need to rely on other marketing firms and agencies to get their work done. Clickfunnels makes entrepreneurs even more self-sufficient and allows them to carry out most of the marketing-related tasks all by themselves.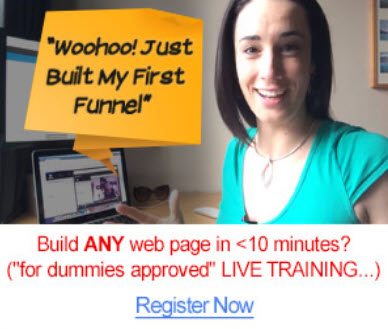 Moreover, if a business has hired an entire tech team and experts to do these tasks, then they can now be made redundant. This is because the tasks that were previously performed by the team can be now performed by you. As a result, your business expenditures decrease by cutting down the cost of tech experts. This option is always recommended to those businesses that are interested in electronic media marketing but don't have enough funds. Businesses that have a liquidity crisis can now operate more efficiently and effectively after cutting down the extra cost of the business.
7 Reasons to Use the Clickfunnels ClickPop Feature
Clickfunnels ClickPop feature saves you the money you lose on an everyday basis in order to drive the traffic from the landing page to your affiliate product. The platform of Clickfunnels is trustworthy and you can completely rely on it. It would never let your investment go to waste and always give you the results that you want.
For the people working on WordPress, Clickfunnels ClickPop feature is the most preferable solution to their routine-based problems. Making an account on Clickfunnels makes it easier for them because they no longer need to call their WordPress experts every time they want to add a new custom page to their blog site or create a new offer.
For your convenience, we have summed up all the reasons why people should be using the Clickfunnels ClickPop feature. Listed below are the benefits or pros of this reliable platform:
Adopting the process of a sales funnel and using the strategic tools of ClickPop through Clickfunnels makes your task quicker and more simplified.
The Clickfunnels platform provides you with all the features in one system your company needs when marketing your business product portfolio online.
It also offers conversion monitoring within the system. However, you may need to choose a subscription plan after the 14-day trial is over.
The email system is updated and provides you with all the major email autoresponder tools.
Repayment Processing Capacity
Within the Clickfunnels platform, users also get repayment processing capacities.
Up-to-date and Strong Backup
It is always up-to-date with advanced resources and a strong backup system.
Technical customer support is always available. Their customer representatives proficiently guide you through your problems and queries 24/7.
Managing a Clickfunnels account is just like managing your Facebook groups and pages – simple and easy.
Before making an account and risking your finances by taking on a subscription plan, a free 14-day trial period is provided to you so you could examine the platform, its tools, and the user interface, free of risk.

We hope, by now, it is clear to you how this platform is designed to assist your business and support the marketing and promotion for affiliate products, attracting more sales and converting visitors into customers.
3 Times to Avoid Using Clickfunnels Clickpop Feature
In a few circumstances, the usage of the Clickfunnels ClickPop feature is not recommended.
Here are a few reasons why:
Expensive for Small Businesses
It's better to avoid using it if your business is lacking funds and the capital. Small businesses with little investment funds tend to find this platform a bit expensive and not as much of a cost-effective solution as large enterprises.
They can try to find a substitute, like hiring a low-budget assistant to do similar tasks. Furthermore, a user might need to register his account on the platform for which they charge a registration fee. For any subscription plan, the fee is to be paid on a monthly basis. All of these expenses can be a setback for a business if it is facing a cash flow problem or is in a liquidity crisis. All of these costs combined contribute to an increase in the total expenditure and increase the outflow of the business.
Dependent on Customer Support
This platform allows easy operation of the platform even when you are not from a programming background. While this feature is definitely beneficial for business owners, it makes you rely on customer support. The Clickfunnels ClickPop feature may be an effective way to run a business, but it is not the most efficient because you never know how long it will take them to resolve your issue, and there is nothing you can do about it except wait. It might just take 1 minute to resolve, or it may take up to 24 hours.
More Features – More Expenses
Many people opt for training programs, or they might want a complete set of features in their Clickfunnels account. They might need to add more than 20 funnels in their accounts. For this purpose, they need to purchase a higher subscription plan, which ultimately adds to their growing list of expenses. The ones looking for a training program should read more about funnel hacks. It is the best deal available on the Clickfunnels Etison suite plan.
Along with the training, it provides you with some additional features for those who are planning to upgrade their account's access. But it is obvious that this plan is more expensive and is not a preferable plan for small businesses and new start-ups.
Since you will be busy with template designing and other stuff, you will not be able to use the full potential of your account. This means that you should be prepared before buying a plan, or else you might waste a huge sum of your money.
What Additional Features Does Clickfunnels Offer?
The Clickfunnels platform is not just limited to adding ClickPop to your landing pages; it also offers its clients a wide range of features and options that include:
Designing and building landing pages to boost sales and attract a wide customer base to your product. The building of the page is an easy process with a drag and drop editor.
Allowing you to create sales funnels to redirect potential clients' attention towards the appropriate product and also follow-up with them even after the purchase.
Follow-up means that the platform is designed in a way that it tracks its clients and somehow gets their emails and contact details. It uses information to keep them updated about new and advanced products that the business might have introduced after the last interaction it had with the client.
Moreover, it includes memberships and login options for your site, so that your client remains connected to you.
It allows you to design data forms to gather customer's information.
How Much Does a Clickfunnels Account Cost?
After the 14-day trial period ends, and you've found that you enjoy the Clickfunnels platform, you will want to make a final purchase. Make sure to choose a plan that meets your online business requirements. But first, you should know which plan is more cost-effective against the tools and options it offers.
The basic or low-budget Clickfunnels plan is $96 per month. It gives you small funnel building capabilities. Furthermore, it guarantees to bring twenty thousand visitors to your funnel page or an external website. This allows you to have a maximum of 20 funnels, 100 pages, 3 domains, and all the core features of this platform. It is the most popular choice, and many people opt for this plan.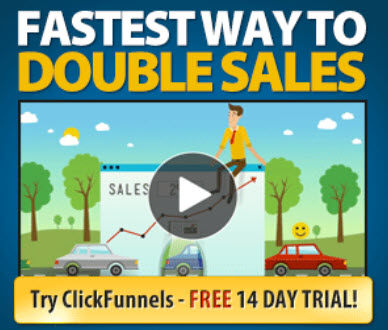 Then comes the major plan, Etison Suite. This plan is $297 per month and provides you unlimited visits, funnels, pages, and domains. It also allows your account to have additional tools such as email list tools, Backpack and Actionetics apps, priority support, and every other tool that this platform has to offer to its clients.
The grand package of Etison Suite lasts a whole year and charges $997 annually. This can be the best deal if you are operating on a large scale and want to operate your Clickfunnels account on a long-term basis. The annual plan also comes free for the first six months.

Disclosure: I am an independent ClickFunnels Affiliate, not an employee. I receive referral payments from ClickFunnels . The opinions expressed here are my own and are not official statements of ClickFunnels or its parent company, Etison LLC.