How To Create a ClickFunnels Webinar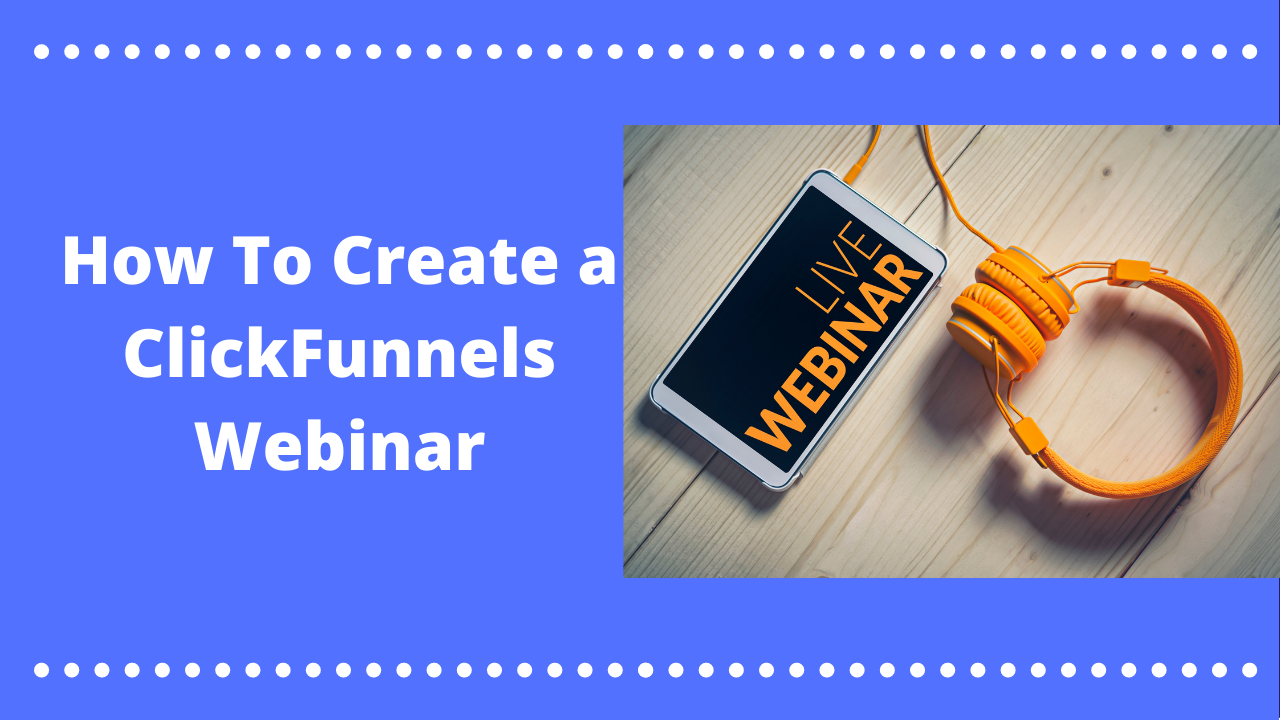 Are you wondering how to create a webinar in ClickFunnels? If yes, then stick around for a read because creating a click funnels webinar can seem to be a daunting task.
For anyone who has dabbled in the world of digital marketing for a few years, it would be clear that webinars are powerful marketing tools for businesses.They enable you to interact with your target audience, offer courses and lectures online, sell your products, share your ideas and knowledge, and conduct seminars.
To create a webinar, you need a place to host it online and have an advertising service. This way, your content will reach its target audience in no time, and you will begin achieving your goals.
This blog is a step-by-step guide on how to create ClickFunnels webinars.
What is a Webinar?
A webinar refers to interacting online via meetings or presentations in real-time. A webinar is an online event used to connect individuals and organizations with viewers all across the world via the Internet.
The main purpose of a live webinar is to enable interactivity, the ability to discuss, share content, collaborate, and receive information in real-time. Let's have a look at the features of a webinar:
Features of a Webinar
Sharing content via videos and presentation.
Chat
Polls and surveys
Screen sharing
Recording
How Does a Webinar Help You Achieve Your Business Goals?
Webinars have become an effective way to help businesses achieve their business goals, and there are many reasons for this. We'll discuss a few below:
1. Global Outreach and Access to Workshops
ClickFunnels connects you to a large audience worldwide. Unlike how it used to be before, people no longer have to be physically present to attend seminars. Now, they can book a spot remotely thanks to the Internet.
When you create an account on video-sharing platforms such as ClickFunnels, you allow people to share information, ideas, and interact with you. Via seminars, people from all over the world can now attend your presentation remotely and connect with you professionally.
Web-based seminars allow you to connect with hundreds of thousands of people at the same time. This massive outreach allows you to have a platform where you can build a network of professional connections and collaborate with people worldwide to pursue your goals.
2. Create Brand Awareness
Customers are a moving force. They constantly change their tastes, opinions, and preferences. As a result, businesses must adapt to these changes as fast as they can, or they will lose to their competitors.
Webinars are solid reputation builders. They allow you to build credibility with your viewers, give you a platform to understand consumer behavior, and work accordingly to ensure excellence.
Professionals all over the world use web-based seminars to teach their audiences worldwide. Webinars have proven to generate greater returns, especially in the e-learning sector. Businesses all over the world are using webinars to share knowledge on various issues, boost company image, and catch the eyes of potential investors and customers.
3. Increase in Sales
Webinars provide you an excellent avenue for the sale of your products and services.
Today, digital marketing consultants use webinars to share their expertise with leads and potential customers. This sort of back-and-forth sharing of trust allows you to build credibility, especially if you think your audience finds you knowledgeable in your niche.
Once you get the audience to trust you, it is time to convert their interest into sales and cash in.
4. Have Professional Interviews
Webinars are all about real-time conversations, and that's what makes them the perfect choice to perform specific tasks.
The real-time, live session allows you to have an unscripted and unedited interaction with your attendees. The more people you reach, the more people you can educate and share information with through webinars.
Let the attendees talk about topics critical to your industry or let them debate current issues and ask questions.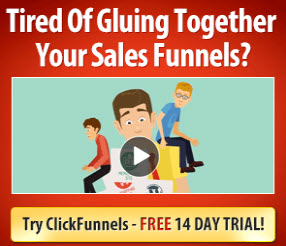 This practice may help you build more trust and credibility with your viewers.
Such interactions will make your clients feel as if they are an equal participant in the conversation. They will also help you connect with people professionally and build mutually beneficial business relationships.
Why Should You Host Your Webinar Using ClickFunnels?
Setting up ClickFunnels Webinars may be a good way to start your sales campaign, but you need the additional elements to procure sales. Fortunately, ClickFunnels has everything you need to run a successful sales campaign. ClickFunnels takes the guesswork out of your marketing by doing the research on industry standards, market trends, and consumer behavior.
Here are some of the top ClickFunnels Webinar features that provide you all the tools you will need to meet your marketing goals:
1. Display Slides
ClickFunnels webinars bring you real-time interaction and provide an experience similar to any classroom. If you have a presentation to give, you can present via slides in Apple's Keynote or good old Microsoft PowerPoint.
To get the most out of ClickFunnels, however, you have to do your part and make the content engaging by creating an impressive presentation.
2. Insert Video Feed
ClickFunnels webinars allow you to show videos via platforms like YouTube or those that are stored on your computer. This feature is critical to further your marketing campaign. With ClickFunnels, you can get a video from a convenient source and put it out for your viewers.
3. Speak to Your Audience
ClickFunnels gives you a VoIP, or voice over IP, which permits you to have a real-time interaction and communicate live with your audience.
This type of direct interaction with your customers will allow you to host a session that will result in a valuable exchange of vital information and ideas that will only improve your presentation and your connection with the customers.
4. Record and Replay
The next step is to record your web-based seminar. ClickFunnels gives you the ability to capture or record your presentation.
This way, you can save your video presentation and then share the video recordings on other platforms to reach your target audience via different social media platforms at different times.
5. Make Edits
The next feature allows you to make edits and customize your ClickFunnels pages. ClickFunnels makes your workshops as interactive and directly communicative as possible.
The ClickFunnels webinar program has an option to allow the hosts to put out ideas and create annotations or marks on the screen via a mouse or a touchpad. This setting or feature allows the host of the webinar to be active during the session with the viewers.
6. Chat
The next is a simple chat feature. The chat feature allows the attendees of the webinar to ask questions directly from the host.
This results in a two-way interaction between the host and the attendees and allows the communication to flow freely during the webinar.
7. Gather Feedback via Polls and Surveys
ClickFunnels also has a feature that allows you to conduct polls and surveys. This is an effective Clickfunnels feature that enables your audience to engage by giving answers to your questions, so you can gather valuable insights and receive crucial feedback.
8. Integrations with Various Software
The last feature is about ClickFunnels integrations. ClickFunnels supports other platforms so you can link your webinar pages to a plethora of other platforms.
ClickFunnels webinar allows you to effectively leverage popular social media platforms to achieve your goals and put forth a successful marketing campaign. Webinars are a critical tool in pursuing the sales and brand building objectives of a company. They allow live sharing of content to audiences all over the world.
ClickFunnels leverages the usefulness of webinars and provides a host of features that help you use their service to effectively further your business.
How to Create ClickFunnels Webinars?
First, let us focus on what you need to create a webinar in ClickFunnels.
ClickFunnels AutoWebinar Funnel
Video Recording
Now, here's how you build a kick-ass Russell Brunson ClickFunnels webinar!
1. Create a Webinar
The first thing you do when you create a ClickFunnels webinar is to actually create a webinar. There are way too many webinar software programs out there that will intimidate you down to your toes, but Zoom is your best pick.
Do not do too much research on a webinar hosting software, because it will intimidate you into postponing this entire thing, or maybe you'll just shelve the idea for later when you "have the time".
So, take the easy route and start with Zoom. Zoom has several monthly plans for its subscribers, depending on how many people are attending your webinar. Once you have a number, choose the Zoom plan that suits you best.
The next step after making a Zoom account is to add a webinar. The video webinar plan for Zoom starts at $40 per month for 100 attendees, and you can cancel anytime.
Click on the top right of your Zoom profile and go to My Webinars, and the page has a set of instructions that will walk you through the process of hosting a webinar on Zoom. Once you are done setting up your webinar, it's going to give you a link. You can use that link to invite people to join your webinar.
2. Go to the ClickFunnels Marketplace
ClickFunnels marketplace is from where you can find various webinar funnels templates. However, they all follow the same basic template. Now the first step of setting up a funnel is to go to Control and then access Settings.
At the bottom, you will see an option to set Webinar Event Time. You can set your webinar date and time here. The reason why you need to tell ClickFunnels about the date and time of your webinar is that you are going to prepare the attendees in advance and remind them of the webinar.
For this purpose, you will send out emails, notifications, etc. So, that's why ClickFunnels needs to know at what time you will conduct your webinar.
3. Edit the Pages
The first step is to customize the landing page. Do not make a stuffed, over-the-top landing page. Its only purpose is to make people want to attend the webinar. So, make it brief, but appealing.
You can prompt them to register using their email and then take them to the next page. If you add a lot of fluff to your landing page, it will distract the visitors from your main goal: to get them to sign up for the webinar!
Tip: Do not ask visitors for their credit card details or anything crazy like that on the landing page, as it's a turn off for most visitors. They will run off your page faster than you can say "stay".
Next is the Webinar Confirmation Page. The confirmation page will confirm the attendee's spot in the webinar and feature a small teaser video where they can get to know you and find out what you're all about.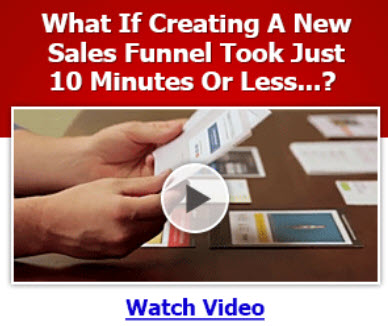 This page is essentially a trust tactic. If they see you on a video, they're going to know you by face, and crazy as that may sound, it helps you develop credibility with the viewer. The second goal of the page is to get the attendees to put your webinar on their calendar.
The next is the Indoctrination Page. This one's not a necessary page, but it will periodically remind your attendees about the upcoming webinar.
The Indoctrination Pages will be sent out to all the registered attendees three days before, two days before, and one day before the webinar. The ultimate purpose is to keep the webinar on people's minds and get them excited about the event.
For effective results, follow Russell Brunson's 3 secrets rule – one secret for each page. This way, you reveal a little something about the webinar on each Indoctrination page and get your attendees excited and interested to attend the webinar.
4. Customize the Webinar Broadcast Room
Here are three things you must have on the Webinar Broadcast Display Page:
Video element that allows you to share a video clip with your viewers in real-time.
Countdown Date or Time Timer will enable you to show or hide special offers.
Automation helps you target people who registered for your webinar, those who attended, didn't attend, attended but missed the special offer, did not show interest in your offer, or people who made a purchase.
Tip: If you are looking for a simpler method, you can simply send people the Zoom link when you set up your webinar there and do without customizing the Webinar Broadcast Display Page.
5. Insert the Saved Webinar Recording in the Webinar Replay Room
This is a simple step. When you are done with your webinar on Zoom, it will ask you if you want to save the recording of the webinar.
If you save the recording, you will be able to upload it to YouTube. Once on YouTube, you will be able to insert your webinar recording in the Webinar Replay Room.
You can set a time limit on how long a webinar replay recording is available for people who missed it. Say, if you set it for 24 hours, you can tell people that the recording is available for the next 24 hours, and after that, it will disappear.
6. Set Up the Sales Page
At the end of the webinar, you can show your audience a link that will direct them to the Sales Page.
And that's where all the magic happens!
This is the page where you cash in. You take orders, people make a purchase, and you finally get to earn. Once a customer has made a purchase, ClickFunnels will redirect them to the Thank You Page.
Takeaway
Webinars are critical marketing tools that allow the sharing of content. Clickfunnels webinars allow you to leverage the benefits of webinars and then follow ClickFunnels' simple set procedures to enjoy the features in no time.
Using ClickFunnels Webinars, you can successfully meet your sales and marketing goals, which will help you to increase brand identity. Once marketing goals are achieved, your message is reached to your target audience, you will eventually see the growth in your sales numbers as well.
As the world of digital marketing continues to evolve, we see new methods of content sharing and communication. Now, almost every business has to penetrate into the digital world in order to survive and compete with the competition around the world.
Conveniently for you, ClickFunnels keeps up with the digital marketing scene and provides you a simplified and updated set of features that allow you to tap into your sales potential. It's time you set up a ClickFunnels webinar of your own and start achieving your online business goals.