Step-By-Step ULTIMATE ClickFunnels Tutorial – Go from Zero to Hero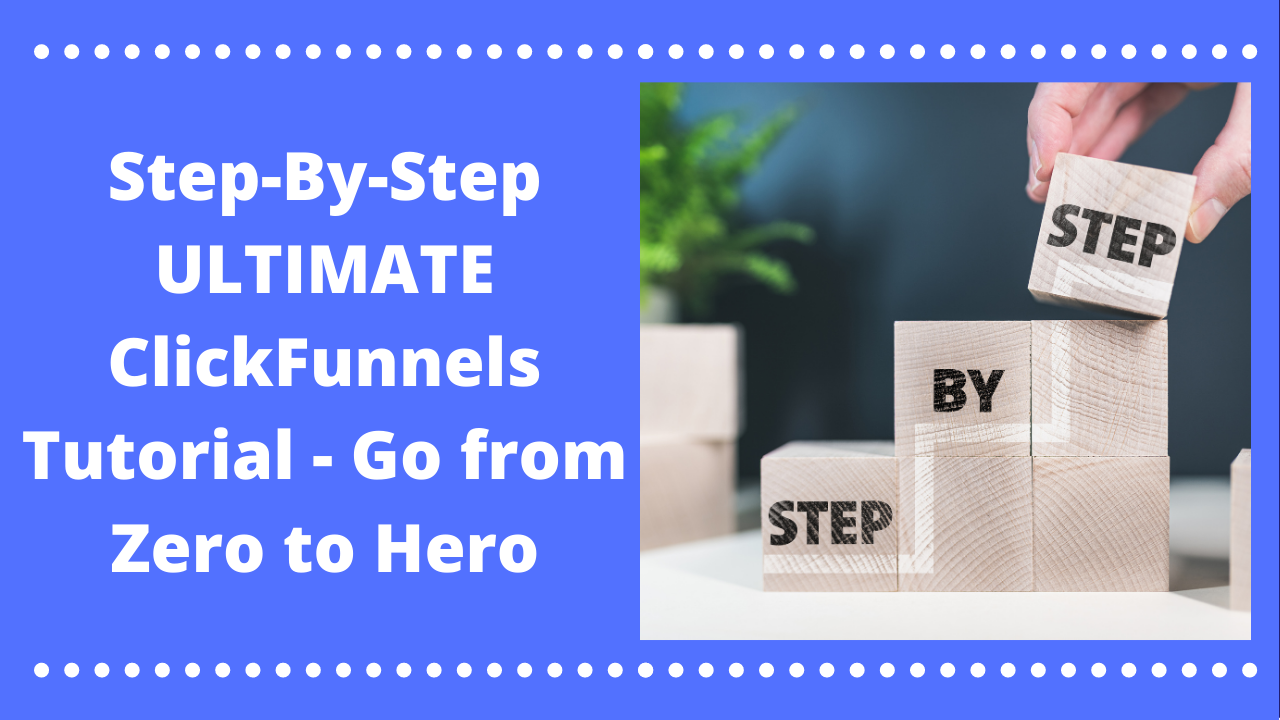 ClickFunnels can be super confusing for beginners. Often, first-time users go through plenty of blogs and click funnels tutorial on YouTube to learn how to set up their first funnel.
Creating a successful funnel is no easy task. However, if you read on, we can make this process simple and easy for you through our step by step ClickFunnels tutorial.
But first, you need to know what ClickFunnels really is.
What is ClickFunnels?
In simple words, ClickFunnels is a tool that allows you to build successful sales funnels and control every stage of the buying process using a step by step automated sales technique.
ClickFunnels helps you to send paid advertisements to a page you manage, and these funnels provide value to your customers.
Moreover, using ClickFunnels, you can create websites, landing pages, opt-in pages, webinars, membership sites, and more. ClickFunnels has a selection of highly customizable pre-designed sales funnels to help people of all skill sets and experience benefit from ClickFunnels.
Usually, entrepreneurs and businesses use ClickFunnels so they could build brand awareness and promote their products and services to an online target audience.
ClickFunnels offers you an all-in-one marketing solution, and that's why so many people prefer to stick to ClickFunnels rather than go for other alternatives. ClickFunnels is a highly integrated platform that has all the tools you need to build your marketing and sales funnel from scratch on a single, unified platform.
The Ultimate Step By Step ClickFunnels Tutorial
Now let's dive into the process of building your first funnel like a ClickFunnels expert!
1. Before You Start Building the Funnel
There are three things you must do right before you start building a sales funnel. Before you begin, you want to complete the following three setups:
The first target is to capture your visitor's email address. If you have their email address, you don't have to stress about them pressing that dreaded 'X' and quitting the page for whatever reason.
You can continue marketing your product by sending them free emails. However, if you don't get an email address out of them, you will have to spend money on more advertising to get them to revisit your site.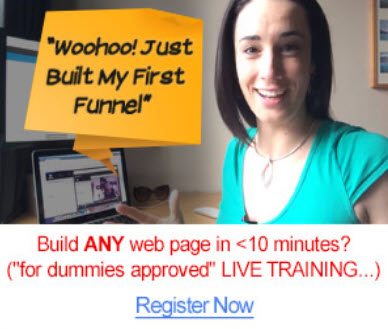 However, for this to work, you need an integration setup that connects your email autoresponder to the sales funnel. As soon as the visitor enters their email address, the setup will pull that email and put it in your email autoresponder (MailChimp, ActiveCampaign, etc.).
As soon as that happens, the email autoresponder begins sending them emails. And that's how you get your email list.
The second part is domain integration. If you already have a domain, you will want to add ClickFunnels as a subdomain. However, if you don't have one, you can get one by clicking on 'Add Domain' on the My Domains page.
Once that's done, we move on to payment integration. You want to capture people's money when they put in their credit card, don't you? You'll need to set up a payment integration method.
Go to the Payment Gateways page, and there you can set up a billing method (PayPal, Stripe, ClickBank, etc.). Now, when someone makes a purchase on the Sales Page, that money will go into the account you specify.
2. Create a New Funnel
To create a new funnel, you will click on Add New, and the screen will show you two options: a predesigned template and the other is the Classic Funnel Builder.
If you are a beginner, we suggest you choose the Classic Funnel Builder. The next step is to choose your goal, whether you want to sell a product, collect emails, or host a webinar.
For a beginner, choose the 'Create a Custom Funnel' option on the bottom left corner of the pop-up box.
Then you give your funnel a name, select a group tag, and click on Build Funnel on the bottom right corner. Next, you will start creating the funnel step by step, and each step will show in the left pane of your ClickFunnels page.
3. Capture an Email Address
ClickFunnels gives you plenty of pre-built templates for the opt-in email page. Now the funnel has one step: Optin.
4. Create a Sales Page
The next step is to create a sales page. You put in the name of the funnel and the path. When you select the type of the page, choose 'Sales Page'. This is the page where you sell your product.
This page will send your customer to the final page where they put in their credit card information. Next, you select the template for this page.
Once you are done, the next step in this ClickFunnels tutorial is to create an 'Order Form'.
5. Create an Order Form
Select a template for the Order Form Page. This is where you take orders from the customer. This is where they put in their credit card information and make the payment. Now, you have a flow of funnels where one page will lead the visitor to the next.
6. Create an Upsell Page
You probably already know what 'upsell' means. Remember when you shop for a pair of jeans, but right when you're at the checkout, a discounted bundle of thermal socks pops up, and you just have to buy them?
That's called upsell.
They have already got you to buy something, but now they're trying to add to your order and make more money. This is what the Upsell page is about. You will again see a collection of Upsell page templates, you pick one of them, and you've got yourself a classic, standard sales funnel.
7. Edit Each Page
Now that you've successfully built the skeleton layout of your sales funnel, it's time to edit each page. You can start with the opt-in email page. You can make changes to the font, background, color, etc.
Your entire page is broken down into sections. So you can start by clicking on 'Sections' on the top bar and pick a section you want to target. Within sections are rows, which can be further broken down into columns. The next step is to add elements within those columns.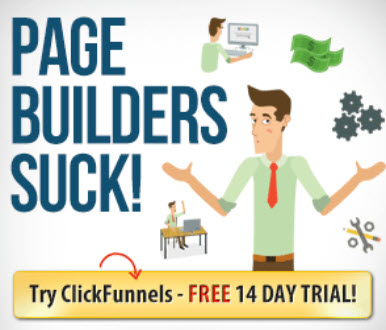 Elements are your text, videos, buttons, headlines, pictures, audio, and more. Elements are what constitute the entirety of content on your page. You can explore the settings of each element and make changes to the element any way you like. You can change the font, style, background, and customize each of the elements on your page until your page is exactly how you want it.
One of the must-add elements of an opt-in page is 'Inputs'. This is where you capture the email address of your visitors. You can similarly edit all the pages in your sales funnel.
8. Configure Your Page Settings
At the top of the page, slightly to your left, you will see the 'Settings' option. First, you set up integrations for your page. But hey, didn't we already do that? The answer is no.
What we did earlier was an account-wide integration where you linked your funnel to an email autoresponder – you can also use ClickFunnels email autoresponder, but most people prefer to use a third party autoresponder.
What we're doing here is setting up the integration for each individual funnel page. You direct all the email addresses entered on this page to your email autoresponder, so you can build an email list and start sending out emails.
The next step is to tackle SEO Metadata. When you or someone else shares your page on Facebook, you don't want it to look ugly and out of place. So, you design your SEO metadata to make it look like something that Facebook pulls. You can customize the title, description, and social image to make it look good on social media pages. You follow this step with the one where you insert a tracking code.
The next setting, 'Custom CSS' allows you to code the page instead of building it with a visual editor. The remaining settings are for Background, Font, and General where you explore a bunch of settings that are not really compulsory at beginner's level.
Takeaway
So, that's all you need to do to make your first successful sales funnel on ClickFunnels. We hope our step by step ClickFunnels tutorial was helpful for you, and you can now set up sales funnels conveniently.
Once you get the hang of building a sales funnel on ClickFunnels, it comes to you more easily the next time. With enough practice, you can eventually start exploring more options to modify your funnels and make them more advanced.
If you have any questions, drop in the comment section below. Until next time!