Builderall vs Clickfunnels | Comparing Two Great Sales Funnel Platforms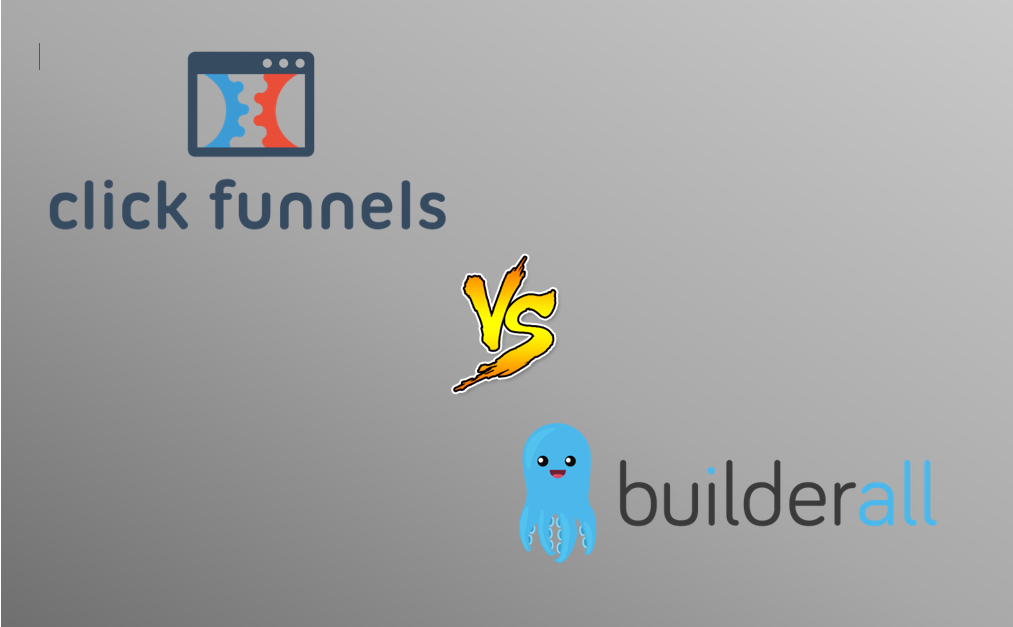 Anybody who wants to build a high-quality sales funnel or landing page for their products will inevitably come to a common problem: being able to efficiently create effective landing pages and funnels. For this reason, many people compare BuilderAll vs ClickFunnels, two of the best sales funnel building platforms.
On this page, we will compare BuilderAll vs ClickFunnels and tell you everything that you need to know about these platforms so that you can decide if either of them is right for your business. Of course, it's important to remember that these platforms are simply premium services which help you to do things which can be done on your own.
BuilderAll vs ClickFunnels: What Are These Platforms?
Both BuilderAll and ClickFunnels are platforms which you can use to build your own sales funnels. Before we compare BuilderAll vs ClickFunnels, it is important that you first understand many of the important details behind how the system works.
Before we can break down each of these platforms effectively and then decide which one is best for your needs, you first need to have plenty of background knowledge. After all, it may be difficult (if not impossible) to find a sales funnel platform which completely accommodates all of your needs.
Top Related: Salesfunnel Examples
What is BuilderAll?
Anybody who wants an online service which can help you create landing pages and get them ready to convert into sales will inevitably come across BuilderAll as one of the top platform options. Right off the bat, here are some of the most popular and relevant features of this service for you to be aware of:
Unlimited funnels and pages
Unlimited visitors and websites
E-mail autoresponder for up to 10,000 subscribers
As we can see, this service is one which gives you an almost unlimited number of funnels, pages, visitors, websites, and subscribers. When the subscribers reach 10,000 (which is already a pretty impressive feat), then you will need to either upgrade or change your service.
When it comes to building sales funnels, landing pages, and running an online enterprise, you will have a hard time finding a platform more high-quality and capable of as many features as ClickFunnels. Although, as we compare BuilderAll vs ClickFunnels you may decide that BuilderAll is the better service. Here are some of the top features that ClickFunnels is capable of.
Top-quality pages and funnels (up to 20)
Up to 20,000 visitors and 100 pages
Follow-up e-mails and SMS messages
However, don't get confused here. Although this is a great platform to use, there are some potential downsides to be aware of. For example, this is definitely not the most affordable option on the market for constructing sales funnels and landing pages, but due to the high-quality and wonderful track record of the service, it remains one of the best online sales funnel building platforms.
Top Related Post: Clickfunnels Examples
BuilderAll vs ClickFunnels: Complete BuilderAll Review
Intro
When it comes to online platforms which are capable of helping you construct landing pages and sales funnels, BuilderAll definitely remains among the top of all the potential options to choose from. Due to its wide array of popular features, BuilderAll remains one of the most popular service options for constructing funnels and landing pages. Anybody who wants one of the best sales funnel building platforms will probably love this service after they look through the many features.
Price of the Platform
When it comes to the overall price that you pay for the online platform, BuilderAll will really stand out. As you may already know, finding the lowest price possible isn't always the best idea. However, as we continue to look through the many wonderful features that this service provides, the price will only become more attractive. Of course, remember that anybody who builds their own websites manually will always be able to get the best deal possible.
Number of Permitted Funnels
Online businesses which have many different sales funnels ideas in a variety of niches will definitely prefer BuilderAll. The reasoning for this is simple. If you use BuilderAll, you will be able to build an unlimited number of funnels. This means that you will have an unlimited amount of creativity at your disposal. If you keep coming up with great funnel ideas, have the time to dedicate towards putting them up on the internet, and then take all other steps necessary to maintain these funnels, the possibilities with this platform are endless.
Number of Permitted Pages
Another area where platforms like BuilderAll and ClickFunnels may decide to limit their users is the total number of pages that they can create. Of course, having an unlimited number of possible funnels is useless if the number of pages is limited. In reality, a limited number of pages will limit the total possible number of websites. Thankfully, BuilderAll allows their subscribers to also create an unlimited number of pages. As a result, this is another area where you will never feel like your creativity and possibilities are limited.
Limit on the Total Number of Visitors
As we have mentioned, there are an unlimited number of funnels and pages that you can create if you subscribe and pay the monthly fee for this service. Accordingly, these are variables of running your online business that you won't have to worry about should you choose to use BuilderAll. However, it's important to note that there is also no limit on the total number of visitors to your funnels. This means that you could theoretically make a lot of money and generate a very nice return on your investment (ROI) when you use this service effectively.  
Ability to Automatically Respond to Emails
When it comes to running your very own drip campaign, BuilderAll is a wonderful option to consider. A drip campaign is where you send multiple e-mails to an e-mail subscriber in the hopes that they will pay for your service. In addition to being able to assist with drip campaigns, this is also a wonderful service to assist with automatically responding to e-mails. With BuilderAll, you can automatically reply to the e-mails for up to 10,000 total subscribers.
Does it Provide Your Own Website and Domain?
When it comes to having your own website and domain, BuilderAll will help you connect to unlimited domains. There is one important distinction here. When you use this service, they will not actually provide unlimited domain names for you. When you consider the fact that domain names can be rather expensive, this is understandable. In any case, you can connect an unlimited number of domain names to your BuilderAll account if you have already purchased them.
Create Funnels on an Android or iOS App
The ability to create applications for the purpose of developing a sales funnel is a rather common idea these days. However, most online platforms for constructing funnels do not support this sort of service. With BuilderAll, anybody who has dreams of connecting their sales funnels to the Android or Apple app stores will have an easy means of doing so. Best of all, it is designed to assist anybody who has very basic knowledge of how to construct things like this.
Helps You to Create Videos and/or Other Forms of Content
Part of having a funnel that can generate some serious sales is having content on the page that draws the interest of the visitors and quickly inspires them to be interested in purchasing your product or service. Of course, this isn't always entirely easy to do when you use simple text boxes and paragraph descriptions. Another great feature of BuilderAll is that it can help you to create videos and other forms of content easily. Specifically, constructing videos and presentations is a lot easier with BuilderAll since it comes with features to assist in this process.
Overall
As a whole, anybody who prefers the ability to have an unlimited number of potential pages and funnels will really love the service that is provided by BuilderAll. Since it is capable of many features that other funnel producers aren't, and can even help you create mobile applications, videos, and even presentations, this is a popular service to those who need features like this. Since this service comes at an affordable price and with many of the features that you need in a high-quality funnel builder, this is one of the best options on the market.
Related: Best Sales Funnel Software
---
BuilderAll vs ClickFunnels: Complete ClickFunnels Review
Intro
ClickFunnels has been around a little longer than BuilderAll, and as a result, this is a platform that has more time spent in its development and its many features. Of course, this alone doesn't make it better than BuilderAll. However, many people would like to use a platform like this since it comes with a heavy share of features, a tested recipe for success, and a platform which is very easy to use. This is definitely another great option for anybody to consider who needs a great sales funnel building platform.
Price of the Platform
One of the most immediate things that we notice as we look at the price of ClickFunnels is that it may be a little more expensive than expected. Of course, there is always a certain extra price that you pay when you use top-quality services or products. Considering that ClickFunnels has been widely acclaimed for several years, the price of the service shouldn't be too much of a surprise. Especially considering the fact that it has a track record of success which has been proven to be effective throughout the years.
Number of Permitted Funnels
As we will explore while comparing BuilderAll vs ClickFunnels, one of the main differences between these two services is the fact that ClickFunnels tends to limit its users a little more. In this case, it's important to understand that you can only build a limited number of funnels. In the circumstance of ClickFunnels, the number of permitted funnels depends on what type of subscription you have. If you get the Startup package, you will be limited to 20 funnels. If you purchase the more expensive Enterprise package, you will be free to create up to 70 funnels.
Number of Permitted Pages
Just how the total number of permitted funnels is limited, the total number of pages is also limited with ClickFunnels. It also depends on which package you choose. Those who subscribe to the Startup package can create up to 100 pages. If you need a little more space, you will need to subscribe to the Enterprise package. With the Enterprise package, you can create up to 300 pages. This would add up to 70 different potential funnels with about four to five pages on each funnel.
Limit on the Total Number of Visitors
There is also a limit on the number of visitors that your funnels can receive should you decide to purchase one of the plans that are offered by ClickFunnels. For example, the Startup package for ClickFunnels entitles you to up to 20,000 visitors maximum. If you need a little more breathing room, then you can purchase the Enterprise package and receive up to 100,000 visitors. In all reality, it would take a smart group of people with a very good marketing scheme to reach this figure in the first place.
Automatic Drip Campaigns and E-mails
When it comes to setting up drip campaigns for your e-mail subscribers, you are looking at perhaps the best service for assisting you with this process. In reality, setting up a set of e-mails to gradually send your e-mail subscribers is extremely easy to do with ClickFunnels. Just be sure to note that this service will not automatically respond to e-mails for you. This is a service which requires a little more sophistication than ClickFunnels can offer you. However, many people simply want an effective tool for crafting drip campaigns, which is exactly what we have here.
Up to 20 Different Custom Domain Names
One area where ClickFunnels lacks a tad is the fact that this service comes with support for only 20 different domain names. Of course, all you need to do is connect your domains to the service after purchasing a subscription. With 20 domain names, you can either set up 20 different sales funnels on separate domains, or up to 70 (with the Enterprise plan) on your 20 domain names. Doing this is actually very simple since you can connect several landing pages to a single domain name if you want to.
Easily Setup Webinars and Hangout Funnels
Another feature which stands out with ClickFunnels is that they can help you to easily incorporate webinars and Google Hangouts with your subscribers. Since content like this has been becoming increasingly popular, anybody who likes this sort of content for their sales funnels and landing pages should consider making this their top choice. Keep in mind that you will still need to put in the effort of creating the content.
Easy Drag and Drop Page Editor
Unless you are familiar with coding and how the internet works, having a system which can assist you with constructing pages can make the process of setting up your landing pages a lot easier. One of the absolute best features of ClickFunnels is that you can easily set up and rearrange your pages using the intuitive automatic page builder. This is one of the features where it really pays off to have a tested service like ClickFunnels with years of success on its track record. Crafting your pages is really a breeze.
Overall
As a whole, there are various perks to using ClickFunnels. The system itself is one that has been tested for several years and is already widely acclaimed by many. However, as we look at the price of the service, we can easily see that there are services which are vastly more affordable than this one. In the end, it's important that you compare BuilderAll vs ClickFunnels and find the service that best accommodates the needs and desires that you have in a platform for constructing sales funnels.
See Also: Clickfunnels Alternatives
BuilderAll vs ClickFunnels: Why BuilderAll May Be Better

Now that we have looked at many of the features of both BuilderAll and ClickFunnels, it's important that we highlight the benefits of each so that you can come to a more informed conclusion about each of these services. Accordingly, let's go ahead and highlight each of these services one more time. For the purposes of this section, we will explore 5 reasons why when we compare BuilderAll vs ClickFunnels that various people tend to prefer BuilderAll.
1. Unlimited Funnels and Pages
One of the main reasons why many people prefer BuilderAll as we compare BuilderAll vs ClickFunnels is the fact that BuilderAll comes with unlimited funnels and pages. If you are not sure what this means, imagine being able to construct as many sales funnels as you like. Accordingly, each of your sales funnels can have as many pages as you wish. Accordingly, BuilderAll is definitely the better service for companies who simply want a service which grants themselves the most freedom of creativity possible.
2. Unlimited Page Visitors
When you think of making a website to act as a sales funnel, one of the most immediate things that you may not expect is there to be any sort of limit on the total number of page visitors. With BuilderAll, this will not be a concern. You can have as many page visitors as your business can handle. Of course, though, the limitations on visitors which we see with ClickFunnels are actually feats which are considerably hard for a beginner to reach. In other words, having unlimited page visitors may or may not be important.
3. Unlimited Domain Names (Purchased Separately)
With the power to have unlimited funnels, pages, and visitors on your websites, you will typically also need to have many different domain names to run all of your funnels. The other option would be to connect multiple sales funnel landing pages on one domain. However, if you are willing to purchase domain names, you can link as many as them as you wish to your BuilderAll account. The only aspect which is really limited with BuilderAll is the number of e-mail autoresponder subscribers.
4. Mobile Applications
This is one feature which will be the main selling point for many people. With the power to create applications which can be placed on the Apple and Android applications stores, anybody who has dreamed of a feature like this will find it hard to use any other sales funnel building platform. Best of all, the applications can be easily made in less than an hour's work if you know what you are doing.
5. Very Reasonably Priced
Nobody wants to pay more for a service than what is necessary. With BuilderAll, you can start off with a week-long free trial. Once you are finished with the free trial, you are then left with a monthly fee which is vastly more affordable than the ones offered by ClickFunnels. Most importantly, the services offered by BuilderAll are much similar, if not better, than the ones offered by ClickFunnels.
BuilderAll vs ClickFunnels: Why ClickFunnels May Be Better

From first glance, it can be very easy for the average person to become convinced that BuilderAll is the better service. After all, it offers many different features on an unlimited basis: unlimited pages, funnels, domain names, and so on. However, when we take a closer look at ClickFunnels, it is easy to determine why there are many people who prefer it over BuilderAll. To help you understand these reasons with a little more clarity, let's explore 5 reasons why ClickFunnels may be the better service.
1. Tested System with Track Record of Success
For starters, ClickFunnels is a service that has been around quite a bit longer than BuilderAll. Accordingly, you should expect this platform to have a system which is much more user-friendly and capable of turning around your initial investment with real results. Since this platform has been tested for years and has been proven to work, many people will prefer it over one which, as we will illustrate, can occasionally encounter buggy problems with the interface.
2. Very Easy to Use the Module
This is another area where ClickFunnels really stands apart as we compare BuilderAll vs Clickfunnels: having an interface which is very easy to use. From being able to navigate through your sales funnels, building new ones, and navigating all other necessary settings, using ClickFunnels will prove to be much easier and headache-free than using BuilderAll. Of course, this will translate to saving much more time when you need to edit a few things.
3. Drip Campaigns Have Never Been Simpler
Setting up a wonderful and effective drip campaign is the heart and soul of many different types of sales funnels. To put it plainly, a drip campaign is where a potential customer provides you with their e-mail address. Then, you have a system which automatically (and gradually) sends the potential customer with more and more information so that they can decide over time if they want to purchase your product or service. With ClickFunnels, it is extremely simple to craft an effective drip campaign.
4. Creating Pages is Simple (Even for Beginners)
Of course, part of constructing a sales funnel is having a website and landing pages. If you have no idea how to design web pages, this can really start to be a chore. Many people simply want a platform which can essentially do things for them. With ClickFunnels, being able to construct your pages is very easy. With the drag and drop editor, making your pages will require the use of a mouse, but not extensive knowledge in coding.
5. Longer Free Trial Period
Sometimes you simply need time to try a platform which you might intend to use for the long-term before you pay for it, especially when you look at the price and realize that it will burn a considerable hole in your pocket at the start of each month. With a 14-day free trial period, you have more time to try the platform before you decide if it's right for you. Of course, having a free trial implies that you don't have to pay a dime until you are confident that you will enjoy using the service.
BuilderAll vs ClickFunnels: Common Issues with BuilderAll
As we explored the many benefits around BuilderAll, it may have been easy for people to quickly assume that it is the better platform as we compare BuilderAll vs ClickFunnels. However, it is important to note that there are some downsides that you should be aware of before purchasing the service. Here are some of the top issues that people may encounter with this platform for building sales funnels.  
Occasional Buggy System Problems
Although this is easily the more affordable service, there are various random problems that users encounter with the platform. All sorts of technical issues are normal as you use this service. Until the programmers over at BuilderAll address the many different potential bugs in the system, occasional problems should probably be expected. Of course, these should only be seen as a deterrent in creating sales funnels and not a complete blockade. Worse comes to worst, you will have to get in touch with customer service.
Limited Number of E-mail Autoresponder Subscribers
Although there are many features which come with an unlimited figure, it's important to note that you can only have up to 10,000 e-mail autoresponder subscribers. However, you should also understand that it is considerably difficult for a sales platform system like BuilderAll to even have this sort of service in the first place. As a result, many people may not consider this to be too much of a hindrance.
Beginners May Have a Harder Time
The module of BuilderAll has been considered by various people to be harder to use than the ClickFunnels module. Additionally, there is a lack of resources to assist beginners. If you are not the type of person who operates well in a trial-by-fire situation, you should probably just consider using a platform like Clickfunnels, which is widely considered to be the easier platform to both navigate and actually construct pages with.
---
BuilderAll vs ClickFunnels: Common Issues with ClickFunnels
Even though it may outwardly seem otherwise, there are also problems that you may encounter with ClickFunnels. From first glance, ClickFunnels can tend to put on a facade of perfection, especially when you experience how easy the module and funnel builders are to use. However, there are various issues which you should be aware of. Here are some of the most common issues that people may have with ClickFunnels.
Too Many Limitations
Whether it be a limited number of funnels, a limited number of pages, domain names, and so on, having limitations may prove to be too much of a burden to certain people, especially when we look at the price difference between the Startup and Enterprise packages. If you want to construct an unlimited number of sales funnels, you should consider using BuilderAll since most of the limitations we see here with ClickFunnels are non-existent with BuilderAll.
More Expensive than Many Competitors
Price can usually the top concern for people as they consider purchasing something. Although it would definitely be nice to be able to subscribe to a service without worrying too much about the price, this is not one of those services. When we compare the price of BuilderAll to the ones we see on ClickFunnels, it is immediately clear that ClickFunnels is much more expensive. In reality, the price you pay is a reflection of the company's track record and your odds for success using it.
Can be Hard to Reach the Customer Service
This is something which can be very frustrating with any sort of premium service that you pay good money for. As you navigate through the customer service on ClickFunnels for the first time, you may have a difficult time reaching a customer service representative. Typically, you will need to send an e-mail and wait several days. Many people have encountered problems reaching the ClickFunnel customer service. As a result, anybody who needs to have readily-available assistance from a human being may decide to pursue another sales funnel building service.   
---
BuilderAll vs ClickFunnels: Alternatives to Consider
There are actually many alternatives on the market which can compete with BuilderAll and ClickFunnels. Accordingly, if you have been looking through both of these platforms and still aren't entirely sure if they are the best option for you, it's important that you keep looking around. After all, you need to make the best possible decision to suit your business. Here are a few more options to consider if you still aren't sold on BuilderAll or ClickFunnels.
This is a great option for small businesses which need some time to grow and develop. Just like Builderall and ClickFunnels, Infusionsoft is a service that can assist with the operation of sales funnels. However, the main difference here is that this platform really excels at helping you track the history of each of your clients. If you need to become more organized and have a platform which excels at customer service and is still capable of many of the features we discussed as we compared BuilderAll vs ClickFunnels, this is a great alternative to consider.
Wix is a service which helps common people without any background knowledge in web design to easily set up their own websites within hours. Since the platform has a drag-and-drop function which is similar to what we see with ClickFunnels, an affordable monthly price, and the ability to easily set up multiple websites, anybody who wants to do more things on their own will prefer this service.
WordPress is one of the most versatile options for creating websites. With a ginormous list of plugins and themes, constructing a professional-looking sales funnel is very simple with WordPress. This is easily seen as we see its ever-increasing popularity. If you are willing to learn how to use the platform, WordPress can prove to be the best sales funnel builder for your business' needs. This may also be the best option for anybody who wants to build websites which aren't sales funnels.
BuilderAll vs ClickFunnels: Our Top Choice & Summary
As we compare BuilderAll vs Clickfunnels, it becomes clear that there are many different perks and downsides to each service. When it comes to overall usability and being able to run effective drip campaigns easily, many people may prefer ClickFunnels. However, if your top concerns are affordability and the ability to create as many sales funnels and pages as your creativity allows, you should instead go with BuilderAll. As a whole, the higher-quality service is definitely ClickFunnels. However, if you can't afford to pay the big bucks you should simply go with BuilderAll.
Disclosure: I am an independent ClickFunnels Affiliate, not an employee. I receive referral payments from ClickFunnels . The opinions expressed here are my own and are not official statements of ClickFunnels or its parent company, Etison LLC.