How Travis Zigler is Selling High-Ticket Consulting with Amazon PPC Using YouTube (Podcast – Bright Ideas with Trent)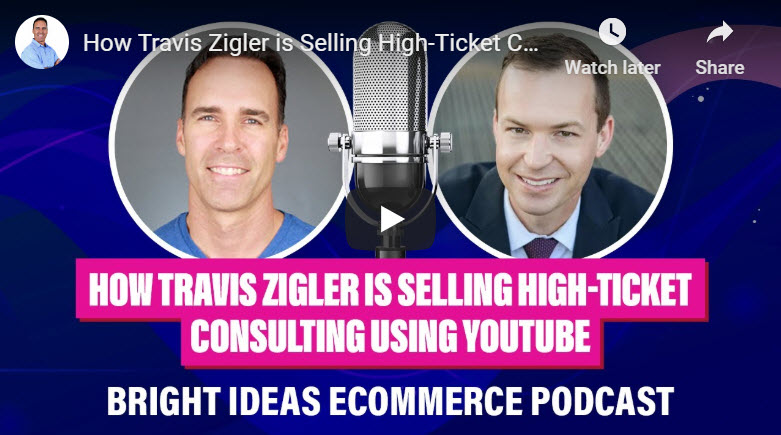 When we began selling on Amazon in 2015, we began learning the ins and outs of Amazon pay-per-click (PPC). Being Amazon's advertising platform, the strategies we learned enabled us to quickly scale our company and begin helping others do the same.
In this helpful podcast, you'll learn a bit more about how we've gone from just selling on Amazon, to helping friends scale their companies, or gathering leads outside of our inner circle.
How to Gather Leads for Your Business Using YouTube
Knowing that we wanted to take on new clients, I decided to use YouTube as a way to get our information out into the world. And I did this with a free course. In our business, we write standard operating procedures for everything that's done in the business. We simply made these SOPs into blog posts, and turned those blog posts into videos that I began sharing with the world on YouTube.

By driving traffic to a lead generation/opt-in form, we're able to gather emails. Those who subscribe get our free, 11 week Amazon PPC course delivered to their inbox every single week. By giving so much value to our leads, we've been able to acquire clients without having to make it mandatory for them to join any sort of course. At the end of each training, there is a call to action to schedule a call with us to learn more about our services for Amazon PPC.

The great thing about what we do is that it's all available for free in our weekly trainings. However, many companies aren't interested in learning how to manage Amazon PPC on their own, and these are the people who look to us for help. While not everyone is a fit for our company, we've had great success growing and scaling companies through Amazon PPC optimization alone.
If interested in seeing how our agency can help you on Amazon, click here and fill out this form.
The Importance of a Sales Script
A sales script is more of a conversation script, but it's an important part of talking to clients for high ticket business. This contains not only the discussion topics and questions you'll initially ask a potential client, but it also contains all of the potential talking points that have come up in past phone calls. This makes it easier to transition the phone role from the main person doing the calls to new employees. The key to phone calls is to have the potential customer talk the majority of the time. Ask them smart questions that allow them to reveal their goals, but also ask questions that allow you to figure out if they're the right client for you.
Using YouTube Ads
We run Google search campaigns to target specific keywords in SOP blogs that we write, but we're also utilizing YouTube advertising to target people searching for specific terms (for example, Amazon PPC or Amazon FBA). Our ads show up in the pre-roll of these videos, and it's a very effective way to get people interested in your service. We place a Learn More button on the ads that takes you to our landing page for the free course.

The key with YouTube ads is that you only have 5 seconds to hook them and get them interested. We use a variation of, "If you sell on Amazon, make sure to listen to the next 30 seconds of this video." This gives them not only a call to action, but it also lets them know how long they can expect your video to be (making them more likely to avoid the Skip Ad button).
With YouTube ads, you can also choose the videos you wish to have your ad featured on, but that channel has to be enrolled in Google Adsense.
The Bright Ideas eCommerce podcast is where proven entrepreneurs share the exact tactics and strategies that are working for them. In each episode you will discover actionable golden nuggets that you can implement in your business today.
See the full show notes on the Bright Ideas Podcast page here.