5 Best Sales Funnel Software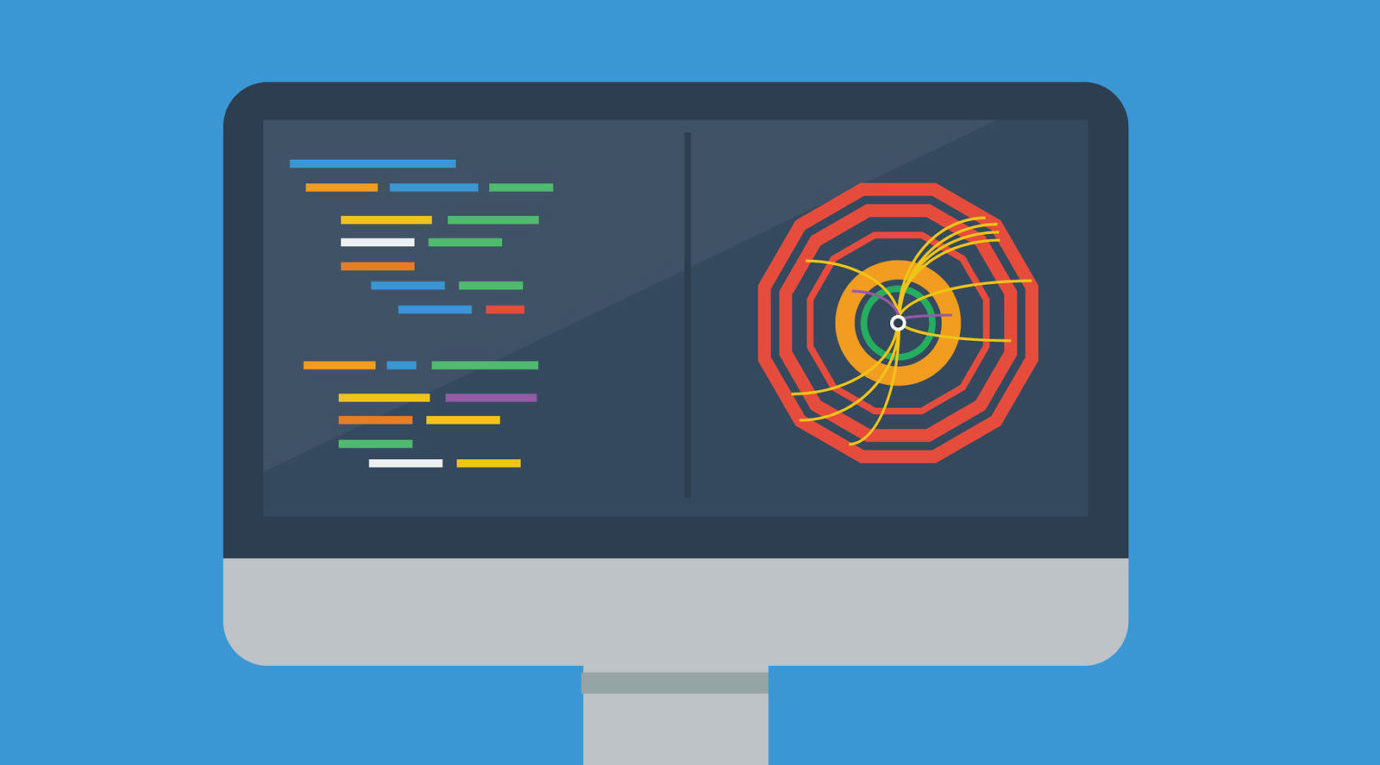 You have a lot of options when it comes to the top funnel design software programs. Let's dive into the best sales funnel software available!
Over the past five years, there have been many advancements in technology, software, and even how we use the internet to market and sell just about anything you could think of. If you recently developed a product or a service, then you want to get sales rolling to maximize all your hard work. Creating a presence online is the best way to attract global (and local) customers, along with automating your marketing and sales processes.
So, you might attract a lot of people and bring in lots of money but, the other side is – how are you going to handle all the new customers? For instance, how you will you send personalized 'Thank You' notes after each purchase? Or, how will you get your product(s) sent out to 1,000 people who expect it at their doorstep in two days? You need to find the best sales funnel software available to help you do that.
You have now made the connection and brought new customers to your team. Now, the goal is to keep them there. The best way to do so is to call in a third party to automate your whole marketing and sales process so you can stay on top of each customer and make sure they get what they want from you. You need to gather and funnel everyone through to a point where they take certain actions, such as buying your product, or simply signing up to get your emails. That's where a funnel software creator comes in handy.
If you've ever baked a cake, you know that you typically need a funnel to put all the dry ingredients into a big bowl before stirring it all together and putting it in the oven. So, you collect each ingredient, grab a funnel, and pour it into the bowl. Sift, pour in liquids, stir, and bake. Keep this imagery in mind as you imagine a marketing and sales funnel. It's really a similar process that is automated to gather people from across your varied marketing channels. This includes multiple social media accounts, email lists, videos, and anywhere that you pay for an advertisement to be placed. The goal is to entice people to come look at what you offer. Once you begin collecting those interested prospects, they move into your funnel and head towards your landing page to buy your product or service.
Related: Email Funnel Blueprint
Funnel software creators have been designed and built to offer ideal automated services. These services are geared towards helping businesses handle thousands of people in one or more sales campaigns. As opposed to doing this process manually – which would be a nightmare.
This article will look at the top five funnel design software platforms on the marketplace today. Find out who can help you achieve your goals of becoming an online marketing and sales star. Once you set everything up, then there is not much left to do but watch the numbers that the funnel system will generate for you. So, instead of hiring 20 people to help you make sales, you could start out DIY-style, all by yourself.
#1 Best Sales Funnel Software: ClickFunnels
ClickFunnels is a top funnel design software platform that offers multiple funnel systems and templates for every kind of service or product. Not only can you bring in far more money using one of these funnels to sell more products and services, but also, you can make money in other ways, such as ClickFunnels' affiliate program.
The Affiliate Program Offered By ClickFunnels
Another great way to make money is to build your own templates and, if they are successful, you can sell those on the ClickFunnels marketplace to other members. There are many opportunities for expanding your business with ClickFunnels, which makes the monthly (or annual) fee worth every dollar you spend.
Let us look at how you can get started with automating your funnel software creator. To start, sign up for a two-week trial period, which by default, puts you in the Full ClickFunnels Suite at $297 a month after the trial ends. You'll also get the Actionetics autoresponder, and Backpack, the system that helps you track your affiliate membership system. You have unlimited traffic, pages, funnels, and domains at your disposal, giving you a chance to see and try everything made available to you through this platform.
How it Works
If you have your service, or at least one product, ready for sale along with any free incentive offerings (such as a white paper, case study, or video), then you are ready to get started working with a funnel template. Different templates relate to unique products or services.
Open your account and you will be on your starting page. Here, you can begin charting your funnels. Click on the 'Build New Funnel' button on the right side of the page, you will be directed to the page shown below. To see what is available, click on the 'Cookbook Builder Process' button located below 'Start Cookbook.' Note that on the left side menu, you can begin drilling down to select a funnel that is right for your product. We recommend checking out all the funnels available to get an overview of everything.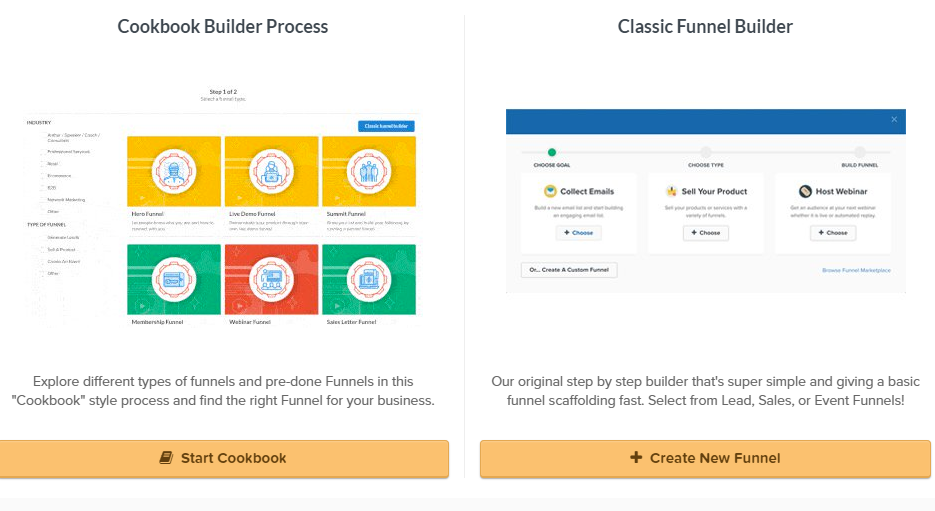 Get the Funnel Hackers Cookbook and go through it to understand how Russell Brunson has put together his funnel systems. You can refer to it while you are building your own funnels using one of the funnels he suggests in the cookbook. Just make sure it applies to your product or service. This will help with your basic training. You can also click on the 'Chat' button at the bottom right of your funnel platform page to get extra help while you are building and editing your funnel.
Brunson is a co-founder of ClickFunnels and an author in the marketing industry who wrote two books, DotCom Secrets and Expert Secrets. You can pick up both books for free on the ClickFunnel platform. Read these books to better understand the philosophy and strategies that are part of how ClickFunnels is designed to work for you. You can also sign up for Funnels University and pay upfront for a year for $597, which gives you a 75% discount compared to paying monthly. One other place for training is Funnel Hacks, where you can learn all about finding traffic and how to clone funnels.
The Perks of Actionetics
Actionetics is an autoresponder, which you manually set to react whenever a visitor clicks on a link in a form, or on a landing page. You can set up emails that respond after an email sign-up action and submission, set up automated order forms, shopping cart forms, payment forms, one-time-offers (OTOs), which occur at the shopping cart or payment page, and more. Your business marketing and sales processes are fully automated and responsive according to what actions viewers take.
The Perks of Backpack
Backpack, mentioned earlier, is the platform that organizes and tracks your affiliates, including what links are clicked on, what money is coming in, what is owed to your affiliates, what your percentage is, who they brought in, and much more. The system is very detailed, organized, and a great help to busy marketers. Set up your affiliate program inside ClickFunnels on the Backpack platform, and bring people in as your affiliate. You can earn 40% on commissions. You continue to earn commissions on what they buy, so long as they stay active. You will still get commissions even if they run their own affiliate programs.
Accessing Available Add-Ons
Once you sign up, you will begin receiving emails that show you what other options you can choose to add into your account, that will be of great help to you. One of the latest offerings is Funnel Scripts which write almost all your marketing and sales copy on your forms. If you hate writing anything, then check this pre-recorded webinar here. Once you have mastered creating funnels, consider what add-ons you can include with your subscription that will help you succeed with your business.
ClickFunnels is a wonderfully designed service that cannot be matched in terms of the tools made available to its members who use the service consistently. As with anything, it takes a little time to begin to see the results you were hoping for, but you will see them far sooner than if you did it all by yourself.
#2 Sales Funnel Software: Leadpages
Leadpages is focused on building great landing pages for all products and services. Viewers may click on a link found on one of many marketing channels, and this link takes them right to a landing page. You may encounter a splash page which pops up when the viewer gets there. This is the point where the viewer becomes a prospect. When he or she enters in their email address, they become a subscriber. They will then receive an email to verify their address is correct.
In other cases, the landing page is a squeeze page that offers information about the product the viewer is interested in knowing more about. There may be one or more opportunities here for the viewer to click on a call-to-action (CTA) button, and the email is entered here instead of on a splash page. The landing page can also be called a capture page, if it is capturing visitor information. For every business that exists online, there will be a unique landing page designed specifically for the product or service offered.
A conversion landing page becomes a sales page if the viewer clicks on the designated CTA button to make a purchase. All the customer's information is captured here. This information then goes into a sales database. The email will go into a designated email list, compiled of all people who've made a purchase. Emails to existing buyers will be different from emails that go to prospective buyers.
What makes Leadpages different from ClickFunnels?
Leadpages can offer you many of the same tools, but it does so through a joint venture with other companies, such as Zapier. For example, you can integrate your current email service provider, such as MailChimp, or any other partner listed with Zapier. Leadpages also integrates with two webinar platforms, GoToWebinar and WebinarJam/EverWebinar.
How Much Does Leadpages Cost?
If you are ready to try out Leadpages, go to Leadpages.net to get started. You will get a two-week trial and will automatically be put into the Pro account which allows you to sign up with Zapier to start the integration process with the tools you want to use. You can pay monthly or annually, you'll pay more if you pay by the month. For a Standard account, the annual fee is $25 a month, $300 annually. Monthly memberships pay $37 a month. If you want the Pro account, it is $576 annually, which breaks down to $48 a month. If you pay by the month for a Pro account, it is $79 12x a year. If you can manage your budget with an annual purchase, then you save a lot of money.
How It Works + Available Features
When you first open your account page, you will see three templates you can start with first, as shown in the image below. Or, click on the 'Browse All Templates' button at the bottom. You may want to look around at the template choices first to see what all is available.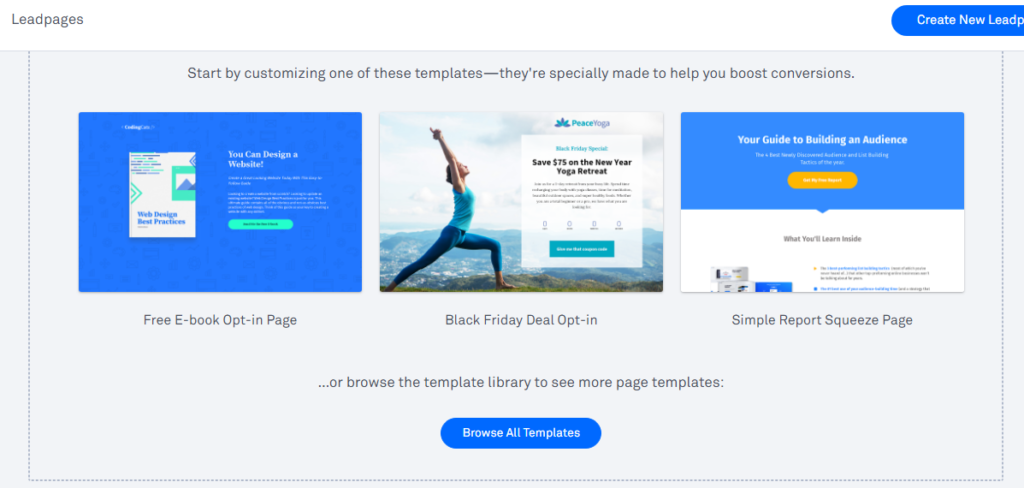 After you have chosen the template you want to use, set it up for editing on your platform. You can check the menu at the top of the page for the following tabs which are named Leadpages, Leadboxes, Leadlinks, Leaddigits, and Templates.
When editing your template on the Leadpages tab, you will see four icons that represent in descending order:
Widgets
Page Layout
Page Styles
Page Tracking
Click on the Widgets icon to get a menu of the elements you can include on the page you are editing, as shown in the image below.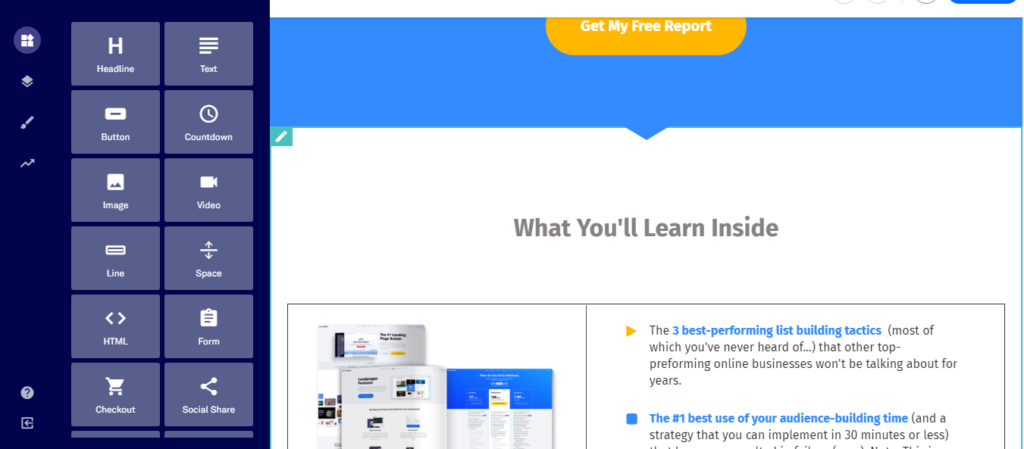 Each descending icon gives you further information that you will want to know about, so it is important to explore the many tools you can find here. For example, Leadpages Analytics is found on the left-side menu at the bottom. You will find three choices: SEO Page Tracking, Facebook Tracking, and Analytics Tracking Page. Each can be set up with the necessary information so you can track any actions taking place using tracking pixels.
Back at the top menu, while still on Leadpages, if you click on Leadboxes you will get three versions:
Standard Leadbox, which works on the mobile phone platform for capturing information
Popup Leadbox set by you to pop up on the browser and ask for viewer information, such as an email.
Exit Leadbox, used only on browser platforms, will pop up on the browser page if the viewer appears to be leaving the page. It will ask for the viewer's email before he or she moves off the platform.
As you can see, there is plenty to explore here while you are in your trial period.
Does Leadpages Offer an Affiliate Program?
Leadpages also has an affiliate program. To learn more, click on the Leadlinks tab at the top of the page menu. Once you start your affiliate program, you can manage everything in one page. For more on both Leadboxes and Leadlinks and how to use them, click here. The affiliate program is available to members on the Pro plan. You will earn 30% on members coming in as your affiliate.
Leaddigit, found on the top menu, is an excellent tool to use for gathering customer information. It has them text their information using a code word to the number you assign them. For example, let's say you are giving a seminar and want everyone there to get a copy of your presentation slides. Simply encourage attendees to text a word, such as SLIDES, to a 5-digit number you give them. The number is provided through your Leadpages account. When their message comes through to you, now is your chance to get them to sign up with their email.
Leadpages also offers training programs and other marketing resources. Go to your profile on the upper right side of your account page and click on your profile to access a drop-down list. At the bottom, you will find Marketing Resources. Here you'll uncover a lot of interesting information. You will also find a link to ConvertedU where you will find the Leadpages Launchpad to help you get started by viewing videos detailing what you need to know.
Click on the Blog link at the bottom of the page to learn more about the latest happenings at Leadpages. On the bottom of this page, check out the Learn section to pick up even more useful information. Download The Ultimate Guide to Landing Pages here, or you can sign up for it on the official Leadpages site. The more you look around the website platform, the more information you will find.
For both ClickFunnels and Leadpages, you can also conduct A/B testing to see which version of a campaign is performing better than another. This ability to test your landings pages is a big bonus in finding out how well your pages and strategy perform in real-time. Then, you can change parts that are not performing well.
#3 Sales Funnel Software: Wishpond
Wishpond is based out of Vancouver, Canada, and was founded by Ali Tajsekandar in 2009. It is an all-in-one marketing suite that focuses on landing pages and managing leads. You can start out with a two-week trial and experiment with all the tools before deciding which version works best for you and your budget.
What Does Wishpond Cost?
The basic plan is $49 a month when billed annually. With the basic plan, you get support for up to 1,000 leads. If you expect more leads, you'll need to upgrade to the next plan.
The Pro Plan is $99 a month if billed annually. The pro plan expands support for 2,500 leads, five users on the account, and grants access to the API.
The third-tier plan is the Growth Plan. For $199 a month you get support for up to 10,000+ leads, unlimited users on your account, and full access to all features. You have access to chat and email support for both the Basic and Pro plans, but phone support is added on if you sign up for the Growth plan. You also gain access to additional assistance when building your landing pages and pop-ups. All you must do is use the Chat box on the page, and response times are relatively quick. You can click here to sign up for your Wishpond trial.
What Features Does Wishpond Offer?
The common features for all three plans provide the use of landings page templates. Including A/B testing for evaluating the better landing page, automated responsive emails to landing page visitors, and integrations with 300+ different service platforms (i.e. MailChimp, Shopify, Zapier). You can also run nine different types of contests and promotions from your pages, and on social media as well.
Here are the different types of contests and promotions available for you to use: Sweepstakes, Photo Contests, Bonus Entry Contests, Instagram Hashtag Contest, Coupon, Referral Contest, Vote Contest, Leaderboard Contest, Photo Caption Contest, and Video Contest.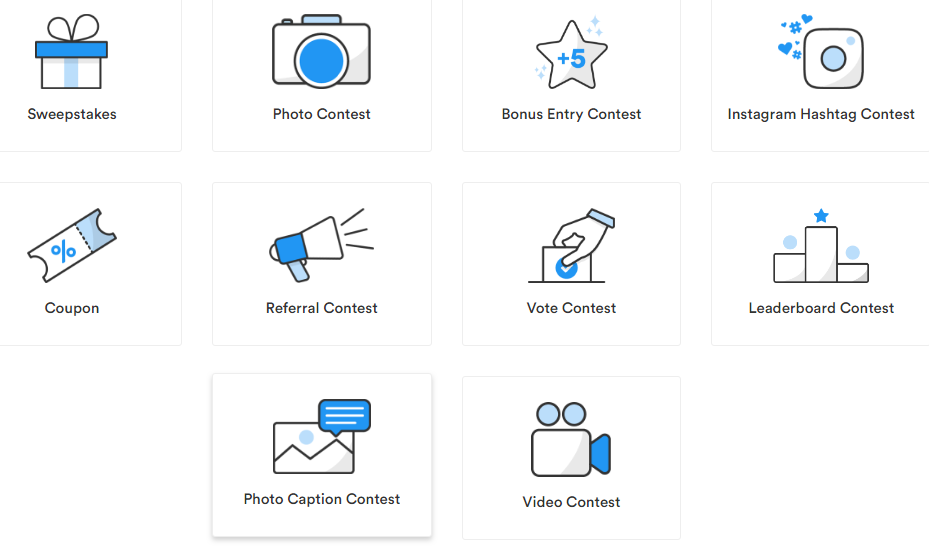 Running these contests makes it fun for your visitors to connect with you. It also makes it easy to capture their information, as part of your campaign. Any of these contests can be published on your website and will work on mobile phone screens, your blog, in WordPress, social media platforms. It can be created using templates, the HTML text editor, custom CSS and JavaScript coding. There's even the option to allow for a randomly selected winner. You also set up how your viewers can access your contests, such as giving you their email and verifying it, enabling CAPTCHA, and limiting multiple votes from one user.
Your drag-and-drop lead page templates also give you the ability to create website pop-ups. One of the best ways to connect with the viewer is to get their email address while on your page. This puts them into the lead management system whereupon you can now follow what they do over multiple visits. Each name in the visitor listing can be clicked on, which opens an activity page that shows what pages they were on, what links they clicked on, and what time of the day they did those actions. You can also score leads by rankings for those leads who appear interested enough to make a purchase.
The affiliate program is like Leadpages. For anyone who signs up under your affiliate link, you get a 30% commission on their subscription, either monthly or annually, depending how they pay. Once you open your affiliate account, you have online access to the Ambassador Tracking Dashboard where you can track activity, clicks, commissions and revenue.
You also receive banner ads to use for your website or on your blog page. Along with affiliate-based landing page templates, case studies and testimonials to use on your pages. You'll also get your own generated codes to use for attracting new customers. Plus more!
What Kind of Training is Provided?
Wishpond offers plenty of training and information that you can take advantage of, starting with the Wishpond Academy. Here you can view videos on how to get started with your account. Learn how to work with sweepstakes contests, build a landing page, work with the marketing automation system, increase and engage with your followers, plus much more. Find more information by reading some of the recommended eBooks that provide insights to the state of lead generation, Google AdWords for small business, Facebook content marketing, and more. You can find the link to Books at the bottom of your account page.
With all that Wishpond offers, we rank this company third on our list of the best sales funnel software on the marketplace today.
#4 Sales Funnel Software: Instapage
In 2012, Tyson Quick founded Instapage in San Francisco, California. The focus was on building successful landing pages that would convert by 22% above earlier pages in any advertising campaign. He now has 15,000 subscribers and has recently acquired $15 million+ in new funding for the company.
How does Instapage Work?
Instapage is in the same family of building landing pages, with a drag-and-drop template of your choice. You can create a series of customized global blocks that carry your brand elements so that it is consistent across all platforms. You just save them (such as footers, headers, etc.) and use them repeatedly across your templates. For Instapage's enterprise customers, this saves a lot of time when inside teams put out multiple advertisements and marketing campaigns. The platform also allows for collaboration between teams so that everything gets approved quickly rather than having to wait until everyone is together in a room to give approval.
Instapage has also integrated Google's Accelerated Mobile Pages (AMP) so that pages on mobile phone screens open faster. There are over 40 tools and platforms available for integration, such as Salesforce, Marketo, Google AdWords Facebook Ads, LinkedIn Ads, Google Analytics and Tag Manager, KISSmetrics, MailChimp, AWeber, HubSpot, Zapier, GoToWebinar, and many more.
Aside from the capability of A/B testing, you can also generate heat maps on visitor activity, which helps with changing anything that is not working so well. There is also the ability to customize landing pages by geography, which is particularly important when conducting a global campaign in another country. Plus, you can adjust to match cultural differences so the message is properly targeted and communicated.
How much does Instapage cost?
You can sign up for a free two-week trial here without giving a credit card number, although any Enterprise perks will not be included. The Core account is $69 a month, billed annually. That's a $10 discount per month than if you pay monthly at $79 12x a year. You get the AMP responsive builder, Instablocks, and 40+ integrations to select for your needs.
The next level up is the Optimizer account for $99 a month, billed annually, or $129 monthly. You get the core features plus unlimited A/B testing, heatmaps, dynamic text replacement, and conversion analytics.
The final level before the Enterprise, is the Team & Agency account. This is $170 per month, billed annually, which is a 22% percent discount compared to the monthly payment plan. Everything is added on from the earlier two accounts, and includes 15 private subaccounts, and branded lead notifications. Plus, an audit log that can trouble-shoot any problem areas. The Enterprise level is customized and set up for your business needs. Therefore, the pricing for this level is set according to what is ordered. If you are an Enterprise company, you can request a demo to show you what capabilities are available. You can also look at how changes can be made for your own business needs. There is something for every person or company at the level that works for them best.
The Instapage Affiliate Program
Instapage also has an affiliate program. You can earn 50% on the first payment of a new affiliate and 30% afterwards, this includes commissions on enterprise plans. There is also a dedicated Affiliate Manager to help you with promotions and increasing conversions, if you choose to partner from outside of Instapage.
Extra Help + Training
For extra help and training, you can find what you need by searching at the bottom of the page. There are Guides, Live Training, and a Help Center. At the Help Center, you are provided with several common areas where customers need help. Plus, you can also check at the bottom for recent articles and FAQs, which may help answer your questions, connect with the community, or submit a request.
#5 Sales Funnel Software: Unbounce
Founder Rick Perreault started Unbounce in 2009 in Vancouver, Canada. The company is focused on building landing pages with higher conversion rates, much like the other companies listed here. Unlike the other companies, Unbounce offers a 30-day trial period. This is plenty of time to try everything out before making a final decision.
How Much Does Unbounce Cost?
If you choose the Essential plan, you'll pay $99 a month, or you can pay for the whole year up front and save 20% at $79 a month. With this plan, you can use up to 75 landing pages, 8 pop-ups and sticky bars.
For the Premium plan, you get double of everything in the Essential plan, plus client sub-accounts, premium integrations, and better conversion tools. This plan cost $199 a month, or with an annual payment, it is $159 a month.
The top Enterprise plan is $399 a month when paid annually for a savings of 20%. The Enterprise plan can be customized to your needs, and you have access to the complete Unbounce platform, including a Launch Specialist and Success Manager. You can sign up for your free trial here.
How Unbounce Works & What It Offers
The platform supports the drag-and-drop method of building your landing pages. You can conduct A/B testing, as well as make pages responsive to mobile, tablets, and desktop browsers. One interesting tool you can use is the Dynamic Text Replacement tool. This tool can change to match what your visitors were searching for before they landed on your page. This can be a game changer when you want to be sure to deliver the message that your visitors are looking for during searches.
Your pages are automatically secured with the SSL certificate for your protection, making customers feel more at ease when giving you their information to buy a product or service. You do not have to send people to your website for the landing page. Instead, it will have a designated URL based on your account information.
The pop-ups and sticky bars allow you to change images as well as change their properties as needed. The image below is from the main website and shows how it looks when you are working inside the platform. You can also set them to activate, based on what action a viewer takes on the page.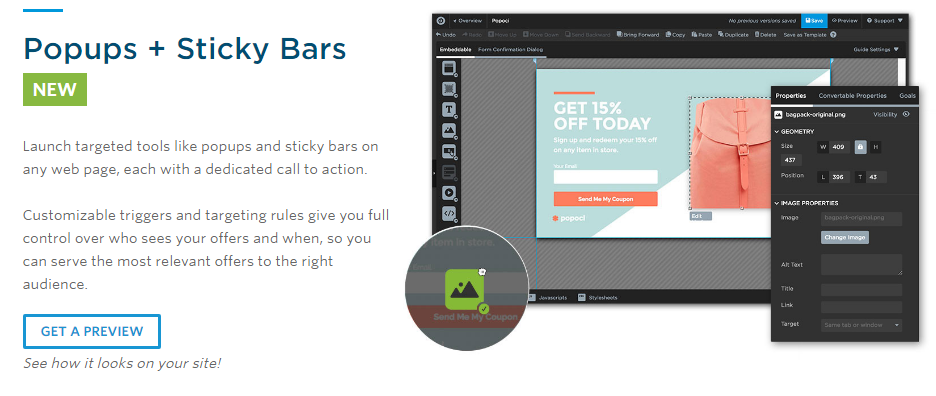 You can also add your SEO keywords to the page's title and create the meta description for what viewers will find when they do the organic search on Google. You can also integrate or embed the Google Analytics scripts. The same is true for AdWords, and whatever else you want to put in. You can apply to multiple pages at once to save time.
When your leads come in, they give you, at minimum, their email address. These will be sent to whatever customer management relationship (CRM) platform you are using, such as HubSpot, MailChimp, Salesforce, etc.
Unbounce promises that, at most, there will be less than five minutes down time, should the server ever go down. There are four data centers around the globe, which can take on any redirects when necessary. These data centers are located in Singapore, Ireland, New York, and California.
Training Resources Offered by Unbounce
For training, you can go to the Resources drop-down menu and click on Marketing Resources. Here, you'll find a lot of useful information. Aside from reports and papers you can look at, there are courses you can take, eBooks to read, and Webinars to attend. You can also go to the Knowledge Center to learn more, or join the community to ask questions.
Finally, find out more about which companies are part of the Conversion Ecosystem by clicking on the bolded link. Zapier is one such partner with connections to over 500+ applications, and growing. You will see major collaborators listed on this page. On the left side, you can drill down your search by a specific category such as email, CRMs, eCommerce, and many more.
Unbounce is a very competent platform with a lot to offer, just like the other four options in this review of the top five best sales funnel software companies. The one major part missing from Unbounce's line-up of offerings is an affiliate program. While many people are getting into affiliate programs, you do not have to engage in this to be successful, hence why Unbounce is still an excellent option.
The Final Roundup: Finding the Right Sales Funnel Software For Your Business
These five companies are ranked among the top software programs for creating funnels and landing pages. Of the five, we rank ClickFunnels in first place because it has the most complete system. ClickFunnels does not partner with other companies the way the other four top ranked software programs do. That is not to say that you cannot integrate with a program that you love to use.
Comparing Affiliate Programs
The companies who offer affiliate programs give an extra way to bring in more money. Which is great because it can help you pay your monthly or annual fees for being a member. ClickFunnels goes the extra step with its Backpack system, which tracks every part of your affiliate universe through your platform. This allows you to keep up with your affiliates. Plus, know what your affiliates are bringing in, what you owe them, and what you will receive in commission fees. Extra perks include the Dream Car program where if you refer 100 customers who remain active, you receive $500 a month to use towards leasing fees for a car. If you refer 200 new members who stay active, you receive $1,000 a month. Hence, why it is very worthwhile to have an affiliate program.
Both ClickFunnels and Leadpages have robust affiliate programs. Plus, both offer to let you build your own templates and sell them on the marketplace. Leadpages is ranked in the number two spot because, like ClickFunnels, it gives you more opportunities to make extra money. Just think, you could conduct a career in making funnel systems for clients if you are in the right program level that allows for unlimited use to templates and users. Unbounce is the only option on this list that does not offer an affiliate program of any kind, according to its website.
Integrating Applications & Partnerships
Other than ClickFunnels, the other four companies have partnered with third-party platforms to provide integration of applications for landing page templates. Leadpages, in partnering with Zapier, opens the door for access to over 1,000+ web applications. This grants Leadpages' customers many opportunities to use the programs of their choice.
All these companies offer the convenience of working in one centralized place, particularly with ClickFunnels. The other four, who started before ClickFunnels, continue to upgrade over time with integration partnerships.
Disclosure: I am an independent ClickFunnels Affiliate, not an employee. I receive referral payments from ClickFunnels . The opinions expressed here are my own and are not official statements of ClickFunnels or its parent company, Etison LLC.