Simplifying Your Amazon Marketing Strategy | Why Simple Crushes Complex Setups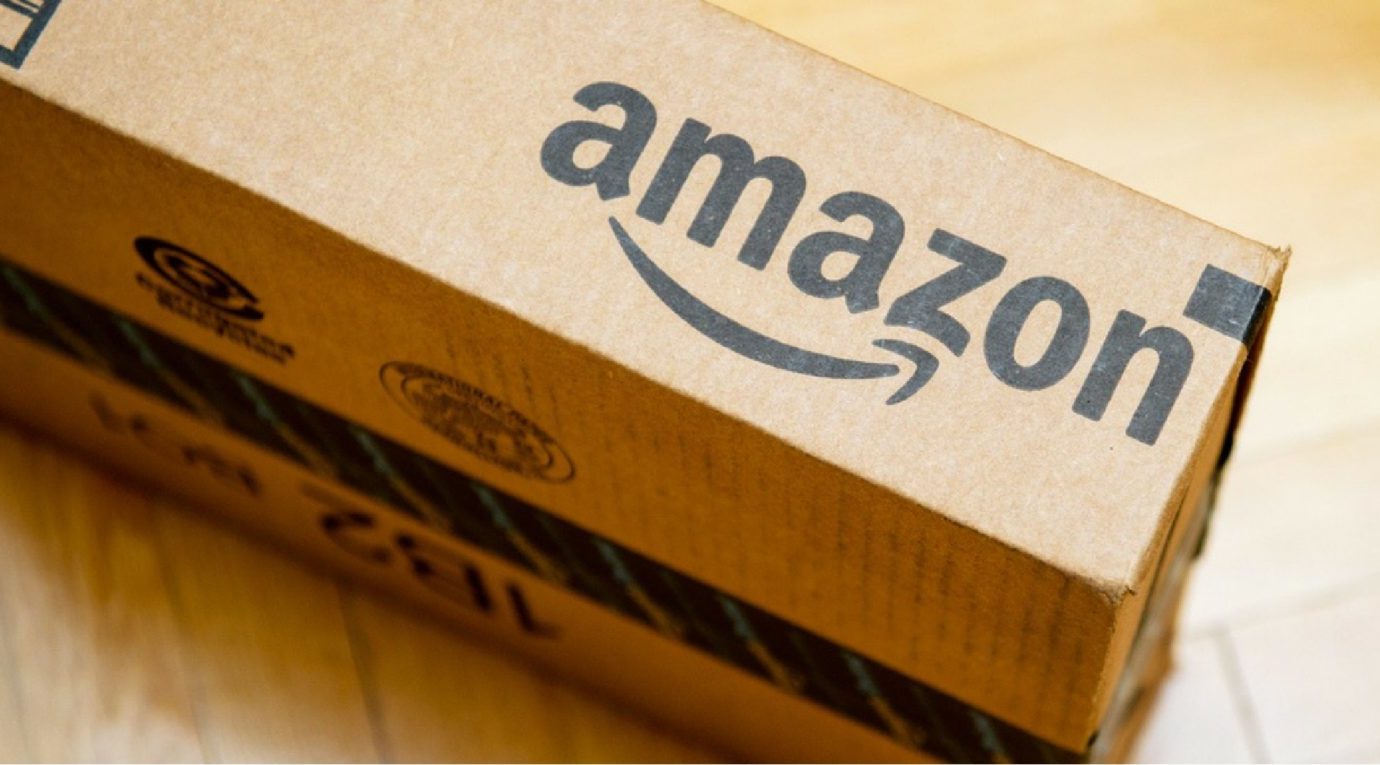 So, you are interested in becoming a successful Amazon seller and are ready to dive in. Before you dive into the deep end, you will want to create an Amazon marketing strategy that saves you time and money. There is a lot of competition on Amazon in nearly every niche, so learning how to stand out in the crowd can bring you serious benefits.
In order to stand out and scale your business, you will need to find your target market, learn Amazon's pricing structure, optimize your listings, build your brand, strive for pro-active customer service and go international. Taking the time to understand how Amazon works can help boost your success.
If you are ready to sell your products on Amazon, check out the article below. Selling on Amazon can be tricky. There is a lot of information to go through and options to choose from. We simplify the Amazon marketing strategy so you can start making more money today.

Brief History of Amazon
Amazon launched in the mid-90's and the retailer only sold books. Amazon Founder, Jeff Bezos, knew from the start he wanted to diversify and become an industry leader. Within the first month of launching online, Amazon had made book sales to all fifty states and forty-five countries around the world.
Today, Amazon is the largest Internet retailer in the world. In an effort to "sell everything" Amazon provides products in nearly every category. They created a line of consumer electronics and even market their own line of economy products called "Amazon Basics". Amazon is also the largest provider of cloud infrastructure services.
Related: Amazon Sponsored Products
Amazon's success has intrigued resellers across the globe. Just being a small part of the largest Internet retailer is enticing. The opportunity to grow a small business into a large corporation with Amazon's help is a piece of the American dream. They continue to add services and purchase relevant companies that dominate the ecommerce landscape.
Amazon Prime

Amazon Prime was created in 2005 for one purpose: to get people to spend more money online and specifically with Amazon. The program began at a cost for consumers of under eighty dollars per year and continues to increase as benefits do. Amazon added entertainment streaming and continues to sweeten the pot with more added features such as Prime Pantry, Prime Music and Prime Photos. Now consumers can get products in two days, one day or even within two hours!
There are approximately more than one hundred million Amazon Prime subscribers. This figure only accounts for Prime members and does not include those shopping on Amazon regularly without the monthly shipping subscription.
Sellers are fascinated by the traffic Amazon could add to their business. However, just having a few products on Amazon will not make you an overnight success. There are strategies and processes you must follow to grow your business with Amazon. 
Amazon Marketing Strategy 
The goal of every Amazon seller is to get more sales and generate a high profit margin. Generating sales is rarely achieved overnight, but there are simple steps you can take to increase your chances of success on Amazon. Following these steps will not only make you a better Amazon seller but a better overall salesperson as well.
Find Your Target Market
Know your niche and your customer base before you start selling on Amazon. This information will help you be a better Amazon seller and separates you from competitive niche competition.
Hopefully you already have a customer base before you start selling on Amazon. Use insights from your customer base including who are your repeat customers and what product SKUs are selling the best. If you already have several Amazon orders under your belt, use the Amazon Seller Central or similar tools to analyze marketing data. It is also good to note how much each customer spends on average so you can better choose products at certain price points.
We use Manage By Stats to obtain customer insights.
Identify your direct competitors and study who they are targeting. Using this information can help you hone in on your own target audience and begin to build successful sales funnels.
Related: What is a Sales Funnel?
Utilize social media to help identify target markets. You can then purchase ads on platforms like Facebook and Instagram that target specific markets that you have identified. Social media is a great option for smaller budgets since the ads are fairly easy for a novice to set up and the analytics can be easily read and implemented. Use the demographics you have identified to relate to customers on a personal level. It is not difficult to find your target market and it is a step you should not skip. You must know your target market before you begin to sell or your products will be all over the place. Do not spend time optimizing your listings before you know how much your customer will pay, which products they are truly looking for and buying and how often they purchase from your niche. 

Increasing Traffic 
There are multiple ways you can increase traffic and perfect your Amazon marketing strategy. Utilizing an existing email list, running targeted ads on social media and Amazon itself and direct marketing can all build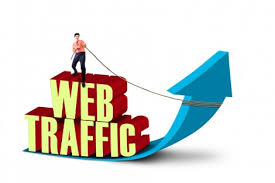 traffic and increase your Amazon sales.
Since not everyone that visits your website or Amazon sales pages will purchase your product, it is important to continually send new traffic to all of your product pages. Organic traffic can become repeat customers, tell their friends about your product and even post your products on their blogs or social media sites. 
Create an Email List 
If you have an existing business or you are just starting out, an email list is a must have to sustain a successful business. Building an email list through your own company website or via Amazon customers and comments creates a community of ready to buy customers. These are customers that will be looking forward to your next product launch. Such contacts are priceless and should be treated as such. If social media were to disappear or change platforms overnight, you can still rely on your email list to get you through the transition. An email list is the perfect free avenue to offer your customers discounts and incentives to grow your sales.
Use your email list to send out regular newsletters when you post new products for sale, put your current products on sale or want to offer an exclusive incentive like a bonus gift. Treat your email list like you would a good friend. You will want to send out information about your products but you should also supply good content as well and not hard sell in every single email you send. Providing personal stories or background about your product can help your customers get to know you and your business.     
If you would like to see how we manage our email list, you can join the Eye Love email list by clicking here.
Targeted Facebook Ads 
Facebook is essential in growing your ecommerce business. With targeted Facebook ads you can choose specific demographics such as sex, age, hobbies and more to market your products to an audience that is ready and willing to purchase your products. Facebook ads are affordable and you can easily choose how many people to market to and how long to run your ad to stay on budget.
You will need to run A/B test to see which ads perform best. Continue to tweak the ads until they generate a sizeable profit. 
Amazon customers' data can be automatically synced with Facebook ads to create custom audiences and lookalike audiences for more targeted marketing.  This automatic syncing is done with Manage By Stats.

Utilize YouTubers and Bloggers 
Utilizing YouTubers and bloggers can help market your product to a larger audience. With affiliate marketing programs through Amazon, both you and the influencer can benefit from working together. You gain quick sales and the influencer earns a commission on every sale they send to you.
With social media on the rise, it is wise to reach out to influencers that are in your niche. For example if you sell kitchen products, contact a celebrity chef or YouTuber who regularly creates recipes for its subscribers. Choosing relevant influencers will increase the chance that the YouTuber or blogger will use and feature your product. Depending on how many subscribers or fans the influencer has, you can increase your traffic and reach simply by providing a few free products. 
Market through Your Packaging 
When a customer purchases your product, it is important that you have clear and informative packaging. The packaging should illustrate how the customer should assemble and use the product. Consider incorporating your Amazon marketing strategy into your packaging.
You can add a small postcard or sticker that gives your business contact information and an incentive to purchase from your Amazon store again. Repeat customers are hard to find and building a relationship by offering a discount can make it easier for your customers to impulse purchase your product(s). This is also a great opportunity to ask your customer to sign up for your newsletter and further build your email list. 
Google Ad Campaigns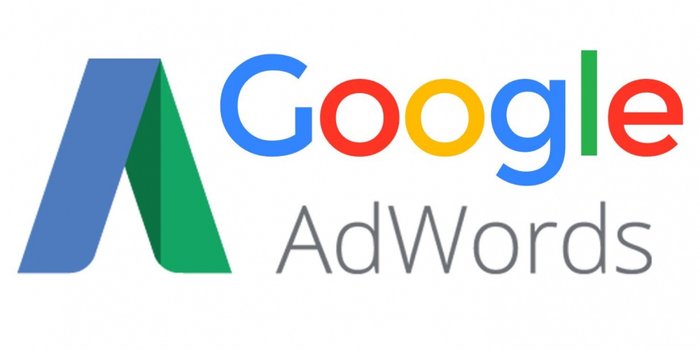 A good Amazon marketing strategy will cost a little money up front, but if you put in the time and effort, your strategy can offer a generous pay out. Google AdWords is an affordable option to market your Amazon products on Google.
Google Adwords is a PPC (Pay Per Click) program that guarantees quality targeted traffic. Instead of waiting for your website to gain traction and move up the Google ranks, PPC campaigns can put you at the top.
If you are interested in incorporating Google AdWords for your business, check out this easy to follow tutorial. 
Learn Amazon's Pricing Structure 
When you are selling on Amazon, pricing is key. Having the lowest price is more attractive to buyers but can also eat away at your profits. It is important to learn Amazon's pricing structure in order to maximize your profits and keep your competitors at bay.
Sometimes a product you are trying to sell on Amazon will not be a good seller. This happens to everyone but you need to be alert about Amazon's fees so you do not lose your shirt on a bad SKU. You could be stuck paying FBA storage fees on top of the revenue you are losing not selling your product. Make sure you know when to liquidate your product at a lower price to avoid paying Amazon just to house your product. 
Amazon Floor Pricing 
You can increase the traffic you receive on Amazon just by learning their pricing structure.
It is important not to discount your product to compete with other Amazon sellers. Focus on getting quality reviews and interacting with the customers you have. Proactive customer service is hit or miss on Amazon and taking the time to improve your product and listen to your customers will help spread the details of your product through word of mouth.
Floor pricing is the practice of knowing the minimum price you can sell your product to gain profit. By finding your price floor you can then access your competition. Finding a price that is greater than your price floor but less than a majority of your competitors will help you understand your customer and get you more sales. This price is called the price ceiling or the price that you can sell your products at for the greatest profit. You must research the price floor and price ceiling for every SKU. Skipping this step can have major consequences to your Amazon marketing strategy. Your product could get buried in the marketplace listings or you could get blacklisted from other sellers.
Setting the lowest price for your product on Amazon compared to all of your competition might seem like a good idea at first. After all, people love a good deal and if you product is the cheapest you will more than likely up your sale count. However, your competitors watch prices and know when they have been beat. In turn, your competitors will lower their prices and then you will have to lower yours again to maintain your sale count. Finding the bottom in the pricing war can lower profits for everyone.
Consider price matching with your competitors. Price matching can help form a bond between similar sellers. It can also increase profits. You are sharing sales with your competitors but you are receiving a higher profit margin per piece. Price matching can also force you to work on your Amazon selling technique by incorporating targeted SEO and higher quality photos and descriptions.
Once you have mastered your pricing, photography and descriptions, you are ready to get your piece of the Amazon Buy Box. The Buy Box is the key to exponential success on Amazon.
Why You Need the Amazon Buy Box 
There is no limit to the amount of sellers who can join Amazon's reseller program. Due to this rule (or lack of), often there are several seller promoting the same product. The Buy Box refers to the white box on the right side of the Amazon product detail page, where customers can add items for purchase to their cart. Not all sellers are eligible to win the Buy Box.
Only sellers with the highest metrics are allowed anywhere near the Buy Box. And it is a goal you will want to reach with your business. 82% of Amazon's sales go through the Buy Box, and the percentage is even higher for mobile purchases. Not only will your sales increase with the Buy Box, but the better metrics you can obtain, the higher you can price your products and still obtain the Buy Box.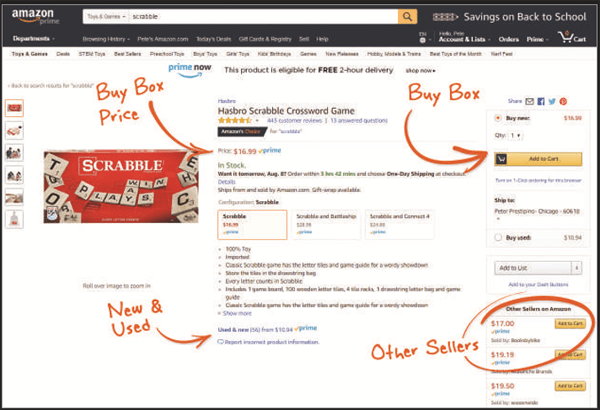 If you want to up your game and be in rotation for the Amazon Buy Box, you will need to reach consistent high metrics. You will also need to have a professional seller account, eligibility status via Amazon Seller Central, selling items in new condition and have inventory in stock ready for purchasing.
The Buy Box is the most profitable way to sell on Amazon but it is not the only way. If you are just starting out, you will also be able to sell via "other sellers" and the "offer listings page." This basically means your product will not get its own webpage on Amazon. Customers will have to find you lower down on the page as "other seller" or "offer listing".
Your sales will not achieve Buy Box status simply due to not being as easily assessable as a product that is in the Buy Box rotation. Your product will also be listed among other sellers often with the same price. Plus, users who order products from Amazon via mobile orders, only see the Buy Box underneath the product. If you are interested in receiving mobile sales (and you should be as mobile sales continue to rise every year), achieving the Buy Box is a must.
In order to up your stats and be eligible for Buy Box rotation, you must use FBA (Fulfillment by Amazon), seller-fulfilled Prime (utilizing the benefits of faster Prime shipping), landed price (lower if your metrics are not the best, higher if you have top metrics among your competitors) and shipping time.
There is no one method or trick to securing the Buy Box. Until Buy Box rotation is achieved, always work on your reviews and customer service. Without the Buy Box, you will have to rely on reviews and customer service alone to increase your sales.
There are a couple of options you can utilize with your Amazon marketing strategy and sell your products. Fulfillment by Amazon (FBA) is a service that charges you a small fee for Amazon to pack, ship and deal with returned merchandise. Amazon Seller Fulfilled Prime (Amazon SFP) is great for businesses that already have the logistics and staff to handle Amazon orders. The fees are lower and you have more control over your business with Amazon. 
FBA — Fulfillment by Amazon
FBA or Fulfillment by Amazon is a selling platform for ecommerce businesses who want to sell their products on the Amazon marketplace. Adding FBA as an additional avenue can increase sales and brand awareness. Fulfillment by Amazon can take a small business and turn it into a large-scale opportunity generating a multitude of additional income. Taking the time to learn FBA can open new doors for your business and you can learn a lot about sales along the way.
The benefit of Fulfillment by Amazon is the help you receive storing and shipping your products. When a customer orders a product through the FBA program, an Amazon employee pulls your product from one of their massive storage shelves and ships that product quickly and accurately. You save money in time, additional employees and renting storage space. You also do not have to deal with returns, Amazon FBA deals with that too.
Unfortunately you need found free time does have a cost. Amazon charges $1.48 per pound to pack your item and an additional 60 cents to store it. Larger items can cost a premium while additional services such as labeling can cost 20 cents. The initial shipping of your product to an Amazon warehouse can also cost you.
Amazon escrows any money that you receive from sales for two weeks so they can cover any potential returns. So if you are looking for quick cash, Amazon FBA can delay your funds. Fees do come directly out of your profits so make sure you choose margins that are high enough to cover fees. Failing to do this will result in you breaking even or even owing Amazon money! Not exactly the result you were looking for, is it?
Only use FBA for large volume SKUs and for products that you do not have the time to fulfill and ship yourself. Consider doing a little research to find out which products do best via FBA. Understand that Amazon controls all aspects of FBA and the rules can change at any time. Keep abreast of any changes, especially in fee hikes, so you can continue to make a profit.
If you merely want to partner with Amazon and do most of the work yourself, consider getting qualified for Amazon Seller Fulfilled Prime (Amazon SFP). It allows you to have more control and keep more money in your pocket.

Amazon Seller Fulfilled Prime (Amazon SFP) 
The Seller Fulfilled Prime program began in 2015. The program allows qualified sellers to display an Amazon Prime badge on orders that are fulfilled at their own warehouse or logistics independent from Amazon.
Amazon encourages the growth of SFP since product does not have to be stored at their warehouses as with FBA. This reduces Amazon's need to build fulfillment centers, which reduces their costs and also saves you more money than choosing FBA.
However, the road to successful SFP is not easy. Experienced sellers must complete a long trial of fulfilling Prime orders before Amazon will give the ok to let the sellers display the Amazon Prime badge. Trial requirements include a minimum of two hundred Prime trial orders must be logged with an on-time shipment rate of 99% with Prime trial orders shipped on the same day the order is received. You must use Buy Shipping Services for at least 95% of the orders and have a cancellation rate of less than 1%.
Once the trial is complete, you are automatically enrolled in Amazon Seller Fulfilled Prime. In order to stay enrolled, you will need to dedicate some time to ensure you stay eligible for SFP. According to Amazon, you must have a 92% on-time delivery rate, a valid tracking ID rate of 94% and a mere less than 1.5% cancellation rate.
Even with all of the strict guidelines, following the process to become an Amazon SFP may be worth your time and effort. Benefits of the program include eliminating FBA fees that include but are not limited to shipping and storage. The ability to sell a wider range of products than FBA, and higher profits on heavier items (since Amazon charges a premium for handling these). 
To qualify for Amazon's selling programs such as FBA and SFP, you will need consistent metrics. It is also important to have great feedback from your customers both in shipping time and quality of product. Consider utilizing FBA or SFP for your Amazon marketing strategy.
Optimize Your Listing(s)
It is so important to invest a little cash into the SEO of your Amazon listings. Without proper SEO, your product will not be found by search engines and be less recognized by Amazon. Enlist a professional to help you if you are clueless about SEO. You will be glad you did. SEO can help you stand out in a crowded online market place. There may be hundreds of similar products on Amazon but with the proper SEO, your product can be optimized to land in the top search results.
It's important to try and rank specifically for Amazon search rankings because it's speculated that up to three times more people search for a product on Amazon first before Google. You must be on the first page when searching for your products keywords to have a chance at a large number of sales. Amazon's search ranking algorithm is subject to change but works on the following three criteria: conversion rate (i.e. number of sales, reviews, etc.), relevancy and customer satisfaction.
Even simple descriptions, titles, pictures and Q&A can affect your ranking. Write long product descriptions that are sprinkled with keywords. Keywords are a word or phrase Amazon customers are typing in the search bar to find your product.
Upload quality photos to your listing(s). Even if you have to hire a freelance photographer to take the photos for you, it will be worth the extra cost. Having professional photos enhances your listing and makes your product more aesthetically pleasing to buyers searching through hundreds of products. Since all online shopping is done by sight and not touch, photos are crucial to increasing your sales. Before spending money to send traffic to your listing(s), spend money on SEO and photography so that the money you spend on advertising will link to a quality listing.
The more professional and thorough your listing appears, the longer a potential customer will stay on your page and not on your competitors. The goal is to have your potential customer stay on your page and purchase your product without hesitation. Make sure to include all the details. If the buyer is unaware about a certain aspect of your product, this can be reflected in the reviews after they receive the product. Unwavering reviews are hard to overcome and it is best just to spell out everything so your customer knows exactly what they are buying. Keep in mind they cannot touch or visualize the size of the product without a good description and visuals. Try to put yourself in their shoes and include any details that would help you buy the product.
Do not put all of your eggs in the Amazon basket. You can also advertise your listing(s) through PPC (pay per click), email lists, and social media. This can help you price your product more competitively as well created more profits for little money out of your own pocket. Plus you will gain more customers interacting through your own website, email subscribers and social media. Just in case Amazon would hike its rates for sellers or come up with stricter rules that might push your product out, you will still have customers through other channels that would buy your product either from your website or another platform.
Plus, potential customers who do not have Amazon Prime might prefer to order from your company website than from Amazon itself. If you have success selling from your own site, consider looking into Amazon's Multi-Channel Fulfillment (MCF) service. You can use the traffic from your own site to build your metrics on your Amazon site.

Add A Bonus Item
If you product is having trouble standing out in the crowd, considering adding a bonus item to your listing. This will make your product more unique and allow you to create your own listing that no one else can piggyback off of. This eliminates the need for price matching. Generating bigger profits for your business and selling inventory at a faster rate.
Build Your Brand 
Now that you have found your target audience, learned about Amazon's programs and optimized your pages, it is time to build a foundation for your brand. It is important to get your product in the hands of as many people as possible. The more people who receive your product gives you more chances to collect honest reviews. Focus on top Amazon reviewers, social media influencers in your niche and even previous customers if you are launching a new product line.
Setting aside a few products that you can giveaway will help your product page collect reviews quickly. Follow up with reviewers and influencers and be generous with your incentives to receive positive reviews.
Giveaway Your Product(s)
In order to get genuine reviews, you will need to giveaway product. It is the easiest and fastest form of a good review. Take the time to research frequent reviewers on Amazon or solicit people online through relevant niche forums and groups. Amazon is a review driven platform. Without reviews your product will sit on a virtual shelf and not be taken seriously. However, it is important to note that giving away a product for free can lead to a false sense of trust in your product. To get around this, offer top Amazon influencers a significant discount on your product in exchange for a review. If the influencer has to pay a little money for your product, that means they are generally interested and more invested in your product. After receiving the product, the influencer is more likely to welcome the product and use it.
This scenario can be one of your best reviews as top influencers often provide better detailed descriptions, pictures or video to help sell your product(s). It is always wise to check Amazon's policy on reviews before soliciting any. These policies do change so search for Amazon's terms so you do not get reprimanded.
Do not freak out if you get a few three or four star reviews. Having all perfect reviews can actually be a turn off for your product(s). It can cause the reviews to look doctored. As long as the majority of your reviews are positive, you will still rank high in the search results.
Once an Amazon customer purchases your product, be generous and follow up with them. If the customer has left you a nice seller review or sent you an email thanking you for creating or offering the product, request that they also leave you a product review. Often seller reviews are not highly visible to an everyday Amazon customer, but product reviews are.
You can automate this follow-up sequence with software.  We use Manage By Stats to follow-up after a purchase to enhance the customer experience and to obtain reviews.
Once customers review your product, respond to their review with a pleasant comment. Thank them for the time they gave to the review or let them know you appreciate their photos or video.
Reviews are not the only factor in your metrics. The optimization of your listings is a must. Create clear, long-form descriptions of your product that include keywords people in your niche are searching for.

Get Genuine Reviews of Your Product(s)
Get genuine reviews of your product. A survey by BrightLocal, states that almost 9/10 people trust online reviews the same amount as reviews from friends and family.
The more (positive!) reviews your product can generate the more "trust" you build in customers who have never seen or touched your product before. Most people tend to operate on the concept that if a hundred people have purchased a product and generally like it, then it must be good. And if a similar product only has twelve good reviews, the product with a hundred positive reviews will be chosen every time. Even with the guarantee of free returns with Amazon Prime, we still gravitate towards the most popular product. We are already paying a premium to have an item shipped to us in two days, why would we waste more time with a product that "might be good"?
Use your most unique products to build reviews. You will build reviews faster with products that have less competition in your niche. Once you have sufficient reviews on your most unique products, add products that have more competition on Amazon to increase your sales.
Continue to ask for reviews from customers who have recently purchased your product or have emailed you praise about the product. Every review builds credibility and with credibility comes additional sales and more profit.
If you are currently on social media, use followers to your advantage. Strike up a conversation, comment on customers' questions and note any positive or negative feedback.
Strive for Proactive Customer Service 
In order to have a sustainable business, you will need to continuously improve your customer service skills. People want to buy from a company that has an empathetic human behind it and not just automated answers to all of their questions, or worse no response at all. Take the time to be active, be generous and be responsive. Good customer service can open the door to more opportunities with Amazon and keep your seller account in good standing.    
Be Active 
Just because you do not have a brick and mortar store and sell only online does not mean you can turn off customer service. You will still need to be available when customers have questions or need to return a defective item. You will need to check inventory frequently to make sure your products are in stock.
Also keep logistics intact so orders do not fall through the cracks. Frequently check on orders and notify customers of any errors. Stay aware of any Amazon policy changes or updates to Amazon Seller resources that may be available to you.
Be Generous
If a customer receives a defective product or the product was damaged in shipping, be quick and courteous to solve the problem. Nobody likes waiting for a product to ship only to find that it is missing a critical piece or sticking out of the packaging when it arrives. The more generous you are to these customers, the better your reviews will be.
And the better the reviews, the more likely your metrics will continue to increase and provide you with more Amazon benefits and opportunities. When a problem with an order is solved quickly and does not affect the buyer's pocket, it is more likely that customer will spend the time to write you a good review without asking. Once that customer writes a shining review of how you proactively fixed the problem, potential customers will be more likely to purchase from you knowing that you backup your product.    
Be Responsive 
Spend a few hours a week reading your reviews and thanking your customers for leaving the review or offering a solution to reviews that are less than stellar. Check your Amazon seller email for comments from your buyers. Respond in a thankful tone even if the feedback is hard to hear.    
Go International 
Amazon has eleven global marketplaces worldwide including North America, Europe and Asia. Your reason for an international Amazon marketing strategy could be for various reasons. Maybe you are seeing traffic increase from outside the US, your sales goals are plateauing domestically and you need fresh customers or maybe your product is so dynamic that you are craving a global reach.
No matter what the reason to go international, the initial thought can be overwhelming. What if shipping takes too long? What about potential returns?
Fortunately Amazon is well-known in the global marketplace. If you are already an established Amazon seller, going international with Amazon can save you a ton of money in business expansion costs. Amazon takes care of storing your product, packing/shipping and even customs.
Keep in mind that you will have to create custom SKUs for different marketplaces, generate reviews for every new marketplace, and adjusting your pricing structure to reflect international fees.

Conclusion
Following all of these steps can help you understand how to get you more money for your products on Amazon. It can also help promote your brand or company and grow your customer base.
Once you are ready to utilize an Amazon marketing strategy, you will need to ask yourself a few questions. Are you ready for the extra commitment it takes to excel? How much help do you need to successfully add Amazon to your business?