Amazon Marketing Services | What Is It, And How Can You Maximize Your ROI?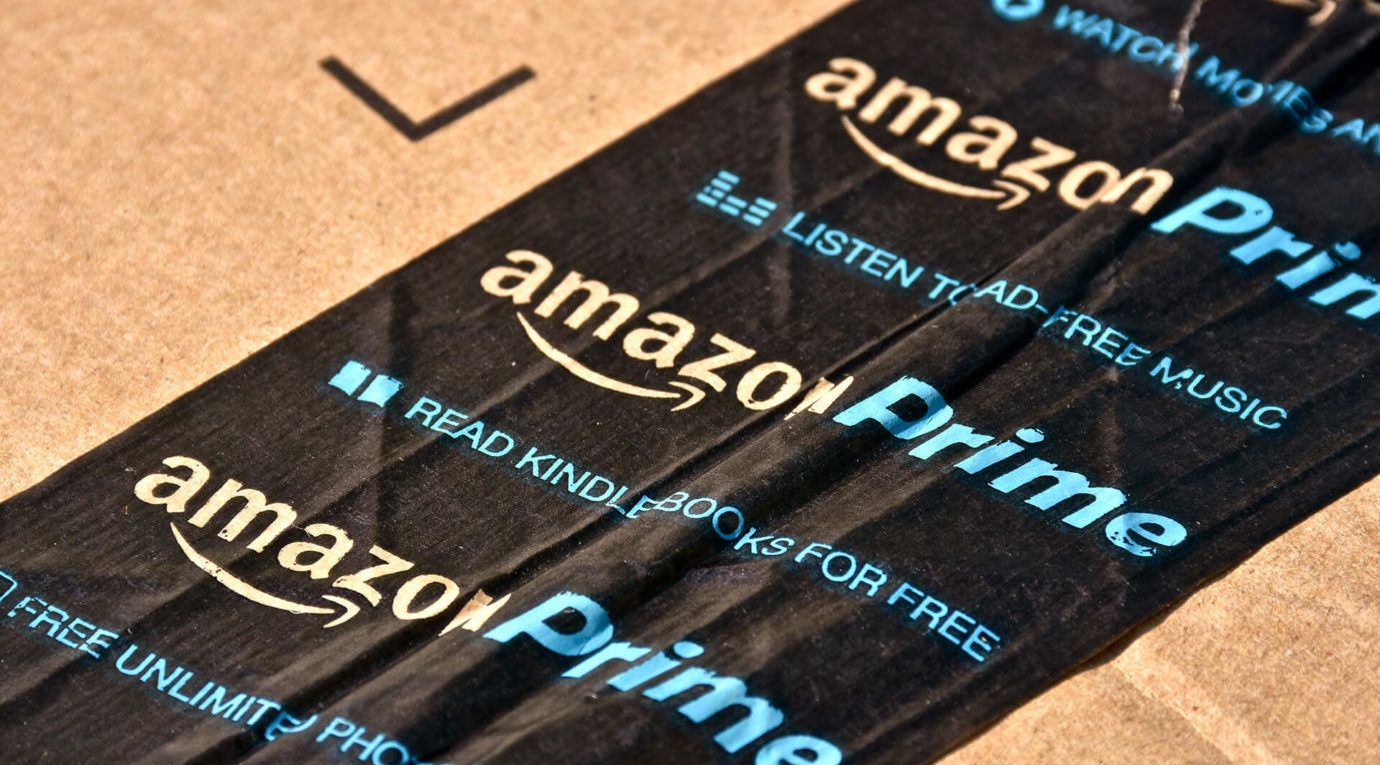 Amazon AMS (Amazon Marketing Services) was launched in 2012 to provide Amazon Vendors with seamless and effective advertising opportunities using keyword-targeted campaigns. With its vast search database, Amazon introduced the platform to ensure your ads show to the right people at the right place and time.
What is Amazon Marketing Services?
Amazon is currently the biggest online marketplace in the world with over 310 million active users spending an estimate of $178 billion yearly. Most internet users who are curious about a product and its price typically start their search on Amazon instead of Google. It is no surprise that merchants are motivated to advertise their merchandises to the ever-growing database.
One fact every seller agrees with is that the effect of advertisement on sales cannot be overstated. As a vendor on Amazon, you definitely want to advertise your products; what better way to do it than using the platform.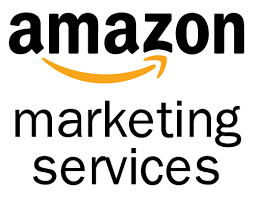 Amazon Marketing Services is a highly cost-effective and realistic system for vendors to sell their goods directly to willing customers. Amazon AMS is so profitable that in the 3rd quarter of 2017, it witnessed an amazing 58% rise in ad sales, amounting to about 1.12 Billion. This fact is the evidence of the capacity of Amazon Marketing Services as a sales tool. In contrast to Google, most of the consumers searching for particular products on Amazon are ready to buy.
Overview of AMS Amazon
Regardless of what merchandise you have for sale on the Amazon marketplace, you and other sellers have one common wish – to increase sales and maximize profit. It is understandable if you are inquisitive about the value and prospective Amazon AMS holds in making this wish a reality. This article covers the important information you should know about AMS, how to maximize ROI, and important tips that will help you succeed on the platform. The following section covers the overview of AMS amazon.

Who can use AMS?
Only Vendors, agents of vendors, and Kindle Direct Publishing account owners can use Amazon Marketing Services. For Merchants to enjoy the benefits of AMS, they have to be invited to be a part of the Vendor Central Platform.
As Amazon puts it, AMS has the ability to "build impactful ads quickly and easily to drive sales."
How does AMS work?
The answer is simple. Big data. A comprehensive explanation would be that they employ the large volume of data to accurately promote your ads to the right customers. As their visits to Amazon increase, the accuracy of the report improves. AMS is able to predict the type of customers with the highest chance of buying the product, and using the customizations you make, ensures they see the ad.
Related: Simplifying Your Amazon Marketing Strategy
Although there are multiple methods of advertising using AMS – Product display ads, sponsored product ads, headline search ads – headline ads are the most common because they offer the highest visibility in contrast to other advertising methods on the platform.
Here, you may wonder how it is possible to show advertisements to the right and most viable customers.
Shopping History
Using previous product searches and purchase history, Amazon is able to gather a somewhat accurate profile of their customers. With each visit to Amazon, the record becomes more accurate. Within a short while, it would be hard to bring the right products to the notice of interested customers.
Related Products
Aside from shopping history, Amazon also keeps a tab on the products that complement each other, or those usually bought and searched together. Someone oblivious to the existence of your products may require it. If your product works along with another product, Amazon will show the ad on the "related products" page to inform the customer of other available options.
Keyword or product type
This is straightforward and typical of most ads services. With AMS, you can directly target people whose search queries match a particular keyword or product type.
Semantics or Search Intent
People search for information differently. Everyone has a pattern for surfing the web. However, sometimes what a customer wants or thinks is different from the queries they type into the search bar. The algorithms implemented by AMS allows it present users with results based on their original intention. This technology is used in marketing and ads targeting as well.
The algorithm used by Amazon Marketing Services is recent and still evolving in contrast to other advertisement providers, yet it has proven itself within its few years of existence that it can achieve remarkable results.
Using Amazon Marketing Services isn't an automatic process. It requires input from vendors on which ads they want and to an extent where they want it to display on the page. We will discuss this in subsequent sections.

Cost: Pay per Click
One of the amazing features of Amazon AMS is its reasonable pricing. AMS uses a pay-per-click model, which means you don't have to pay unless a customer clicks your ad, and pays your product page a visit. You can choose your preferred daily budget so you won't have to go overboard in expenses. Aside from the usually optional campaign customizations, Amazon handles the promotions for you. Companies like Adbadger do a great job of helping you create a highly effective pay per click ad campaign.
The risk-free payment system removes you from any possible risk of overspending – this is particularly beneficial for less popular sellers who require AMS more. You can decide your marketing budget and AMS will operate within that limit. 
Advantages of AMS
With the minimal-risk pricing plan and sophisticated data management, your marketing strategy has a lot to benefit from incorporating Amazon Marketing Services.
Equal Opportunity for all Sellers
Normally, the number of sales you get directly determines your rank on Amazon product searches. This is the normal, but new sellers are at a disadvantage. Vendors who are trying to establish themselves may never get the opportunity to rise above the ranks.
AMS helps to level the playing ground, though at a cost. Any new vendor ready to pay can get the same publicity enjoyed by existing vendors. The pay-per-click pricing makes it possible to partake in the game without having to break the bank.
Ability to monitor ROI using integrated Analytics
The flexible pricing system becomes even more attractive when you realize that AMS offers you many tools to decide the suitable price. The implemented analytics provides you with data on the returns on investment (ROI) for your AMS promotions. This will make it possible for you to compare your expenses with the results and conclude on what would be the perfect price limit each day. You will also get insights on how you can boost your campaign factors.
More Optimized Advert Expenses
Advertising is generally a risk, but the pay-per-click system that Amazon uses helps to minimize that risk significantly. When compared to other advertisement platforms that make you pay a standard rate for impressions, not minding whether they are interested in the ad or not, AMS is a better deal.
Related: Amazon Sponsored Products
AMS, along with other systems using pay-per-click cut your expenses by ensuring you pay for beneficial actions only. Traditional media like interstate billboards won't offer you that.
Less Risk, Nothing Magical
It is important that remain wary of individuals or agencies who promise unbelievable returns or sales shortcuts. However, with the pricing plan, there is nothing to lose. If it doesn't work in your favor, you won't lose any money. You can start out with a small budget to see how much difference it makes.
Alternatively, using AMS doesn't guarantee any solution to your dilemma without any input. AMS, like every other marketing campaigns, a level of expertise, strategy, and understanding is essential to maximize results. We will discuss the strategies you can use for AMS in the coming sections.
Disadvantages of Amazon marketing services
AMS is not entirely perfect; it has its disadvantages too.
Product Segmentation

There is a big issue with product segmentation on AMS. This means if you set up an ad campaign for a product, and customers buy another of your products more frequently, it will influence the campaign information of the promoted product. This can cause incorrectness when determining the success of the campaign and making campaign optimizations.

Financial thresholds

This problem simply indicates that Amazon will prevent you from generating traffic to products that are too 'low-priced' to generate profit for Amazon. There is no formal publication showing what the minimum threshold is but you should note this fact; the lesser the product price is, the less likely it is to meet Amazon's requirement.

User Interface

Many consider AMS ads too backward-looking regarding the feel and appearance of the ads. We believe Amazon can do better in making their ads a little more presentable.

Getting Started With Amazon Advertising
How to qualify for AMS
Only approved Amazon accounts can use AMS. To gain access, you will need one of these credentials:
A Vendor Express login
You can request an invitation to represent a vendor
A Vendor Central login
An Advantage Central login
A Kindle Direct Publishing (KDP) account
For many merchants, Vendor Express is regarded as the most straightforward and stress-free method. Anyone in the Vendor Express program can use AMS. On Vendor Express, Amazon buys the products directly from the manufacturer and becomes the seller. Amazon has complete authority over your product listing. Getting into AMS through Vendor Express account requires four processes:
Get a Vendor Express Account
Submit a product to Vendor Express.
Accept Amazon's Purchase Order
Register for AMS.
Types of AMS Ads
There are three types of ad campaigns on Amazon Marketing Services:
Sponsored Product Ads
Sponsored Products present vendors with more power over product merchandising on Amazon. You can use this to improve your product's visibility when users' search queries are similar to the keywords you bid on with targeted ads.
Headline Search Ads
These ads appear above search results on both the website and mobile app.
Product Display Ads
These are ads displayed on the right-hand side of an Amazon product page. They are similar to sponsored products ads but are more directed at the brand than single products.
Product Display Ads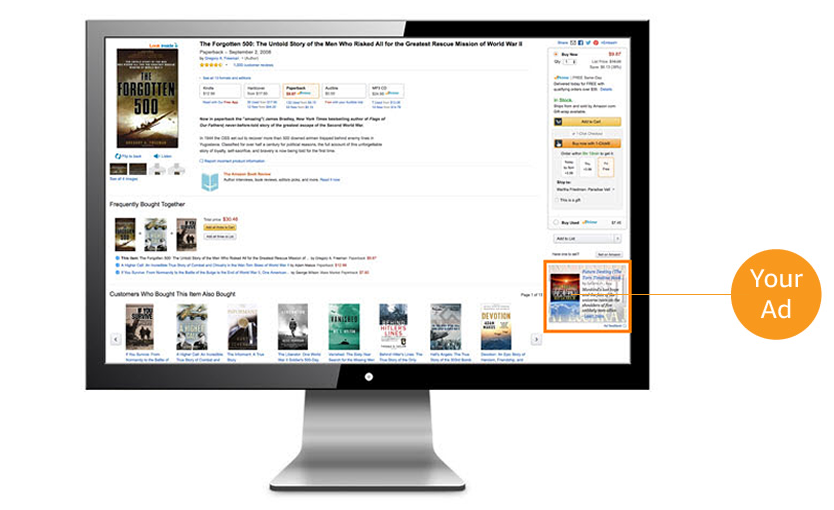 Product Display Ads is an effective way to increase visibility for single products by linking to the product's landing page on Amazon. They allow you to compete directly with your competitions' products because they focus on similar products, interest groups, or relevant categories. Only vendors on AMS can create Product Display Ads.
Where Do Product Display Ads Appear?
These Ads can appear almost everywhere –
Search Result Pages
Customer Review Pages
Product Detail Pages on Mobile and Desktop
Amazon-generated marketing emails
Top of the Offer Listing Pages
Product Display Ads must be distinguished from similar items such as "Frequently bought together" products. There is always a star rating and note on Amazon Ads signifying if they are eligible for prime or not.
How to Create Product Display Ads
Every Amazon PPC as has multiple strategies for successful execution. What we recommend is taking time to experiment with strategies to determine which works better for you.
One method is to try experimenting with a single product (ASIN) and reaching your ACoS (Average Cost of Sale) before modifying anything. When making Product Display Ads, try taking one ASIN and set up a campaign aimed at competitors. Subsequently, you can create additional campaigns focused on complementary products. Therefore, if you are selling ties, you can create a Product Display Ad Campaign aimed at Suits.
Related: What is a Sales Funnel?
We suggest you select Product Display Ads for ASINs you are confident of selling, latest additions to your product line, or products you really need to remove from your collection. A calculated step would be to pitch your best seller against competition's products, armed with info and images indicating your product's uniqueness over theirs.
Product Display Ads Targeting
There are three methods for reaching potential customers with Product Display Ads.
Interest-Based Targeting
With Interest-Based Targeting, you can draw the buyer's attention by reaching their wider interests. Interest-Based Targeting allows you to choose many individual ASINs or similar products where you want your ads to be seen. Because you are reaching a broader audience, this method of targeting has a lower conversion. It is only logical to bid cheaper.
Product-Based Targeting
This method targets a more specific set of customers. Product-Based Targeting focuses on particular products and therefore has better conversion rate and costlier CPC. On the AMS platform, you can select products to promote and the target products – target products can be complementary, related, or competitor's products.
Category-based Targeting
This is a relatively new introduction for product display ads. Category based targeting was launched to expand the AMS platform and it is easy to set up.
After selecting the type of targeting, you can then give your campaign a name, choose your campaign budget, and duration. Product Display Ads also require a headline, brand name, and logo. The minimum cost per click is $.02, and the least daily budget is $1. Amazon recommends you keep your campaign running for at least a month so you can get a proper overview of results.
Sponsored Products Ads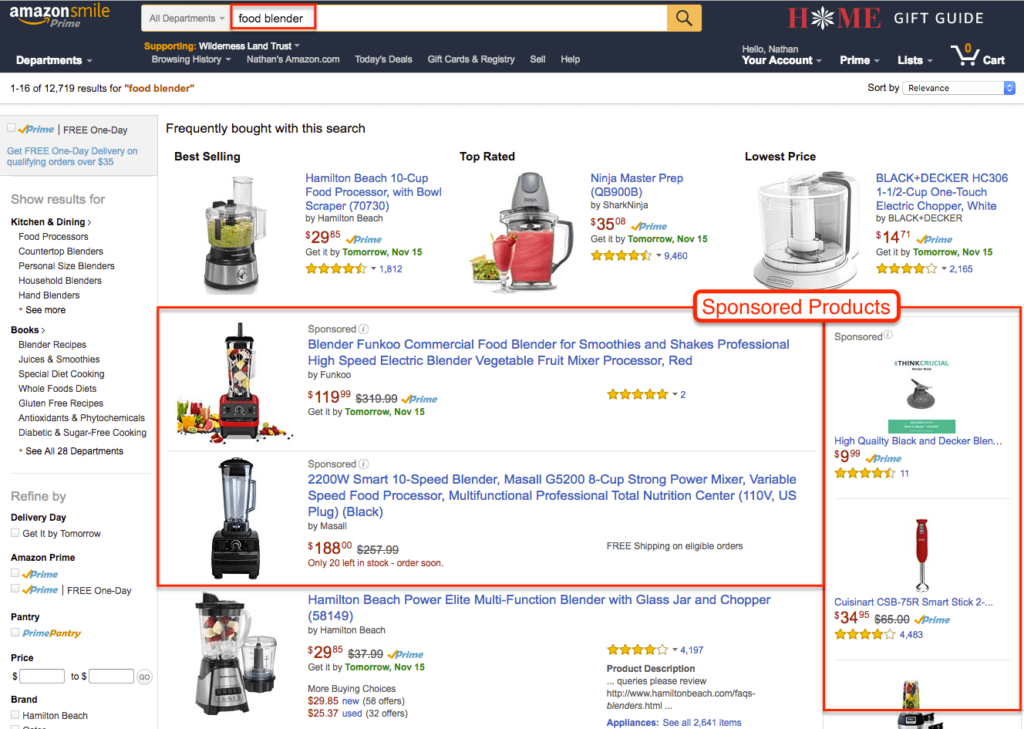 A recent survey by web retailer showed that 67% of sellers on Amazon use promotions, and 74% of that number use Amazon Sponsored Products. Therefore, it is the more popular than other methods of advertising on AMS.
Sponsored Products is one of the most effective Amazon tools sellers can utilize to increase sales and profits for their online store. Amazon is set up ensure that customers get the most accurate and captivating product information on Amazon search and product pages. The primary aim of Amazon vendors is to be seen on Amazon search pages by boosting product discoverability and ensuring that customers who visit the product page make orders.
Getting shoppers to visit the product page (discoverability) and converting those visitors to buyers when they reach the product detail page (buy-ability) are two essential factors in any vendor's strategy and ultimately their success on Amazon.
Where Does Sponsored Products Appear?
Search Results
The right column on search result pages
Ad placement on product detail pages
Mobile and desktop browsers
Why Use Sponsored Products?
The major purpose of Amazon Sponsored Products to ensure products appear on the first page of the search result pages for preferred search keywords. Sponsored Products is a strong tool to wield for optimizing visibility for your products on Amazon marketing.
Vendors can use Sponsored Products to:
Showcase new offers
Improve product visibility
Increase buy box traffic
Influence buy box positively
Attract attention to offers with low engagement
Highlight unique product selections
Improve discoverability for seasonal promotions and clearance sales
Combat the redundancy of newly introduced products with no sale record
Types of Campaigns on Sponsored Products
Sponsored Products has a manual and automatic campaign, presenting you with comprehensive advertising options.
Manual Targeting ads appear based on the relevance of users' search queries to the vendor's keyword targets. Simply put, manual targeting allows sellers to decide which search keywords their ads will appear for.
Automatic targeting appears based on how related users' search queries are to seller's product selections. With automatic targeting, Amazon does the job of matching all relevant search queries to the vendor's ads, based on product details. Automatic targeting was introduced to vendors in January 2016. Before then, only third-party sellers could use the automated campaign for sponsored products. Automatic targeting on campaigns generally drive more search traffic to ads, subsequently increasing product visibility for vendors. This because these ads are shown based on how relevant the vendor's product is to the user's search query.
Usually, we suggest vendors begin with automatic campaigns. With the performance metrics derived from that, they can then launch a more active manual campaign.
A Case Study: How Sponsored Product Ads Can Boost ROI
Although it is possible to achieve remarkable results with other advertising solutions provided by AMS, Sponsored Products is known to achieve the highest impact. Below is a case study of how a manufacturer increased visibility, brand awareness, and sales utilizing the power of Sponsored Products at the first trial.
The power tool manufacturer was tackled with the challenge of increasing their ROI in Q3 despite having no active Amazon Marketing Services (AMS) strategy prepared. Their first action was to launch their AMS campaign to improve their strategy.
Each week, the manufacturer set up five new Sponsored Products Campaigns to complement one Product Display ad (targeting their competitors) and one Headline Search ad. They chose to put their attention more on Sponsored Products Ad strategy instead of Product Display Ads and Headline Search) because Sponsored Products have a track record of generating higher ROI. Within 4 months, their overall sales performance increased by 43%, largely due to the Sponsored Products Campaigns.

Practical Tips on Using Sponsored Products
Generating the Best Keywords
Generating the best keywords is an important part of any Amazon vendor's campaign. To increase your rank on organic listings and page sales, you need to bid on the correct keywords for your products. This will later affect your sales significantly.
Most customers using Amazon have intentions to buy, and therefore, choosing the proper keywords for your products is important for your marketing campaign. One of the most beneficial tools for this process is the Search Term Report found on Sponsored Products.
Although there are helpful third-party Amazon keyword tools out there, they cannot supply you with the basic data needed to make informed decisions when bidding. To be clear, third-party keyword tools can aid your campaign, however, you should only use them to complement the data provided by Sponsored Products.
For generating keywords, Search Term Report found in Seller Central is the best tool. Another reason you should use this over third-party tools is that the data provided are raw customer data. These are terms that shoppers are using to discover your products, not hypothetical search terms data.
Marketing Campaigns and Budgets
It is sad to know that many vendors still have reservations toward the use of Amazon Marketing Services like Sponsored Products, especially when it comes to spending.
As a vendor, you should begin your marketing strategy with Automatic Campaigns at low bids. Over time, you will be able to collect data on what keywords are performing optimally. Armed with factual data, you can then launch a manual campaign using the better-performing keywords. This will assure you that you are spending on only keywords that generate the highest ROI.
Related: Adbadger PPC Campaign Support
It is important that you monitor the performance of particular products and campaigns. You can reduce your spending on areas that not yielding well and reinvest them into campaign/products that are yielding better ROI.
You can also budget for more than one campaign. Allow each campaign to exhaust their budgets multiple times to determine which one should receive higher budgets. If you get good results, raise your budget. If they don't perform well, reduce your spending or let it remain that way.
Also, AMS allows you to place daily budgets at the campaign stage or daily expense that would cover all the campaigns. If you have reservations regarding your marketing spending, you can easily set a daily limit of probably $50 or $100, and irrespective of your daily campaign budget, you won't spend beyond the capped limit.
Although we would advise you to use campaign level budgets instead of an account-wide budget, it is safe to remain within your abilities if your marketing budget is strictly restricted.
You should make only calculated decisions and not act rashly if you are worried about your marketing spending. Determine and sustain your budget and bid level for up 7 or 14 days without making any modifications to get an overview of what your ACoS will be for products capped at that budget and bid range.
Sponsored Products is highly efficient and can significantly increase your sales on Amazon.
Headline Ads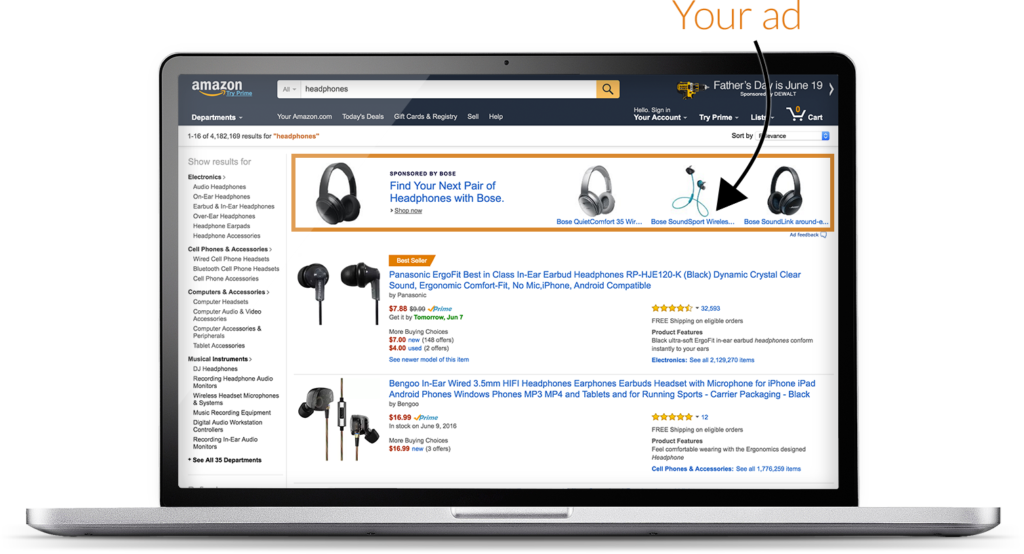 Amazon Headline Ads are adverts that appear at the top of an Amazon search result. Headline Ads remain the most popular method of advertising on AMS because it offers more visibility than other methods of advertisement. They are placed above other search results and are therefore seen first when a customer searches for a product.
Headline Ads offer more brand awareness, click-through rates, and increased visibility. This is why every Amazon vendor desires to have their best product shown on top of every search result with anticipation of boosting sales.
How Amazon Headline Ads Work
With headline ads, you have three options to choose from, which would be the landing page when people click your ads. You can either:
Create a page that allows you to promote three products and then redirect customers to a landing page, or
Choose the Amazon Page Option, which lets you add only one ASIN, or
Choose Custom URL
Headline Ads are straightforward. When a visitor or shopper on Amazon website inputs a query into the search bar, the keywords in the query generates Amazon's broad search results. Amazon displays relevant products to the shopper. At the top of these search result is the headline ad, also showing products related to the search term.
Every headline has about three ASINs, another term for products. Amazon uses ASINs to classify all the products available on the site. Every item available for sale is allocated  an ASIN and this is incredibly helpful for indexing search catalogs when searching or browsing, and tracking inventories.
Without a uniform method of organizing the millions of products available for sale, it would be hard for Amazon to reach the pedestal they've reached today.
Headline Ads provide three product options for shoppers to click. When a user selects a product that catches their interest, they are redirected to the product page set up to provide the customer with detailed information on the product. On the product page, there is an option for people to purchase your product if they are interested.
If the shopper clicks on the logo or copy of your headline ad by any chance, they will be redirected to your preferred featured product instead of the product options available on the ad.
To motivate visitors to click and make a purchase, original, personalized copy and pictures are included in the headline ads to make them visually appealing.
What Makes Headline Ads So Effective?
At this point, you may be wondering what makes headline ads so efficient. In reality, if your products show up on search result pages, that should be sufficient to drive potential buyers to your product pages. Although being visible in search engines will attract visitor to your product pages, or ultimately drive sales, a headline ad goes an extra mile. The major reason why headline ads are so efficient is that they are at the pinnacle of the sales funnel pyramid.
Headline ads are a crucial part of the initial stage of purchase – the point where the customer is new and interested in finding the product they want to buy. The essential role is that they are visible immediately the customer clicks on "Search".
If you have properly set your keywords and optimized your ad, that should be sufficient for customers to ignore subsequent items on search result page.
Yet, you may be curious about how headline ads appear when shoppers search Amazon website or why your ads appear over other vendor's ads despite the number of sellers marketing the same product you sell. This brings us to keyword bids.

Amazon Headline Ad Keywords
To make your headline visible on search results, you must conquer a bidding war. You cannot just set up your ads, include keywords in your ads copy, and hope that it will show up when users start surfing through Amazon products. You have to pay for the keywords, depending on the daily budget, and expect that your bid be higher compared to other vendors attempting to market similar items with the same keywords.
If the daily budget you set for a particular group of keywords is higher than other merchant's, your headline ad will appear on the first page of results displayed when someone searches for the keyword attached to your product.
If you don't have the highest bid, your ad may still be shown on result pages, albeit on page 2 – infinity. This is not beneficial because many customers do not go beyond the first page once they find the item they are looking for. This is why we recommend that you improve your headline ads to be excellent if you want your ads to appear on the first page or searches associated with your product.
Important Points for Creating Optimized Headline Ads
There's hardly resource available on Amazon to help vendors optimize their headline ads. Presently, Amazon has no detailed means of providing the keywords used in headlines. This makes it difficult to determine what keywords site visitors are searching for and what keyword to use. This could lead to wasting money on keywords that aren't yielding results.
Therefore, you need to expend your energy on optimizing other aspects to ensure your headline ad wins the bid, get high click-throughs, and increase product sales.
Target Keywords
Although there isn't much information to go on regarding keyword usage in headlines, this does not excuse you from taking note of the keywords you are using for your headline ads. Rather, you need to do more in terms of effort and research to ensure your ads are visible when people use Amazon.
Interesting, there are quite a number of options when it comes to the keywords you can employ in your headline ad copy that can help motivate shoppers to consider giving you a try.
Branded Keywords
These are the exact keywords of your brand and product names. These aid in increasing brand visibility and getting your products to show on proper search results. There is more to being successful than selling a good product. It is also about giving buyers the best experience.
Competitor Branded Keywords
If you can identify your competitors on the platform, try using their branded keywords. That way, if a shopper searches specifically for their products, you will also show in the results. You can never tell, they might just be considering trying a completely new brand. The success of this is largely dependent on how much value you offer to the buyer.
Complementary Keywords
There are sometimes when the products sold separately are used with each other. For example, if you sell electronic items that need a charger, you can try adding the keyword of the complementary product. That way, you have created a demand for the two products and could probably get to sell both.
Out of Category or Unrelated Keywords
These keywords are not entirely related to your product but may be strong or popular enough to get your ad in the headlines and motivate people to look at your product page.
The following tips will give you sufficient grounding for using keywords:
Amazon suggests that you use 30-40 keywords, with no more than 1-2 keywords per phrase
Take advantage of the search volume report provided by Amazon. However, we recommend you find out what your customers are really searching for.
You should try to use a hyphen for keyword combinations
Remove unnecessary or filler words because they reduce the space available for important words
There's no need to worry about singular or plural words since they are both shown in search results always
Capitalization of words isn't necessary – no distinction
Ensure you include part number wherever applicable
Keywords that are performing well or converting deserve more investment to appear more in search results
Relegate every keyword that gave zero turnarounds over a 60-day period
Remember that your primary goal regarding the selection of proper keywords is to ensure that they are applicable to your target audience and are driving sales. If a keyword isn't performing, pull the plug.
Research Traffic Volume
One essential fact you must know is the popularity of every keyword you use. In case you didn't know, every keyword used in Amazon headline ads has an assigned traffic volume. The volume is an estimate of how much traffic the particular keyword is getting. Volumes are categorized into low, medium, and high categories and are determined using the number of impressions they are estimated to get.
They have significant effects on the ASINs in your campaign. Your main goal is to have as many keywords with high traffic volume in your ads as possible. However, ensure that the keywords you use are relevant and sensible.
A great tool for Amazon keyword research is Sonar. It will provide you with traffic volume information of keywords and how they can be used for your headline ad campaign. The tool has a free Chrome extension. To use, simply input the desired keyword and the tool will provide results like the traffic volume of the keywords, common terms, and relevant products that can give your valuable insight into what your competitors are up to.
Other free tools you can try are Google's Keyword Tool and Keyword Planner. Although designed for AdWords campaign, the keyword can prove an excellent resource for collecting data on traffic volume and possible bidding processes on common keywords associated with your products.
If you want to increase the click through rate of your headlines, you must pay attention to the keywords that have the greatest chances of attracting site visitor activity. Not just that, it is also important if you want to boost the sale of your products.
Decide Your Budget for Amazon Marketing Services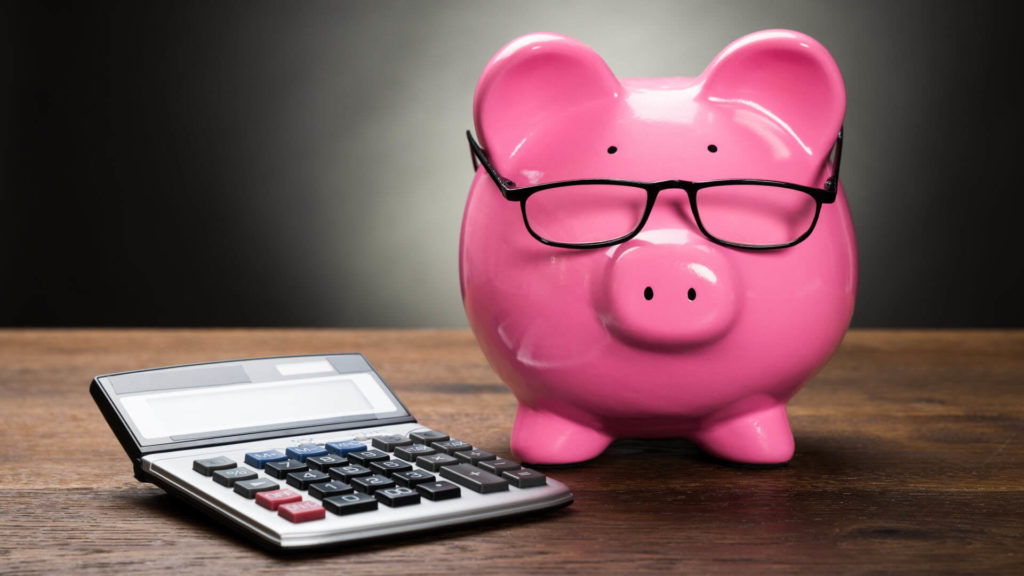 As we mentioned before, Amazon headline ads are pay-per-click, you should, therefore, set an advertisement budget so you won't go overboard with expenses and run into severe losses. You should know that headline ads are more expensive than other advertisement methods. It is also highly competitive – everyone wants the top spot because of the effectiveness of the ads in the website headline.
Before you embark on bidding on keywords for your ads, you should have your strategy mapped out. Compile a strong list of relevant keywords with the highest potential of click-throughs that will generate product sales eventually. After that, you can commence bidding.
Bid on high, essential keywords. However, don't use up your budget there. Keywords with high ROI attract the attention of other vendors, subsequently making the bidding war more intense. Except you have an unlimited marketing budget, it is advisable to get a blend of expensive keywords and the less-expensive keywords that are more beneficial to your products and your customers.
One important rule of the thumb for those with a limited budget for headline ads but desire high result is this: It is better to use Amazon headline ads for new stock, during times with high sales like Black Friday, or if you have a sales target to meet.
This will help you direct your budget on the keywords required to make lots of sales without having to waste a whole year's advertisement budget and end up without significant results to show for it, because the ads may not even show on the first few pages of searches results.
Write Strong Ad Copy
You have absolute control of the content of your ads and that is important because it could make or break your ad. You must come up with ad copy that is appealing and motivates people to click and make a purchase.
For example, the note on the Google Pixelbook laptop headline ad reads, "Save today on a Pixelbook Laptop." It seeks to motivate potential customers to make a purchase and "save today," thus prompting a sense of urgency and a need to get the best possible deal immediately.
Use words that motivate an action, such as "save now" or "buy now"
Attempt to use words such as "new" or "exclusive"
Stay away from unverifiable claims like "best seller" or "number 1 seller"
Incorporate your keywords into the ad's headline. If you win the bidding war, the keywords will make it appear in relevant search results.
Attend to the needs and desires of your customers, regardless of what information other keyword research may provide.
Let your potential customers see the benefit of choosing your products – pay attention to the what and why.
At the initial stage, incorporate only precise, narrow terms until you see positive results from your campaign. You can then switch to broader terms.
When starting out, writing captivating ad copy can be challenging. This is why we suggest you start out small using specific keywords to get a solid foundation necessary to achieve successful ad campaigns without wasting your profit.

Remain Consistent
As much as possible, keep your advertisement steady. This is of course based on your budget. By staying consistent with headline ads that appear in search result pages around the year, your customers will get used to seeing your brands any time they search for products related to what you sell. This will give them a sense of trust and give you more visibility and brand recognition.
This benefits you because anytime your customers want to make a purchase; they'll choose you because they are familiar with your business.
Add Reviews
Sometimes making a sale goes beyond trying to attract customers to your page. It can also be about the customer experience when they reach your landing page after clicking your headline ad. Potential customers are interested in reading other customers' opinions about the product. In fact, according to a survey conducted by PowerReviews, 55% of those interviewed said their decision to use Amazon as their starting point is based on the number of reviews available on the website. This is why you should focus on getting many reviews on your product page.
The reality is that reviews are fast joining the group of social proofs, which indicates that reviews aid in guiding people on whether or not to make a purchase. People read online product reviews for the following reasons:
Some customers want to make sure they are getting the best value
Some want to be sure that the product is great and works according to the description
Reviews are major influencers on consumer buying patterns, need proof?
A study conducted recently showed that 85% of women consider online reviews essential to their choices when buying online. The same study showed that 52% of Americans read at least four reviews before making an important purchase. It is therefore essential to have reviews on your product page. And it's not just getting reviews, you have to aim for positive reviews.
If you intend to show product ratings on your headline ad beneath your ASIN, ensure the rating is above 4 stars. This is because many customers are wary of vendors with ratings lower than four stars. At least 80% of online shoppers claim to prefer only 4.0 ratings and above. The main point is that people want to be sure that they are spending on a worthwhile product, and the only way to know is by reading what others have to say about your product.
Perform A/B Test
It is necessary to perform an A/B test on your headline ads to find out what the weaknesses of the ad are, where you are getting the highest results, and what your customers' interests are. If you perform the test and discover that one of your ads are not yielding desired results, before you pull the plug on it, you should try to see what minor modifications you can make and see if that changes anything.
The following are possible points to A/B test:
Images set for product images and featured images
The headline ad copy
The landing page that your ASINs redirect to
The order, number, and mix of ASINs you use
Customer's Experience on Your Product Page
Ensure you periodically check split test your headline ads to get an insight on how to improve your ads. Ensure you modify only one element at a time so that you can test the changes precisely. If you modify too many elements at once and you start witnessing significant turnaround, it will be hard to find out what of the modifications is responsible for the improved turnaround.
Additionally, before appraising the data, allow the test to stay for about two weeks. You should give your campaign sufficient time to produce enough actions so that you can check whether or not your customers are attracted to your modifications.
Finally, if you want to conduct a comprehensive evaluation regarding what you can do to boost sales, and you have a good budget for that, you could try launching concurrent campaigns with minor modifications. From there, you can determine which one generates the highest conversion after two weeks. This will make your split test unbiased and your campaigns will continue to run in real-time.
Use the Metrics
In the beginning, we mentioned that Amazon is not exactly helpful with metrics needed for analyzing headline ads. There various data that you should monitor that will help guide your marketing efforts and prevent you from wasting money on unprofitable ads.  You can also use services such as Manage By Stats to help manage your business.
In Seller Central, you can begin the process by downloading AMS's Search Term Report. Examine the report for data like average spend, cost-per-click, impressions, and sales generated. Additionally, check for the following metrics:
Ad Clicks
If your ads aren't getting as many clicks as you want, despite appearing in search results, there is definitely a problem somewhere. You need to investigate to know why your ads are not getting ad clicks. It could be any of the following:
Your keywords are not exactly matching what customers are searching for.
The images may not be attractive enough
Your products may not be exactly popular
Whatever the issue is, you must find out and resolve it or you will be wasting money.
Money Earned vs. Money Spent
Compare the amount of money you've spent on headline ads with the amount of revenue you have recorded.
More preferably, keep track of your ACoS, or Advertising Cost of Sale (we will discuss this shortly). This is the metric comparing the amount you've spent on ads and the amount you've generated in sales. ACoS is the tool for determining the success and profitability of your ad campaigns. ACoS will give you interesting details on what you should continue to do or stop instantly.
Also, you should evaluate your total cost structure when computing your ACoS, instead of considering only the money spent in contrast to money earned. To make this calculation, divide the money invested on headline ads by the cost price of your products (without accounting for overhead costs such as shipping, storage, fees, and employee salaries). This will give you an accurate information on the success of your campaign. The higher your ACoS, the better your performance.

Product Detail Page Views
If the click-through rate of your headline ad is high and you are still not generating enough sales, you definitely have to evaluate your product pages.
Take note that achieving immense success as an online retailer goes beyond having excellent ads. The events following the ad click are more important because that is when a purchase is made. Examine your product pages to determine what needs to be updated or changed.
You can try adding additional details about the product, provide more reviews, reduce your shipping costs, review your prices, use more attractive images or even work on average user experience.
Your page must be straightforward for any customer wanting to make a purchase. If they find themselves on your product page and are unable to get sufficient details, customize their orders (size or color preferences), or even make a purchase, they will simply exit the page in search of other options.
Ultimately, the number of people who see your products in headline ads or on product pages are not as important as the number of people who actually buy your product.
Carefully review your AMS headline ads, keep track of the performance of your ad campaigns and make necessary adjustments. This is going to give you an edge amidst thousands of other sellers trying to succeed on Amazon Marketplace.
How to Maximize ROI (Return on Investment)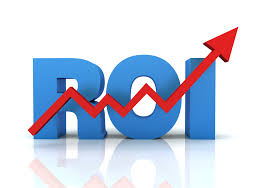 After discussing the basics of Amazon Marketing Services and the different methods of advertisement available on the platform, we need to talk about the general practices you can use in your marketing campaigns to achieve significant results.
Product
You must clearly define or categorize your products based on their priorities to you and your customers. Trying to promote all the products you have can lead to confusion and negative results. Consider targeting a particular product based on a period or season, e.g. swimwear in summer, or based on demand such as Apple accessories following the launch of a new Apple device.
Related: Manage By Stats Support
Budget
We have reiterated over and over about the need to set a specific advertisement budget for Promotions or advertisements on Amazon. Having a specific budget will help you decide how to break the budget up for the three major AMS advertisement methods. We recommend launching your campaign with this allocation:
10% – Product Display Ads
30% – Headline Search
60% – Sponsored Products
Doing this will help you get visibility in all the three areas and experiment with the ads. As you get results, you will be able to customize the ads and adjust your budget better. For example, if a particular product is performing better with headline search ads, You should consider increasing your headline ads budget and reducing sponsored ads.
Research
Conduct accurate research before launching your ad campaign on AMS. Try to determine the most efficient cross-selling or complementary avenues to sell your products. A good example would be to sell screen protectors along with phones. Find out the low, medium, and high search terms related to your products including phrases and keywords.
Consumer interests
Knowing what your consumers are interested in has the power to increase demand and popularity for your product. This step is significant because regardless of the fact that there are algorithms on Amazon that can help you select keywords, there are times when it is better to ask family and friends about the keywords they use when searching for certain products, or about the products other shoppers consider complimentary. Machine Learning or AI has proven very beneficial in recent times, but they cannot replace the firsthand knowledge of human shopping patterns and habits.
Synchronizing
It is a good idea to have all your ad campaigns synchronized on Amazon Marketing Services.  Especially if you have more than one campaign and product being promoted concurrently. This will prove immensely beneficial at peak buying periods such as holidays when orders and traffic get overwhelming or out of hand. You wouldn't want to sabotage yourself by reducing traffic from one product and paying attention to another. Time consciousness is important.
Branding
Building a formidable brand is crucial to succeeding on Amazon. This is because consumers find it easier to trust strong and popular brands. AMS knows this and therefore gives you the opportunity to create an Amazon store at no cost. After you are done setting up your store, you will be given a unique URL that your ads will redirect to. On this page, you can have high-quality images, product videos, explainer videos, and comprehensive product explanations. Giving your consumers this type of effectiveness can make you outstanding among your competitors.
Optimization
One of the benefits of using AMS is the useful tools they provide you on the dashboard. AMS provides you with feedback loop using your data and statistics. To optimize your ads properly, you need to have answers to the following questions:
What products have the best performance?
Which models or color have the best performance?
What ad type is yielding the best result for which product?
Which keywords have the highest traffic and which ones are costing money yet yield no substantial result?
Which ad copy is getting more clicks than the others?
Advertising Cost of Sales (ACoS)
Although it is important to monitor the number of clicks and impressions you get on ads, the most important data to follow is the Advertising Cost of Sales or ACoS. This metric gives you the ratio of what it cost to advertise a particular product as a ration of generated sales. The lesser the percentage is, the more successful your campaign is. For instance, if you are running two ads costing $200 daily, and one has an ACoS percentage of 1% and the other 5%, then you should know that the ad with 1% ratio has a better performance than the other one. This indicates that you are selling 5 as many products than the other campaign for every hundred dollars spent on ads. Monitor ACoS meticulously and don't hesitate to increase your investment in high-performance campaigns.
Tips for Amazon AMS:
Pay attention to content!
If you are enrolled as a brand in the Amazon Brand registry and have control over the content of your page details, you can influence the power of your content, especially for Automatic Campaigns. Customize your content as much as you can, so that if your Automatic Campaigns depend on it, it has solid and beneficial content that is applicable to customer searches. This is the importance of A+ and Enhanced Brand Content (EBC).
Your content is important to your ad performance. If your content isn't optimized, your ads won't yield significant conversions. Allocate time to investing in your Amazon SEO strategy.  Also consider integrating Enhanced Brand Content (EBC) or A+ content to increase your conversions and promote unforgettable brand experience.
Note: if you are a vendor with a highly competitive ASIN, you might not have sufficient autonomy in dictating your content. If this is the case, you should probably not invest more time, energy or resources in improving the content that you cannot control. Rather, pay attention to Manual Campaigns.
Don't leave your campaigns running on autopilot
You may consider leaving your automatic campaigns to gather keywords is easy. However, human input is necessary to determine how important or valuable the keyword is to your product. Additionally, it takes human intelligence to decide the reasonable sequence of a search. You should pay attention to this aspect of your campaign strategy, even if it requires hiring a trusted agency or employing more team members.
Let data guide your decisions
It is easy for sentiments to set in when running ads. Ensure that your decisions are determined by the information provided, even if it means cutting the ad budget of your favorite product. If it is not performing, pull the plug on it.
Although clicks and spends are monitored instantly by Amazon, it may take about 2 to 4 days to process sales. For instance, in the first stages of running Sponsored Product ads, you may see many clicks without any conversion.  This means you have high Advertising Cost of Sale and running at a loss. This may prompt you to want to stop the campaigns for a while because it feels like you're wasting money. You should probably just give the metrics time to update.
Develop an extensive Amazon Strategy
AMS and its advertising options are only a branch of a broad strategy. The success of your advertisement or marketing campaign (using AMS ads services) relies on a good blend of carefully selected keywords (based on the type of ad) or products, properly thought out campaigns. – all redirecting to product detail pages with informative content and appealing images that help you achieve the best conversion rate possible.
Final Notes on Amazon Marketing Services
In conclusion, AMS is an excellent tool for increasing sales remarkably on Amazon. It is user-friendly and provides you with an introductory guide as a first timer. Despite some drawbacks, AMS is an incredibly powerful tool. When utilized appropriately, it offers priceless feedback and a chance to regularly make smart modifications to your ad campaigns. We hope that you will methodically plan your AMS strategy and follow some of the best practices we suggest in this guide with the aim of achieving better sales and becoming successful on Amazon Marketplace.