Amazon Headline Search Ads | Understanding Techniques To Improve CTR & ACoS
If you buy things on Amazon, you have certainly seen Amazon Headline Search Ads before. In fact, if you use the internet enough, you are likely familiar with banner ads at the top of many websites you visit. They are usually catchy and noticeable at first glance. Amazon banner ads are like that, although they are termed Amazon Headline Search Ads. If you are a vendor on Amazon, then you probably already know the effectiveness of Amazon Marketing Services to your business.
What are Amazon Marketing Services about?
Amazon Marketing Services are becoming increasingly popular as a profitable and versatile method of advertisement for vendors using the global online marketplace. Over time, it has proven to be a more effective way to highlight your products to ready customers instead of conventionally waiting for them to find them in product listings. With Amazon's continued domination of the e-commerce realm, more people are constantly finding out how they can utilize and maximize the advertising tool. Amazon advertising tools continue to evolve with constant updates and improvements.
Related: How to Advertise on Amazon
Interestingly in 2017, Amazon was discovered to be consumers' more preferred starting point for online purchases over Google. This indicates that Amazon is fast leveling up on the search engine playing ground for product discovery. What better time to utilize the power of Headline Search Ads than now?
In this article, we will be discussing Headline Search Ads exclusively and the techniques you can use to boost your CTR and ACoS. Let's dig in.

What are Amazon Headline Search Ads?
Headline Search Ads make up one of three ad campaigns available on Amazon marketing services. They are stretched out on top of search result pages based on keyword relevance. They may appear on search results for both mobile and desktop searches.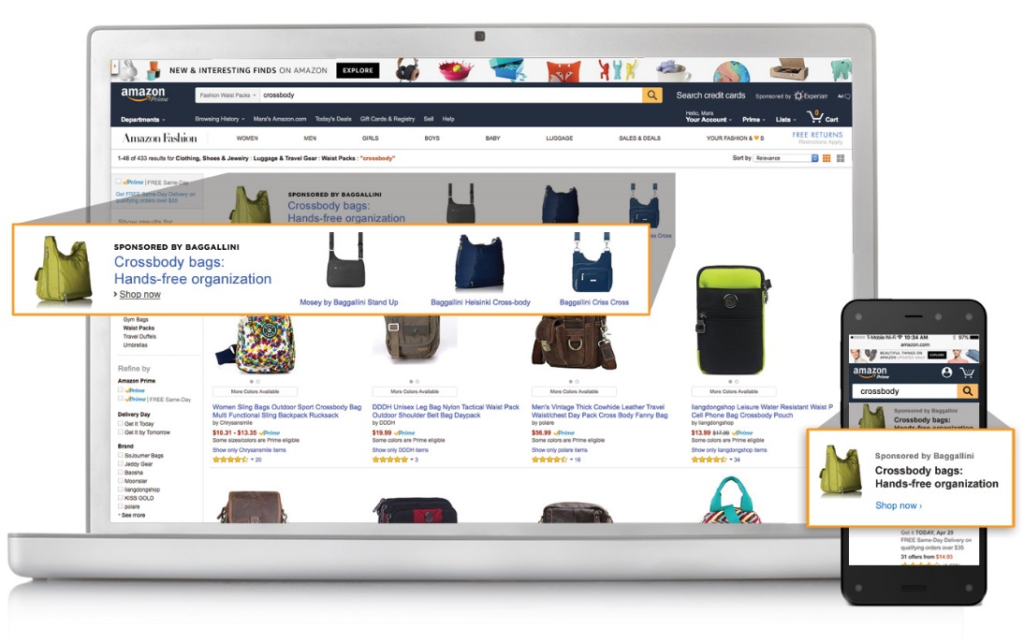 How Headline Search Ads Work
Headline Search Ads use keywords to decide when your ads show. This means you need to choose keywords or search terms that are relevant to your product, then bid on the keyword with other Amazon vendors. It is an auction-based advertising system, which means the highest bidder wins.
When you choose your preferred keyword in the advertising campaign, Amazon uses that to match the search queries of shoppers on Amazon and show them your products on top of the page. The keyword can be a single word, such as shoes, or a combination of words like "black shoes." Headline Search Ads can have up to three ASINs (Clickable Products) at a time and a written headline or copy.
Related: Amazon Marketing Services 101
When a user clicks on your headline ad, you can choose to have them redirected to three locations, all aimed at ensuring maximum customer satisfaction and trust. It could be your AMS brand or landing page, your best selling product, or a specific URL.
With the AMS brand page, you can make customizations such as Hero Product, Hero image, a collection of Best Sellers, and the TextBox. The popularity of this landing page is high and could be an avenue to highlight your entire catalog.
Your custom URL should ideally consist of three of your major products. You can set up your custom landing page by typing three or more ASINs in the Amazon search bar, divided by the '|' sign. You can then copy the URL generated from the search result and paste it in the proper location when setting up your ad.
Best-Selling Product Page
On this page is the collection of your business's best sellers. This is a top-tier strategy, but customers are much more confident in products when others have bought and loved the product.
The truth is that it is hard to decide which offers the best performance because your strategy and keywords determine the result you get. However, since the most viable customers are attracted by these ads, the best results usually come from having a brand page.
If your target is queries that aren't hot in demand, say Teeki yoga pants, then redirecting them to a custom with three yoga pants options may be the better option. This will make it a lot more convenient to find the product they desire in contrast to your brand page.
A single headline ad has three available options for users to select. If a shopper clicks on a product they are interested in, they will be redirected to a landing page designed to give them complete details on the product. There on the product page, they can easily check out if they are interested. If the shopper perchance clicks on the headline copy or brand logo, they will be redirected to your brand page or bestselling product.
Headline Ads use pictures and customized ad copies that are visually alluring to entice shoppers to click and buy the product.
Update: You no longer need to be registered on Amazon Marketing Services to use Headline Ads because it has now been added to all seller central accounts. To access Headline Ads for your products, you need to be brand registered.

Why Choose Headline Search Ads?
Headlines Search Ads appear first and are therefore the first thing an online shopper sees on the search results page. Since the ads are relevant to their search, they are usually the stopping point for most online shoppers. These ads generally convert faster than other advertising methods because most shoppers are in the mood to buy and make a payment the same day. The power of Amazon Headline Ads lies in its ability to:
Increase brand awareness and visibility.
Highlight more than one ASINs at a tim.e
Boost more traffic and sales for your business.
Appear at the top Amazon Search Results.
What will it cost to set up a Headline Search Ad?
As mentioned earlier, Headline Ads are auction based. This means your bid has to be higher than your competitors' if you want to appear on the first page. The higher your bid is for a certain keyword, the higher the likelihood of getting visibility for your ad. All AMS ads are pay-per-click, which means you only have to pay when someone clicks on your ad. The minimum cost-per-click (CPC) for headline search ads is $0.10 and you won't incur more charges than your bid on a particular keyword.
Even if your bid is not the highest, your ads will still appear, albeit on the second, third, or fourth page.
Setting up your first Headline Ad
To use Amazon Headline Ads, you must be registered in Amazon's Brand Registry and utilizing Sponsored Products. The Brand Registry is meant to protect your brand on the Amazon platform, in order to enforce quality and improve the trustworthiness and reliability of Amazon as a global marketplace.
Being a member of the Brand Registry has additional benefits: you have easy access to marketing and advertisement tools that will help increase brand awareness and sales, and allow you to exercise power over your brand name and product listings. You will also be able to minimize cases of violations or wrong depictions of your business on the Amazon platform.
Related: Simplifying Your Amazon Marketing Strategy
To fully optimize and maximize the potentials of your Headline Search Ads, you must be fully familiar with the value of these banner ads to visibility on Amazon. Amazon has thousands of sellers, which means you have a lot of competitors to deal with if you ever want your products to be seen.
Anything to beat the competitors will prove immensely beneficial, and this type of ad is just the tool you need since everyone has the same playing ground. The recent updates have made the platform a lot more convenient to use.
Updated Advert Placements
Every internet marketer agrees that the effectiveness of ads lies in its placement on the page, and this is exactly what the recent updates tackled. The ads appear above other search results and they are even more visible than ever. Your customers can't miss it.
Advertisers can now reach, target, and engage their customers while they shop on the Amazon marketplace. By utilizing the data provided on the search patterns of customers, the updates provided by Amazon ensure that the right ads are reaching the most viable customers or audience. This is the best resource for vendors.
Before launching the campaign or while creating the ad, you can preview the ad by going to the Campaign Manager to see what it would look like to online shoppers on both desktop and mobile platforms.
Previewing your ads before initiating a campaign is a good way to know if the ad looks the way you want and you will be able to make additional modifications to the content or location of the ad before launching it to potential customers.
Bidding
Also introduced with the new placements is the ability to manage bids through all placements on Amazon. You can choose from one of two options:
Manual Bids
If you are familiar with Amazon's advertisement platform and confident with setting things up, then manual bids may be the best choice. With this option, you can decide what modifications you want to make to the bids on the updated placement system, including decreasing or increasing by certain percentages. As with other manual options on most advertisement platforms, it is better to stay away from this until you've gotten the full hang of the Amazon seller's platform.
Automated Bids
Selecting automated bids indicates Amazon will optimize the updated placements in the best way possible to maximize conversions. Simply put, this implies that online shoppers will find your ad in the best and most relevant places. Interestingly, with automated bidding, your initial bid won't increase unless you choose, and you can select this option safely.
Amazon advertisers now have more updated news reporting incorporated on the platform. The reports are clearer and allow advertisers to monitor ad performance more efficiently and give more beneficial data for optimizing ongoing ad campaigns. The news reporting options consist of:
Keyword Placement
These reports give you important insights into sale and performance data for every keyword on all placement groups, even if your ad campaign has only one impression. With this metric, advertisers can go about keyword research and keyword management, and ultimately enable a more precise and optimized keywords strategy which will ensure bid modifications for better ROI.
Campaign Placements
This report gives you an insight into how your ads are performing at various placement levels. The reports are especially valuable if you ever need to prepare your budgeting and pricing strategy to fit changing demands and needs.
Campaign reports
These reports give you important information about your budget, sales, and performance data over the entire Amazon ad campaign. These reports are incredibly beneficial for your records and can be utilized to optimize future ad campaigns. They can also be implemented with your current activity to boost sales or meet KPIs.

Strategies That Boost Conversions for Headline Search Ads
With the information you have on Headline Search Ads, it's only normal to want to get the utmost value for your money spent. The following are ways you can optimize your ads for maximum conversion.
Connect with your audience.
You first step to conversion is understanding and meeting the desires of your potential customers. This shouldn't be hard if you understand your most important value proposition. With that, you will be able to come up with a strong ad copy highlighting your value proposition and meet the needs of the shoppers.
Try coming up with strategies and influencing words that will make them click on your ads. Always remember that your customers have a particular keyword they use when trying to find your product. For instance:
Our (product) is (multiple)x (desired result) – Our Device Cleans 3x Faster
You (potential customer) will be (adjective) (desired results) – You will be surprised by how clean your house can be.
Choose the Best Keywords.
The effectiveness of Headline Search Ads lies mostly in appearing on top of search results for an online shopper's queries. The process is not complicated. To get the desired audience for your products, you have to ensure you employ the correct keywords when setting up your ads.
The Search Term Report found in Advertising Reports can provide you with necessary keyword data that will give you insight into the natural keywords your customers are using. You will also be able to sort out efficient and relevant search terms with the right products.
Related: Amazon Sponsored Products
On Amazon, you will also get a collection of suggested keywords when you begin to input your own keywords, included with the level of traffic of the keywords. The traffic identifier identifies keywords with low, medium, or high traffic. Typically, the keywords with the highest traffic have higher bids than the rest. Therefore, if you want lower bid prices, the best strategy would be to focus on keywords that are related to your niche, yet have lower traffic.
You can choose your keywords from any of the following categories:
Brand Keywords: These are the keywords matching your product or brand names. They are particularly helpful for boosting brand visibility and product appearance in relevant search results. Ensuring your buyers get the best experience is also crucial to your success on Amazon.
Competitor's Keywords: You can also try targeting your competitor's keywords for your ad campaign. When shoppers search for their products, they might just consider testing a different brand for once. This will only work if your value offering is better than your competitor's.
Complementary Keywords: There are products that are often used along with another product, yet sold separately. For instance, toy cars and batteries.
Unrelated Keywords: these keywords have nothing to do with your product or brand. However, they have the potential of driving traffic to your product page.
Setup Highly Relevant Campaigns.
The most important element of a successful Headline Search Ad is relevance. If you were selling dish towels, then you would have a problem using the platform to get customers whose only desire is to purchase paper towels. To successfully optimize your ads for conversion, you need to create closely related ad groups that remove any iota of obscurity. This is the point where you introduce your unique selling point. Be sure to let your shoppers know what sets your product apart from all the other product options available out there.
For example, a gourmet food company experimented with branded vs. non-branded headlines. They conducted a campaign using "Grilling Spices Set" and another using "[brand name] Grilling Spices". In this study, the headline ad that had their company's name got twice the click-through rate than the first ad, indicating that customers were interested specifically in their brand.
User Reviews
Having successful sale records is sometimes all you need to make more sales. When your customers buy your product, they want to know that they are not only getting the best value for money, but that the product will work as specified. Potential customers are typically interested in what other buyers are saying about your product and those reviews may be the reason they make a purchase or leave your page. As much as possible, try to get many positive reviews on your product page.
Optimize and Test Frequently
With Amazon, you can modify your Headline Search Ads to your preferences. You should use this opportunity to experiment with several campaigns simultaneously and occasionally, modifying the ad headlines, images, landing pages, the ASIN order, number or group. Amazon recommends you modify only a variable at a time and leave it to run for at least two weeks to get insights on its efficiency before making subsequent changes. Making multiple changes at a time makes it harder to determine which changes made the difference when your results change.
Testing your ads will help you discover the possible shortcomings of your ads, which ones are generating the returns, and what your customers are interested in. If you conduct the test and found out that some of the ads are not performing as expected, you can try making a few optimizations to see if the results will improve.
If you have the budget, you can run a more comprehensive ad campaign concurrently, making minor adjustments to each to see which one gives the highest return on investment after the two-week period. This will make your tests more accurate and your ads will keep running in real time.
For example, a skin care business conducted an image test by running headline ads with their logo and another with the product image. The ads which had their brand logo had a relatively lesser amount of sales and traffic from an $8 budget generating $160 sales. The ad that had the product image got the higher amount of traffic and customer engagement, generating $507 in sales from a $44 budget.

There are two important stages of campaign optimization.
Stage 1: General optimization (Bulk Edit)
It is easy to get engrossed in pushing campaign ads, enough to ignore the fact that it is necessary from time to time to optimize your entire Headline Search Ads Campaign. Bulk Edits gives you the ability to run campaign optimization tactics on several campaigns and ad groups in one go.
This is only possible if you have preexisting campaigns that have lasted for a long time. You can choose any group of campaigns, use filters (there are useful ones available), and consequently discover underperforming search terms, keywords, SKUs, and words.
Related: Manage By Stats Amazon Product Management
It is possible to make your entire bid modification at once, suspend particular SKUs in certain ad groups where they are underperforming, and include negative exacts on an ad group at once. It is also possible to discover and optimize words that are slacking and causing losses.
Bulk optimization strategies can be conducted on four possible functions:
Search Term Optimization – Concurrently investigate the particular search terms in your entire campaigns that are not performing up to your campaign expectations, generating high CTR but no conversion.
SKUs Bulk Optimization – Concurrently discover which SKUs are underperforming in your entire ad campaigns.
Keywords Bulk Optimization- Concurrently discover which single keywords in your entire ad campaign are not performing up to your campaign expectations.
Negative Words Finder – This will help you discover irrelevant words that won't generate profitable sales for your entire ad campaign.
Stage 2: Single Campaign Optimizations
This is when you study each campaign to discover how you can optimize it. The following are easy campaign optimizations that can help lower your ACoS significantly.
This is the simplest form of optimization and can be used for all campaigns with more than one SKU. With this, you can pause slacking SKUs.
Search Term Optimization:
Look for search terms that are making your ad campaigns slack off in performance and apply the "negative exact" tactic to stop further exposure. This strategy works excellently for all campaigns, including automatic, ACoS Scraping, and Seed Research Campaigns.
This is where you look for certain search terms that are yielding no results for a particular keyword. This strategy can be used for converting and non-converting keywords in an ad campaign.
You can increase or reduce your bid to correlate with your ACoS tactics. It best functions for phrase or exact match campaigns. It is not applicable to Automatic campaigns.
Look for particular keywords that have not contributed to profitable sales and apply the "Negative Exact" tactic to stop further exposure. It is important that you use negative phrases with discretion. This strategy works excellently for all campaigns, including automatic, ACoS Scraping, and Seed Research Campaigns.
What's ACoS all about?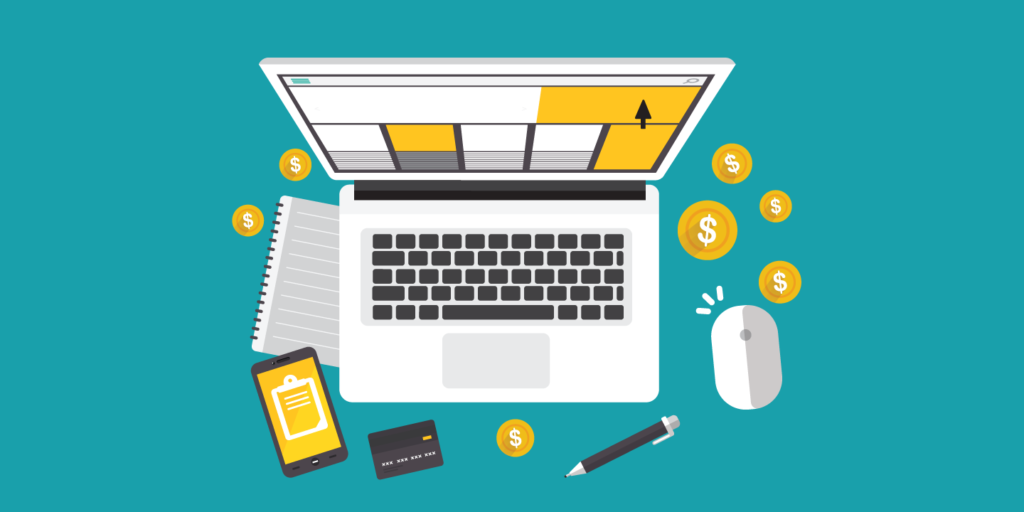 ACoS or Advertising Cost of Sale is an important value for evaluating the results of your Amazon Headline Ad campaign. It shows the ratio of what was spent on the ads to estimated sales, and can be calculated using:
ACoS = ad spend ÷ sales or PPC cost / PPC revenue
For example: If your ad campaign makes $305 in sales after spending $76 over a particular period, then the ACoS is 76/305 = 25%. This simply means you're spending 25 cents or a quarter on ads to generate one dollar in sales for the ad campaign.
Using Amazon ACoS to Calculate profitability
Many vendors employ ACoS when evaluating how well their ad campaign performed. The only drawback to this habit is determining what should be the proper target value for the ACoS. This is because ACoS on its own can't tell you if your campaign is profitable or not. To determine if the particular ACoS is worthwhile, you will need to consider the total cost setup of your product.
Related: Adbadger PPC Campaign Support
Decide what would be your best ACoS.
As a vendor, you will not suffer losses on a headline search campaign if your expenses on the advertisement are lower than your profit margin. Your profit margin is the money you get after you have deducted every cost, (including the cost of production, shipping, and other costs like storage or warehouse cost, employee salaries, etc.) and charges (Amazon charges and or FBA fees) from the product's price.
Breakeven ACoS vs. Target ACoS
Break-even ACoS is essentially the best metric to use as a guide if you are selling on Amazon. This is because your aim is not to generate zero profit from your ad campaign unless the sole purpose is to increase your organic ranking by increasing the number of sales.
What you need to do is specifically decide what would be your best net profit margin after spending on the ad for the sole purpose of marking its target ACoS.
How to decide your target ACoS for your ad campaign:
For example, your ratio is 22% before deducting your ad expenditure, and your break-even ACoS is precisely 22%. If you desire a profit margin of about 10% after deducting the cost of adverts, it is important that your campaigns hit a maximum of 12% for target ACoS. If the optimizations you perform on your ad campaigns help you hit an ACoS target of 12% or lower, then you would have reached the profit margin you anticipated.

General Tips for Optimizing ACoS
In cases where your average cost of sales goes over your target ACoS, you can try reducing your bid to see if a reduced ad budget will have a significant effect on your sales.
If the final average cost of sales is lower than your target ACoS, then you have more money for ad campaigns. You can try increasing your bid to check if it will improve your ad reach and consequently, your sales.
If you discover you are not getting any impression on your keywords, make sure you have selected the right category for your product and that you have placed the keyword in the search fields of seller central backend and your ad listing. However, if you have selected the correct product category and the keyword is already in the listing, then you should consider raising your bid to determine if a higher bid will increase activity for the keyword.
If the keyword fails to generate sales over an extended period, even after lowering or increasing the bid, then you should remove the keyword from your manual campaign and include it in your negative keyword list.
How you can improve your CTR.
In the world of internet marketing, CTR or Click-Through Rate is the metric for determining the average number of ad clicks advertisers get based on the number of impressions. Achieving successful PPC (pay per click) is largely dependent on getting a high click-through rate. This is because it has implications on the quality of your ads and how much you pay for the headline search ads in the end.
What is the Click-Through Rate and how is it Calculated?
Your ad's click-through rate is the rate at which online shoppers click on your ads. The number represents a percentage of people who view the ad (impression) and proceed to click the ad. The formula for calculating CTR is:
CTR = Total Ad Click / Total Impressions
Information on your ad's click-through rate is available on the dashboard of your seller's account. Having a high CTR indicates that many shoppers who see your Headline Search Ad click on it.
Why is CTR so important?
Click-through rate is essential to your ad because it affects your quality score. It shows whether or not people are interested in your ad. It could also be an indication for you to adjust your headline ad.
Having a high click-through rate means that your ad is serving its purpose – attracting users to your brand and its products. This is especially true if your ads rank high on the relevance scale.
What makes a good click-through rate?
There have been dissentions on what really counts as a good click-through rate. If you analyze the question from a statistical standpoint, the answer is relative. The truth is that click-through rates will typically fluctuate over different campaigns, or from keyword to keyword.
Every element of your ad's presentation directly contributes to how users perceive the ad – from the images to the ad copy, or even your product choices.
Even though having a high click-through rate is desirable, it is hard to decide the number that counts as the best. The average click-through rate is determined by the niche and your anticipated CTR depends on the placement of your ads and other factors.
When is having high CTR bad for your brand?
If the keyword you use isn't relevant to your business or has no potential to generate sales or leads, then having a high CTR for that particular keyword may be bad news for your business. The reason is that:
Since the ad is PPC, every click costs money
High CTR means you spend more on the ads
In some cases, there are high-valued, competitive keywords that generate many clicks and yet result in breakeven ACoS, even if they convert.
Sometimes, it is not about having a high CTR. Sometimes what your business really needs is high CTRs on keywords that are:
Affordable: Less expensive PPC keywords that won't cause losses.
Relevant keywords: Keywords that are actually related to your brand or product.
Simply put, getting a good CTR is dependent on choosing the right target keywords, then setting the ad up to be appealing to users, enough to make them click and make a purchase.

How to get Effective Click-Through Rates for Amazon Headline Search Ads
Getting high CTR on your ads is determined by:
Cost-effective clicks
Targeted keywords
Proper campaign optimization
Final Note on Amazon Headline Search Ads
Building a strong brand and getting high conversions is every seller's goal on Amazon. However, your success can only happen by paying attention to details and making the right call. What really matters is not the number of people who view your ads, but the number of people who make a purchase. The key is to ensure that the buying process is seamless, error-free, and straightforward; only then can you really get the results of your spending. Many of the tips highlighted above have been tested with multiple campaigns. If you are unsure of what works well with your products, feel free to experiment with the strategies.
We, at Sales Funnel HQ, do Amazon PPC Management services.   We focus exclusively on serving our Amazon PPC needs and we are VERY good at it.  We decided to make Amazon Sponsored Products our one and only focus.
If this is something you are interested in, please reach out to me for a free quote and consultation call.  The best way to do that is through Facebook Messenger.
Click here to send me a PM on Facebook and we can give you a quote.
To Your Success,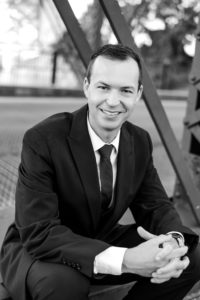 Dr. Travis Zigler
SeeEO of Eye Love