7 Step Amazon FBA Recipe for Success [WITH VIDEO]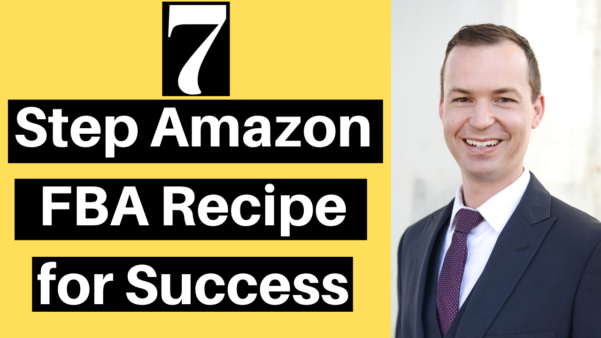 What is the Amazon FBA recipe for success? It boils down to just a few things, which I will get to in just a little bit. This Amazon FBA recipe for success is assuming that you already have a product chosen to sell on Amazon.  If you have not and want a guide on how to pick the perfect product on Amazon, I recommend going to my friends over at Amazing.com (affiliate link, but Amazing is how I got started and the reason I am where I am).  With that being said, let's go over the 7 step Amazon FBA Recipe for Success!

1. Just Commit
Are you ready to start your business? Are you unsure where to begin? Just commit. Go all in. My wife and I are both optometrists and owned two practices while starting this business. It came to a point where we had to choose. Either continue practicing and hire for the online business, or go ALL IN on this business that could give us the life we've always dreamed of.

It was extremely scary and the loss of income from the practices was large, but we did it in July of 2017 and haven't looked back. I wear an orange bracelet on my wrist to remind me that there is no plan B, and we are committed to helping 1,000,000 dry eye sufferers heal their dry eye naturally (our mission for Eye Love).

Commit and focus on the one thing everyday that will move you towards your goal. It could be blogging for one hour every morning before work, watching 30 minutes of a course and taking action, watching a YouTube video on mindset, or creating a Facebook live inside your group.
2. Amazon Keyword Research
Amazon keyword research is one of the most vital and important pieces to not only your Amazon FBA success, but also to your Amazon PPC success. Great Amazon keyword research can make or break your selling on Amazon. I'm not going to dive into how to do Amazon keyword research in this article (because that is here), but I just wanted to emphasize the importance of it before we go further.

Amazon keyword research is vitally important for Amazon PPC and your Amazon listing. Once you determine the keywords that are important you will optimize your Amazon listing and include these keywords in the title, bullets, description, enhanced brand content, and backend search terms.

On top of the research and finding the best Amazon keywords to go after, you must monitor your keyword positioning for each product to monitor if something is working or not. We use the tool Manage by Stats (affiliate link) to monitor keyword rankings.
3. Build an Audience You Control
I have viewers of our YouTube channel and in our Facebook group reach out to me ALL THE TIME about how to launch a product. The first thing I tell them is to launch to their current audience… Then crickets ensue because no one ever wants to build an audience to launch products to.

Think of it this way. If you have 300 people that follow you and LOVE what you put out into the world, they will essentially buy every product you come out with. You launch to these 300 people AT FULL PRICE and they repeatedly buy that product every month (if it is a consumable). That is an average of 10 sales per day.

The importance of an audience cannot be emphasized enough.

Is it hard? Yes.

Is it the most valuable thing you can do for your business? YES!

Everything we do in Eye Love is focused around building an audience. We write blogs posts (started January 2016), do Facebook Lives in our Facebook Group (started in August 2016), release videos on YouTube (started August 2016), and build emails and a Facebook messenger list using a lead magnet such as a coupon, book, or listicle.

In the 3 years since we started focusing on this, we've been able to build a following close to 100,000. It takes time and starts with ONE PERSON. Take care of that one person and they will spread the word. Although we have a large following we still treat the individual person and cater individually as much as we can.
4. Get Reviews
Social proof is so vital when it comes to shopping online. Shoppers cannot feel and see the product in person, so they have to rely on others' opinions to purchase a product. Getting reviews is a very simple process. Provide amazing customer service and have an amazing product.

People want to tell others about the products they purchase and will tell others about your product UNLESS it plain out sucks. Stop selling commodities and start selling an experience with your amazing product.

We send one email seven days after they purchase using Manage by Stats (affiliate link), that simply asks them how they are doing with the product with instructions on how to use it. We ask open ended questions to get a response from the customer. Then we ask them to leave a review or trouble shoot their problem if they have one.

Secondly, go back to the third point and build an audience of raving, rabid fans to help you bring your review count up.
5. Learn Amazon PPC Inside Out
I created an entire 8-week masterclass for free about Amazon PPC, but if you are already running Amazon PPC then this lesson is the most important. Scaling your search term reports is the single most important thing that you can learn. You can take your data from current Amazon PPC campaigns and scale the 20% of search terms that are driving 80% of your sales.

Believe it or not, there are only a few search terms that are driving the majority of your sales. You are wasting money on the rest of the keywords that you are bidding on and the ones you think you should be ranking for. Check out my how-to guide on scaling your Amazon PPC with search term reports.

6. Focus on This 1 Product Until at Least 25 Sales Per Day
This is another common problem I see among Amazon FBA sellers (including myself). We are so infatuated with newness that we always want to be releasing new products before we have even learned how to sell the first product.

Focus on each product until you get to at least 25 sales per day on that product. This can be achieved by letting your audience know about it over and over, teaming up with Facebook groups, Facebook ads, Google ads, Amazon PPC, Amazon AMS, etc…

Keep learning how to drive more traffic to your listing and learning how to optimize your listing until you get it to 25 sales per day. If you start to drop in sales, then get back to the grind to get it back up to 25 sales per day again (or more).
7. Continue Building Your Audience
See number three above and focus at least 30 minutes of EVERYDAY on building your audience in some way or another. Facebook live, Facebook ads, Google ads, lead magnets, landing pages, building a Facebook messenger list, building a Facebook group, etc… You get the point. All your focus should be on building an audience and SERVING that audience. They will tell you what and when to release your next product.
BONUS: ASK Your Audience What to Release Next
I hinted on this with the previous bullet point, but when you are going to release your next product (wait until the first one is at least 25 sales per day), then you will ask your audience what THEY want you to release next. You will NOT release what you want. They are your audience and are the ones paying your paycheck. Listen to them.

This may not be your typical Amazon FBA recipe for success, but it is vital if you want to build a long term sustainable brand that will keep people coming back to you to buy more and more. This list was borrowed from my coach/mentor/friend Ryan Daniel Moran at Capitalism.com. Enjoy!

Make sure to subscribe to our YouTube channel and join our free Amazon PPC Pros Mastermind on Facebook.

FAQs About Amazon FBA Recipe for Success
What's Next With Your Amazon PPC?
Have you taken my Amazon PPC Masterclass? Click here to get all the Amazon PPC lessons emailed right to your inbox once per week. This is an actionable lesson every week to take your Amazon PPC to the next level. Each lesson is also below.

Step 1 – Track and Measure Your Results
Step 2 – Research Your Competitors
Step 3 – Simplify Your Amazon Keyword Research
Step 4 – Amazon Listing Optimization
Step 5 – Set Up Your Amazon PPC Campaign
Step 6 – SCALE your campaigns.
Step 7 – Optimizing Keyword Bids for Increased Profitability
Step 8 – 9 Best Amazon PPC Auto Campaigns Hacks and When to Use Auto Campaigns
Step 9 – Product Targeting Ads
Step 10 – How To Calculate Bid Adjustment for Top of Search

If you want support in this Amazon PPC journey, this is where I can help.