7 Best Tips for an Automated Clickfunnels Webinar [+ 7 FREE TEMPLATES]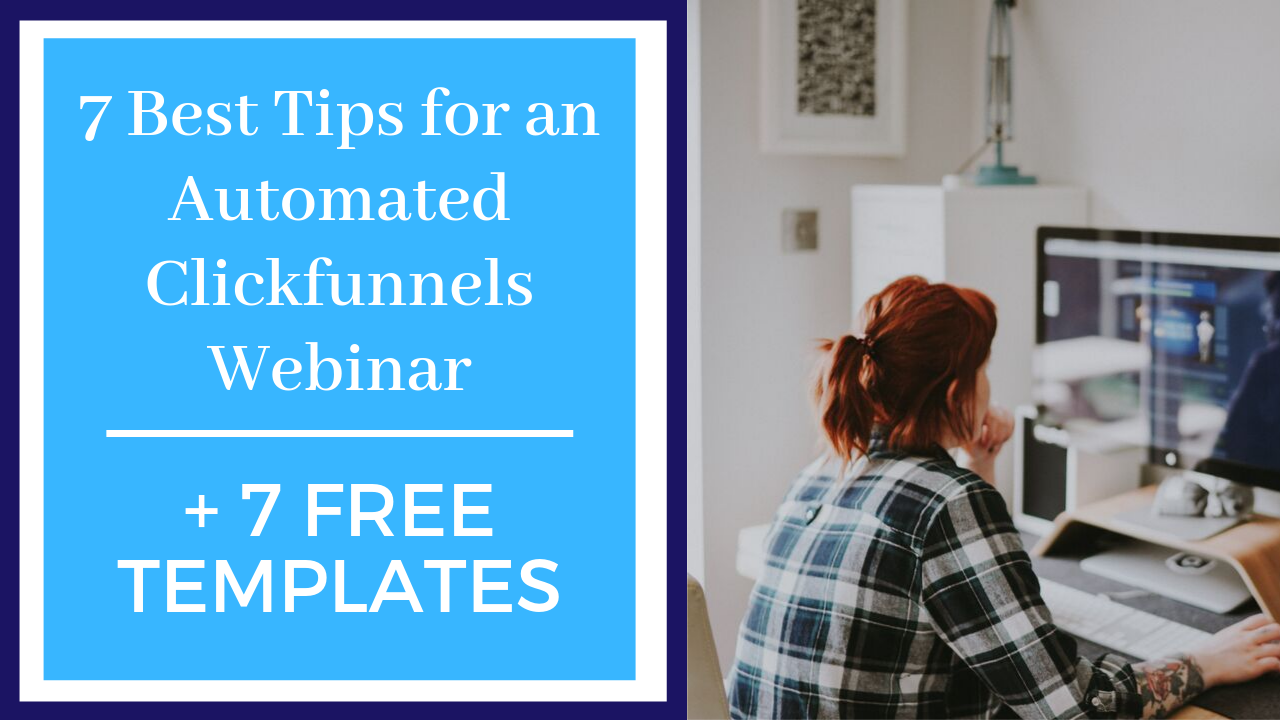 An automated Clickfunnels Webinar isn't the easiest thing in the world to set up, and that is why we'll go into great detail here about what setting up an automated Clickfunnels webinar entails. In the end, we'll let you know about 7 of the best free templates that are available on the Clickfunnels Marketplace just for that purpose. Before we get into all of that, though, we have to go through what Clickfunnels is and how it can provide you with a means to create an online enterprise based purely around funnels.

What is Clickfunnels?
Clickfunnels is a company that was founded by Russell Brunson in order to provide a service that was not currently available at the time. Clickfunnels' primary focus is on sales funnels and how to use them effectively in order to convert the maximum amount of leads into sales. The company exists to provide SaaS. That means that it provides software as a service, much like Grammarly or Shopify.
Clickfunnels provides a platform for people that are unfamiliar with coding so that they can use a drag and drop builder to build and manage sales funnels. The reason why the company is successful is because it focuses on business-people rather than coders. It allows those business-minded people a way to perform business without having to learn all about coding and its applications.

There are a bunch of services that Clickfunnels provides but the one that is most widely used is the sales funnels service. The sales funnels service allows you to make sales funnels according to your needs without having to code a single line of code. This is achieved using two main features of Clickfunnels.
The first is the drag and drop builder that can be used to just make and edit sales funnels without coding. The drag and drop sales funnels allow you to take existing templates and change them according to your needs in order to create the sales funnels that you need to. You might be thinking to yourself now "Where do you get the existing templates then?" The answer for that is simple, you use the Clickfunnels Marketplace.
Click here to get a FREE 14-day trial of Clickfunnels (affiliate link).
What is the Clickfunnels Marketplace?
The Clickfunnels marketplace is a place for users to submit their templates so that others can use them. You'll find two types of templates in the marketplace, free ones, and paid ones. Most of the free templates that you can get have been published by Clickfunnels themselves whereas the paid ones are mostly made by users. The marketplace allows users to create templates for other people and get paid for them. This way you can get a sales funnel template straight off of the market and utilize it in your account without any problems. This works for both free and paid templates.
The marketplace isn't just reserved for templates though, it is also home to creators that are available for hire. These creators can show the projects that they have worked on in the past and also have their contact methods on the marketplace. If you like a creator's work, and want to get in touch with them for making a funnel for yourself you can do so very easily.
This is a great feature because Clickfunnels allows creators to get offers without them getting involved. Clickfunnels does verify people though, so that you can assess their trust level and see how long they have been a member. It's a great way to boost your business because they can create new and exciting funnels just for you.

What Other Services Does Clickfunnels Provide?
Clickfunnels is not limited to just sales funnels. There are a lot of other services and features that you can take advantage of once you become a member. One of the most popular services that they currently provide is the automatic email feature that allows you to send emails to leads without having to type them out at the time. This allows you to set up an email system that sends emails whenever certain criteria are met. Thus, you can set up a system where emails are automatically sent to leads that visit your sales funnel, leads that left the cart without checking out, or leads that purchase something.
This is a great way to engage with your audience and make them feel as if you are an interactive seller. Automated email responses are also effective at converting leads into sales because through them you can give people an incentive to purchase your products by offering them discounts that they can only find through the email or by removing goods from their cart when they have abandoned it.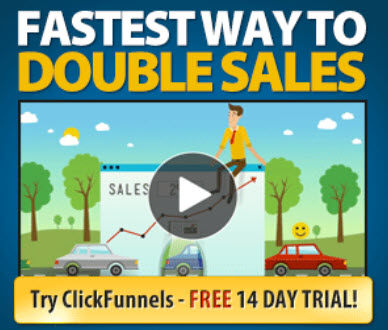 Automated emails are also an integral part of drip campaigns which are an effective way to convert leads into sales. Drip campaigns work in a very simple way. You start off with a single email that piques the interest of people with just enough information about what you have on sale. With every consecutive email, you give your leads more and more information until the final email in which you present them with an ultimatum.

This ultimatum will usually take the form of a discount that is available only for a little amount of time. Such campaigns are effective because they interest the audience and give them an incentive to follow through and purchase what you have on offer.

Using automated emails this process can be streamlined to such a degree that your involvement can be completely removed. This allows you to save a lot of time and money because you can then focus on other avenues and increase the sales and revenue that you get from other channels of your business.
Clickfunnels automated email service also includes the ability to create custom mailing lists, whole email campaigns, and even broadcasts so that you can engage with your audience better. Clickfunnels' automatic email service is called Actionetics and is built to ensure that your leads take action after you use the service.

Backpack
The Backpack service that Clickfunnels offers is a way to set up your own affiliate marketing program without any hassle. For those that don't know, affiliate marketing is a way to sell your products on commission. You basically give your affiliates an affiliate link that they promote using their channels. For every purchase that is made through that link, you give those affiliates a commission. The Backpack service allows you to set up just that by giving you the means to do so.

The reason why Backpack is such a cool service is because of the benefits that it offers to the people that use it. The first benefit that you get because of Backpack is the amount of time that you are able to save when making an affiliate program. Before services like Backpack, you would have to set up each and every step manually which requires no shortage of coding and technical know-how. With this service, you can just skip all of that by having Clickfunnels handle all of that. All you'll need to do to make an affiliate program is click a few times and you'll be done.

The second benefit that Backpack offers is that of sticky cookies. You already know what cookies are. They are small pieces of code that track whether the device that you use has been to a website or not. Cookies can track your preferences, remember where you left off, and most importantly tell if you are a returning visitor or a completely new one. The one drawback of cookies is that they track the device and not that person. So if you use a different device to visit a website it will have no idea who you are. Sticky cookies fix that problem because unlike normal cookies, they are attached to email addresses rather than devices. This allows them to track people's preferences even when they use different devices.

These sticky cookies are important because they can help make sure that your affiliates work as hard as possible to generate traffic for you. See, once a customer visits your site using an affiliate link, data will be stored which affiliate sent them there. Then, if those customers return to your site to buy something without an affiliate link your affiliate will still get a commission. This can help boost the productivity of affiliates and ensure that remain loyal to you and send you the maximum number of customers possible.
Backpack is an incredibly useful tool that you can utilize to increase traffic to your site exponentially. It's a service that we want to get into in detail so you can expect another blog post outlining its uses, positives, and just how much it can affect your business positively, but in the meantime, know that it is a service that is very much worth checking out.

Online Payments
Clickfunnels also offers you the opportunity to take online payments for any products or services that you are offering. Their payment methods aren't as diverse as you would like as they only include the ability to take payments from these online payment services:
Android Pay
Apple Pay
Authorize.net
EasyPayDirect
Keap
NMI
Ontraport
Recurly
Stripe
ClickBank
JV Zoo
Paypal
Warrior Plus
The list may not be the most robust one but it does contain a lot of popular online payment portals so you shouldn't have trouble setting one up for yourself. For people that are familiar with the industry, you can see that the list covers major payment processors so you can still use Clickfunnels' integrated payment processor to ensure that all your sales are completed and authenticated on time, always.

Membership Funnels
Not only can you design and integrate sales funnels, but you can also maintain membership funnels for the members of your services. This allows you to set up a whole place that is only accessible to members. These sorts of funnels are integral if you plan on offering services rather than products. Using the in-built creator you can easily make a place where you can provide your services to your members in a secure area that cannot be accessed by non-members. It's an easy and painless task that you can complete in a matter of minutes because of the drag and drop editor that you can find on Clickfunnels.

Custom Domains
Clickfunnels also offers you a way to hold a custom domain for yourself. You can either use the free domain name that you get when you sign up for Clickfunnels or you can integrate a third party domain registrar in order to set up a custom domain name. If you choose to set up a domain with Clickfunnels you don't have to pay extra because it is included in the subscription that you get with Clickfunnels.

Third Party Support
This is one of the most useful features that you can get using Clickfunnels. Clickfunnels offers third party support for a lot of other service providers so that you can make your online business more seamless. The current service providers that Clickfunnels provides support for include Aweber, GetResponse, ActiveCampaign, Infusionsoft, Ontraport, and a lot more. You can easily integrate their services with your Clickfunnels account to get the best of both worlds.

Webinars
This is the service that we are most excited to talk about as it is the service that this whole article is about. Clickfunnels allows you to set up and host webinars for your audience so that you can give them more bang for their buck and ensure that your leads convert into sales. Webinars are online seminars that you present yourself in order to give some benefit to your audience. You have a whole system to make and present webinars with Clickfunnels directly from your account. Setting one up is also really easy with Clickfunnels. Before we get into how to do so, you'll need the following things:
An Integration with webinar providers such as EverWebinar, GoToWebinar, WebinarJam, or A-Zoom.
A First Name Field
A Last Name Field
An Email Field
All of these are required in order to host and maintain webinars. You can't select to host webinars with just Clickfunnels because they don't offer that service yet. Webinars aren't just a one and done deal because they open up a gateway to so much more. We're finally getting to the actual meat of this article, how you can set up webinar integration with a Clickfunnels sales funnels. Here's how you do it:
The first thing that you'll need to do is connect your webinar integration directly to your funnel. You can do this very easily. First, go to your webinar registration page editor and select integration in the settings. There you can select your webinar integration. Now select the "Add to Webinar" in the settings. Select the "List to Add" option. And finally, save your funnel page. That's it, your webinar funnel is now active and you can use it as you see fit. Easy, right?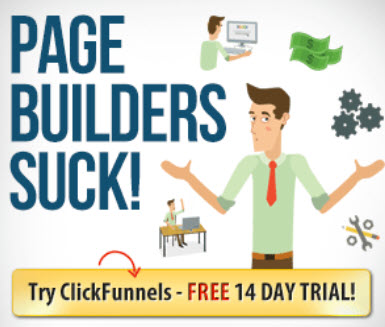 You require this integration in order to make sure that your webinar is connected to a sales funnel. As for actually creating a webinar in Clickfunnels here's how to do it:
The first step is to select "Build Funnel" from the Clickfunnels menu or click on "Add New" from the dashboard. Then click on "Create New Funnel". Now click on "Host Webinar". Click on "Webinar Replay" and enter the name of the funnel. After you're done with that you can click on "Build Funnel". That should do it for the first step of creating webinars on Clickfunnels. Here's the second step which allows you to add page templates:
Click on any step in the webinar funnel and click on the "Auto Webinar" category. Choose a page template that is the same as the page type that you are on. Now you can edit the page however you want. You can do this for every step in the webinar funnel. Now you can go to the third and final step which is to add recorded webinar video. Here's how to do it:
Choose the "Webinar Broadcast Room" step in the funnel, and click on the "Edit Page" option. Now click on the video element on the page in order to add the video URL that you have chosen. Now people can choose to register for the webinar and watch the recorded video whenever they want. This way you can completely automate the process of people taking part in your recorded webinars. Now here are some tips to use if you want to get the best out of Automated Clickfunnels Webinars.
7 Best Tips For An Automated Clickfunnels Webinar
Using webinars is not an easy task. It requires training, knowledge, and experience which is why you'll find these 7 tips useful:
1. Add Visual Aids
There are a lot of aspects that you need to consider in order to make an effective webinar that actually gives you results. One such aspect is how visually appealing and interesting your webinar is. Let's face facts here, it doesn't matter how good of a product you're selling if it is presented poorly then no one will give it the attention it deserves. You have to make certain that people are willing to give the proper amount of attention to you and in order to do that, you need to make your webinar as visually appealing as possible. That doesn't mean littering it with pictures, it means adding an appropriate amount so that people can grasp what you are trying to sell in as little time as possible.
This is an incredibly nuanced tip because it requires a lot of experience to get right. The reason why visually appealing objects are required in your webinar is because there is no face that the audience can look to give you attention. With a traditional presentation, the audience can see your face and follow the expressions you make clearly. With a webinar that is not the case, a webinar is devoid of a human face which is why these visuals are important. They serve to make sure that your point still gets across while keeping the attention of your audience to a maximum at all times.
Your audience's engagement is also necessary when using an automated webinar. In cases where you just funnel people to your webinar, it is important to make sure that those people actually stay and watch that webinar. You can only ensure that by making your webinar as attractive as possible. It should be that people have a hard time looking away from the screen because they don't want to miss a single thing of what you have to say. That is how appealing a webinar should be, so much that it glues the audience to the screen.
2. Highlight Key Points
There can a lot of things that lose importance during a webinar. There are some points that just don't make it across because of the flow at which you undertake the webinar. It usually happens because you aren't able to correctly emphasize the points that you are trying to make. That is why you should always keep highlighting in mind when creating an excellent webinar. Your audience won't know what is important and what isn't unless you tell them. It is up to you to make sure that your audience knows what is a point that is extremely important for them and what point can be mostly ignored for now.
Highlighting stuff that you need your audience to see is an integral part of making a good webinar. You have to understand that you aren't physically there to make the points that you need to make. You need to let the slides do that for you. That is why if there are any key points in your slides you should highlight them and present them in a manner that shows that these points deserve more than just a cursory glance. That is doubly important if you plan on incorporating a funnel in your webinar. Often you won't be able to monitor the webinar because you'll be letting your software drive traffic to an automated webinar that you created weeks ago. In that case, you have to make sure that all the important points that you have are emphasized so much that they can be understood by anyone that is watching the webinar, without any idea what it is about and what you are trying to sell.

3. Show Your Face
A webinar is all about the content rather than the person presenting it but it is important to remember that the audience still needs to put a face to the voice that is relaying the information through their speakers. The audience needs to be sure that the webinar they are getting is at least backed up by a face that is willing to show itself. That is why it is important to include a slide at the beginning of the webinar in which you show your face to the public. It is a great way to build up trust within your audience because it shows them that you are not afraid of showing your face and are able to put yourself out there for the sake of the audience.
Showing your face also has a lot of psychological impacts on the audience. The first is the obvious one, it makes you seem more trustworthy. That happens because once people see your face they are able to imagine you speaking to them directly. This allows them to imagine that the webinar is actually a live presentation, one which all of them are part of. The second psychological impact that showing your face has is that it builds rapport within your audience. Your goal is to get your content out there but if you manage to unite your audience then you have a better chance at making sure that they respond to what you are saying. The fastest way to do that is to make sure that your audience has something in common with each other. If you present your face to your audience it will give them the belief that they are all part of a group because they have all seen your face. It will give them the feeling of a personal relationship which makes them more willing to listen to what you have to say.

4. Keep An Eye On The Sound
As you have come to realize sound plays a huge role in how well your presentation goes. There are a few key points that you should keep in mind regarding the sound when presenting a webinar live. The first is about the sound that you make. It is integral that you remember that you'll be making sound, even when you aren't speaking. That is why you should invest in a good pair of headphones that are able to mask all ambient sounds while making sure that your voice comes through crystal clear.
This is a very important point that a lot of people overlook because they believe that any headphones will work but since webinars are all about the sound of your voice, it is important to make sure that that comes through as vividly as possible. You should try to look for headphones that come with a decent microphone. It is just as important to listen as it is to be heard.
Once you are conducting the webinar you will want to pay close attention to the sound that is coming out as well as the sound that is going in. That's why the headphones you use for this occasion must have a microphone that can mask environmental noise and ensure that your voice goes through clearly. You should do a few practices runs with your microphone too, just to make sure that everything is in perfect shape.
Speaking of environmental sound, it is necessary to be as professional as possible. You should hold your calls and make sure nothing interrupts you when you are giving that webinar. That includes keeping your pets out of your room, unplugging your phone, and making sure that your windows and blinds are closed so that you get as little traffic noise as possible. You should also try to avoid making unnecessary sounds that can interrupt your message.

5.Keep Pauses to a Minimum
While we are on the subject of sound, you know how important it is to make sure that your audience isn't faced with unnecessary sounds but it is also important to make sure that your audience is never left completely in the silence. With a presentation silence is a way to give emphasis to points, to give people time to catch up, to make sure that everyone is one the same page but for webinars, silence can be a death sentence.
There is a time when you will want to be silent for example when you want people to read something on a slide, to pause for reflection, or for even taking a drink of water but in any of these cases, it is essential that you tell your audience when you are going to be silent. That is why in cases such as these you should let the audience know that you are being silent on purpose.
There are a couple of reasons that you want to do that. The first is that you want your audience to know why you are being silent. The reason for the silence matters a lot because otherwise, your audience might miss something.
Say you want to give emphasis to a certain point in your presentation, and you want to be silent in order to do so if you just become silent your audience won't know why you stopped. If you tell them something along the lines of "I'll pause and let you go through this slide" then your audience will know to give proper attention to the slide. It may seem like a small detail but it can make the difference in a webinar.
It is also important to remember that your audience only has your voice to rely on. Your voice is the symbol that you are present. If your voice fades then you might as well not be there. That is why if you pause and don't let people know why they might think that there is a problem with the webinar or they have lost sound to it.
It may lead to unnecessary complications that you could avoid by just telling your audience that you are going to be silent. As you can see, sound plays a huge role in how well your webinar is received and how engaged your audience is with your content. That is why you need to always keep an eye on the sound and make sure that your voice remains ever-visible to the people that are taking part in your webinar.

6. Keep Time
If you are performing a webinar for the first time then you will obviously rehearse it quite a bit and know exactly how long your part will be. You should even time yourself to make sure that you have enough time to say exactly what you need to say. Timing yourself is an important act because you'll never know when you might get hung up on questions from the audience or because of any type of technical issue.
That's why you need to know exactly how much time you need, how much time you can sacrifice, and where you can get extra time from if you need to. For this reason, exactly you should keep a clock or watch with you so that you can know how much time you have at any given time. The time factor also makes a lot more sense if you take the next point into consideration.

7. Allow Time for Audience Questions
Your audience will naturally be curious about what you are saying and will thus ask frequent questions. That is why it is important to give them an outlet through which they can express these questions and get a proper answer to them. One great idea is to have someone with you that can take questions and answer them. This can be achieved in a number of ways. The easiest way is to have a chat set up so that people that are in your audience can interact with each other as well as with you.
A chat option is important because it is the only way that your audience will be able to interact with you freely. It gives them the power of interacting with you directly which is a huge boon to any webinar as it allows the audience to put themselves at ease. Once they see that you are willing to address questions that they have they will trust you more and get to know about your content a lot more in detail. Both of these are great for your webinar and can make the difference between a sale and a lost lead.
This only works well with a live webinar though, if you have a recorded webinar then you might want to invest in an FAQ file that is an optional document that attendees can refer to as extra documentation. It should be separate from the webinar because it can become overbearing for people that do not need to know more but for those that actually have questions an FAQ document can help you out a lot.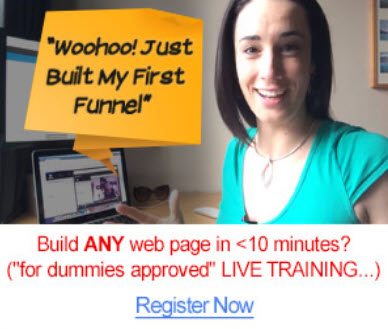 It would also not behove you if you added a link to let your audience to send you questions which you can answer personally. That personal touch shows that you care and are willing to actually help your audience instead of just viewing them as potential sales.
3 Best Paid Live and Automated Webinar Templates
Here are the top 3 paid templates that you can currently find in the Clickfunnels marketplace. They are fully fleshed out in order to make your webinar experience a breeze.

The Ultimate Automated 'Hourly' Webinar + Emails
This template comes from Chris Murray who is a part of the CF Template Club on Clickfunnels. This is a 100% automated webinar from start to finish and is an essential tool for people looking to streamline their webinar service. It requires barely 20 minutes to set up and get running and it comes with an email sequence so that you can easily follow up with automated emails without doing anything extra. This template is honestly the only thing you need if you need to set up an automated webinar fast.

Clean High Ticket Webinar Funnel
A more high profile template that will allow you to advertise your webinars in a more professional manner, this template allows you to elevate yourself and provide webinars in a more sophisticated setting. That doesn't mean that it will be complex setting up or customizing this template because it is easy to use and designed to be as simple as possible for you.

Coach/Consultant Hourly Webinar Funnel
A webinar template that is designed for coaches and consultant, this webinar template allows you to show off your services with ease. You can easily tell your audience what benefits they will get from using your services and how you can significantly improve their quality of life. Plus it comes with automated emails so that you can follow up on leads immediately without having to generate a single email yourself.
7 Free Live and Automated Webinar Funnel Templates
Here are the promised free webinar funnel templates that you can utilize any way you wish in order to increase your effectiveness as a businessperson.

A very straightforward template that will guide you through some of the easy steps that you can follow in order to create a simple yet effective live webinar.

A more professional live webinar template that is best used for high end services rather than products. This template can really elevate your business if you know how to use it.

A very versatile template that you can use in a variety of ways, this particular template can be edited to suit a variety of needs and with the proper skills, it can be made an excellent addition to your business.

A light-hearted webinar funnel that can really engage your audience and make your business seem friendly and appealing.

This theme evokes a sense of willpower and motivation because of the colors that are used in it. It is best used for motivational speakers and life coaches.

The Rosie theme is a very sleek and beautiful theme that is equally attractive as it is mysterious. It is sure to grab the attention of your viewers and make sure that they stay enthralled with what you have to say.

The Jason template is for people that have a lot to say and want to say it in the smallest space possible. It can really get information out very easily through the amount of objects and text boxes that are available in this template.


Disclosure: I am an independent ClickFunnels Affiliate, not an employee. I receive referral payments from ClickFunnels . The opinions expressed here are my own and are not official statements of ClickFunnels or its parent company, Etison LLC.